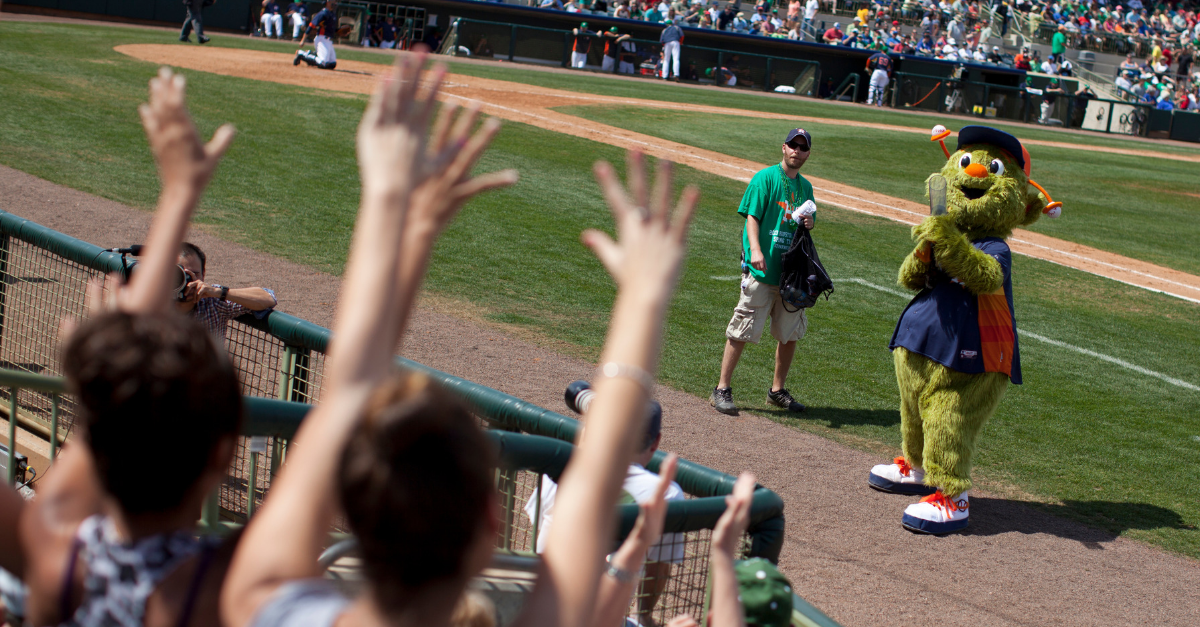 AP Photo/Evan Vucci
One of the best parts of going to Major League Baseball games is all the free stuff that gets tossed into the stands. From hot dogs to baseballs to T-shirts, there's never a shortage of stuff flying at you. This isn't some big secret either, and you always need to keep your head on a swivel even if you think baseball is too boring to pay attention the whole time. Not everyone understands that basic fact of America's Pastime.
On April 8, Jennifer Harughty sued the Houston Astros for more than $1 million, according to court documents. The reason? Back in July 2018, the woman from Montomery County, Texas ? just north of Houston ? alleges her left index finger was fractured after a T-shirt came flying at her during an Astros game.
You read that right. $1 million for a T-shirt-related injury.
The court documents accuse Orbit ? Houston's big, green mascot ? of using a "bazooka style T-shirt cannon" to launch novelty shirts at rapid speeds into the stands. Harughty was sitting about halfway up the lower deck inside Minute Maid Park when Orbit's t-shirt cannon began to rain hellfire along the third base line during the seventh inning of last year's game.
RELATED: Baseball Fan Suffers Skull Fracture in Postgame Attack
"Orbit took aim and fired a T-shirt into the stands where Harughty and her family sat. The T-shirt struck her left index finger head-on and with so much force Harughty?s finger fractured," the lawsuit reads.
After two surgeries to fix the injury, Harughty is seeking $1 million for physical pain, suffering and impairment, mental anguish, and loss of earnings in the past and future.
Court documents also claim the club did not properly inform Astros fans of the risks that come with shooting T-shirts out of a high-powered gun. The lawsuit also claims that the Coca-Cola Shooting Stars, Houston's game day squad in charge of giveaways like this, weren't properly trained before coming onto the field.
Look, I understand her frustration after failing to catch a T-shirt and getting hurt in the process. She might have a legitimate gripe that a high-powered T-shirt bazooka might not be necessary and the Astros should have been more careful using it.
But a million bucks? C'mon now. I'm positive that you or someone you know has broken a finger before. It's not the end of the world. Just because this woman didn't get her novelty T-shirt doesn't mean every MLB fan should lose out on an American tradition.
If you really want to feel the power of shooting a cotton T-shirt at high speeds, you can buy The Original T-Shirt Launcher on Amazon and try it for yourself.
Don't say I didn't warn you.
WATCH: