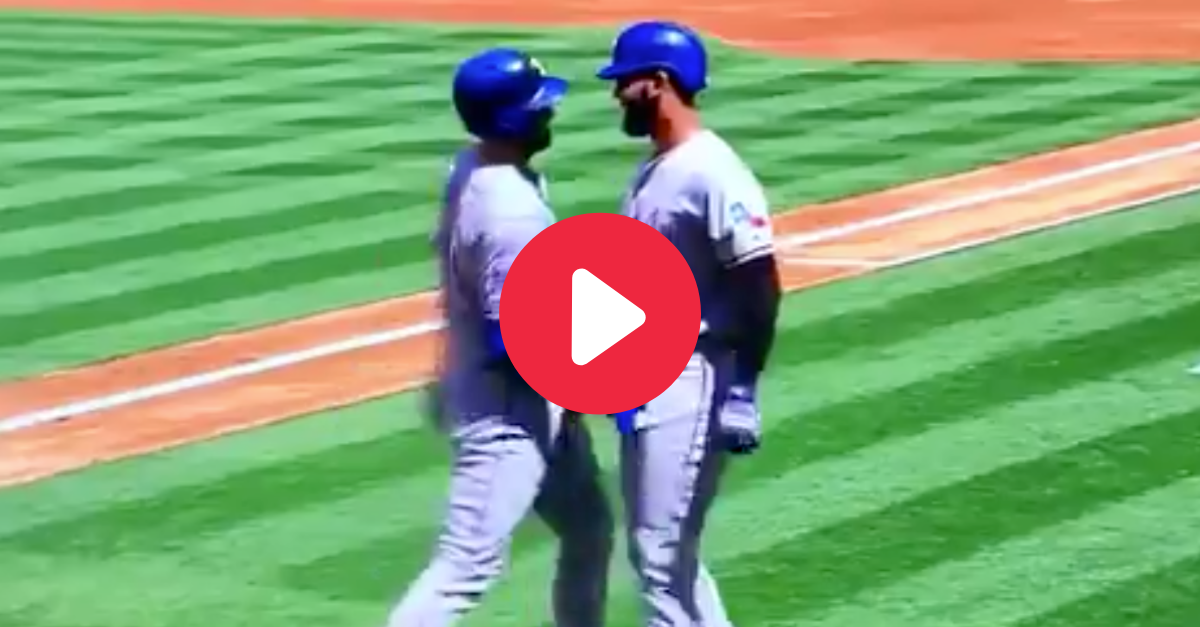 Twitter: Shan Shariff
The Major League Baseball season is starting to heat up, which means another summer filled with eating sunflower seeds, crazy hot dogs, and maybe even a little Tebowmania. With more home runs being hit these days than ever before, that means plenty of creative celebrations need to be thought up, but the most recent one courtesy of the Texas Rangers got a little weird.
After launching a 441-foot home run during the second inning of Sunday's game against Mike Trout and the Los Angeles Angels, Texas Rangers left fielder Joey Gallo's third-straight game with a dinger deserved a celebration. But what Gallo and right fielder Nomar Mazara came up with caused everyone to do a double take and say, "WAIT. What did they just do?"
As he crossed home plate, the Rangers' young stars gave a regular, old high five followed by a backhand high five. Nothing out of the ordinary just yet. Then, they grabbed each other's "baseball bats" and walked to the dugout.
And yes, I do mean their crotches.
I've seen a moth fly into an umpire's ear. I was there at PNC Park when Cincinnati Reds wildman Yasiel Puig tried to fight the entire Pittsburgh Pirates organization. But in the hundreds of baseball games I've watched, this might be the greatest celebration I've ever seen.
Baseball players are a different breed. They hang out all day, every day for the better part of eight months just playing baseball. They invent crazy handshakes and do things that make absolutely no sense to anyone outside of their dugout because of sheer boredom.
But the double crotch shake? This is baseball's most revolutionary idea since the curveball.
Joey Gallo is already one of the strangest baseball players at just 25 years old. His career average is abysmal (.205) as he rolls over 1,100 career at-bats. Including his first nine games of this season, Gallo has twice as many career strikeouts (489) as he does hits (227), but he's launched 81 home runs over the past two seasons.
That's insane.
Gallo is part of the boom-or-bust generation taking over the MLB. Sunday may have given us our first double crotch grab of 2019, but the way Gallo is swinging the bat, it's (hopefully) not going to be our last.
WATCH: