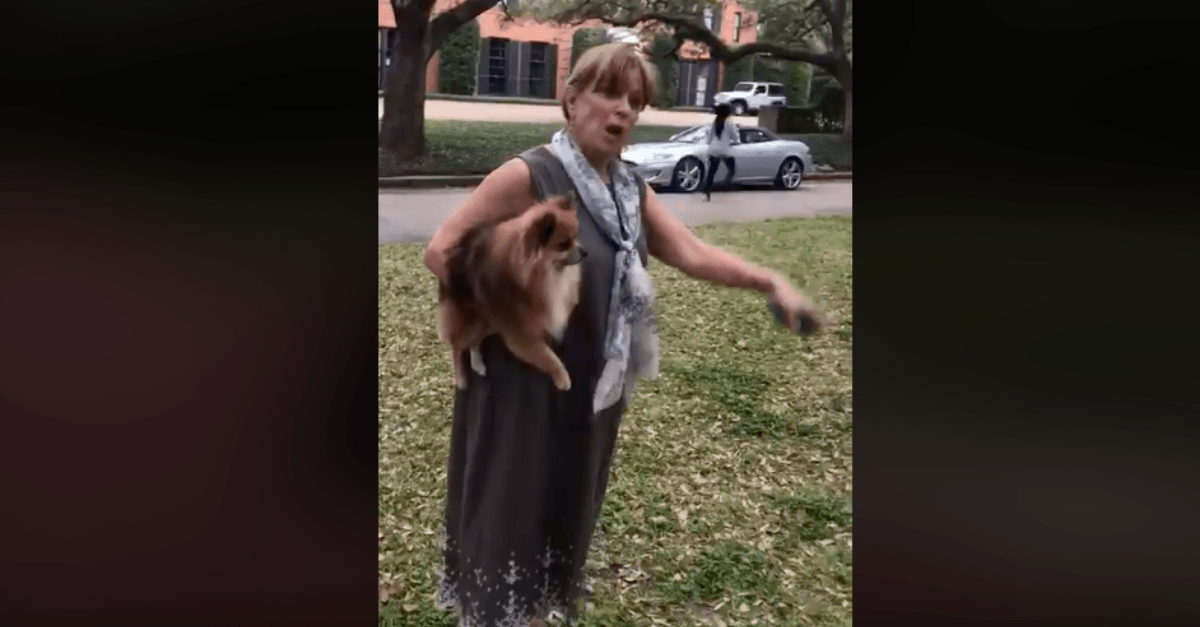 Facebook: Kelyn Alyssa
On February 16, Kelyn and Isaiah Allen went to North Boulevard in Houston, Texas for a photo shoot to commemorate their daughter's first birthday. The area is public property where commercial photographers work every day, but that didn't stop one woman, later identified as Houston socialite Franci Neely, from causing a scene and demanding they stop taking pictures on a beautiful Texas afternoon.
In a Facebook video that's already been viewed nearly two million times, Neely ? the ex-wife of Houston Astros owner Jim Crane ? demands "these people" get off of "the grass that we pay for." She proceeds to ruin the photo shoot's decorations, twice hits the man who's recording her with his cell phone, then drives away in her baby blue Jaguar convertible. Oh, and she did all while holding her Pomeranian and wearing no shoes in the middle of the day.
According to the child's mother in her Facebook post, Neely was "shouting at us that we were on private property" and had passed several other groups taking pictures without stopping to say anything. Neely then "stomps towards my baby and starts aggressively trying to remove the props" for the 1-year-old's birthday photo shoot, and that's when the recording began.
The Broadacres Homeowners Association owns the public property and reversed their ban that now allows photo shoots in the area as long as the sidewalks remain clear. The mother added that many people jogging and walking dogs that day had no problem navigating around them until Neely showed up. A police report was filed, and the family plans to press charges against her.
Here is the complete viral video posted to Kelyn Alyssa's Facebook page:
After the incident went viral, Neely apologized and released this statement to ABC13 News:
"The Broadacres Homeowners Association Invests lots of money paying to maintain the trees, grass and walkways in our neighborhood. The high volume of commercial photography damages the property that Broadacres HOA pays to maintain and interferes with dog walkers and others who merely want to walk under the pretty trees. We asked the commercial photographers to please stop.

"I am very sorry that I got upset on late Saturday afternoon. Putting it in context, however: I saw three commercial photography shoots in one block at the same time, something that happens frequently. When I explained the situation to the first and third groups, they were respectful. The couple whose photo shoot obstructed the walkway was not. It's hard to remain composed when confronted by shouted threats of lawsuits and false, inflammatory accusations."

? Franci Neely
RELATED: School Superintendent Says on Facebook: "You Can't Count on a Black QB"
It's strange that Neely suddenly finds it "hard to remain composed" when this is not the only time she's gone full grandma and yelled at people to stay off some grass that she doesn't even own.
Two separate incidences in the same area were submitted to local news stations by people who were accosted by Neely for doing the exact same thing. Neely's crusade against those damn photographers trying to take family pictures spilled over into a group of teenagers taking their prom pictures, as well as another man who was shooting in the area.
The well-known figure in the Houston community received $30 million after finalizing her divorce from Jim Crane after 21 years of marriage. She graduated from with high honors from the University of Texas at Austin School of Law and worked as a business litigator for over 20 years. Her profile by the Houston Art Fair describes Neely as a "community volunteer and philanthropist" who is "an ardent champion of the arts."
Apparently, not a single one of those qualities count when nice people are taking artistic pictures in part of the city of Houston.