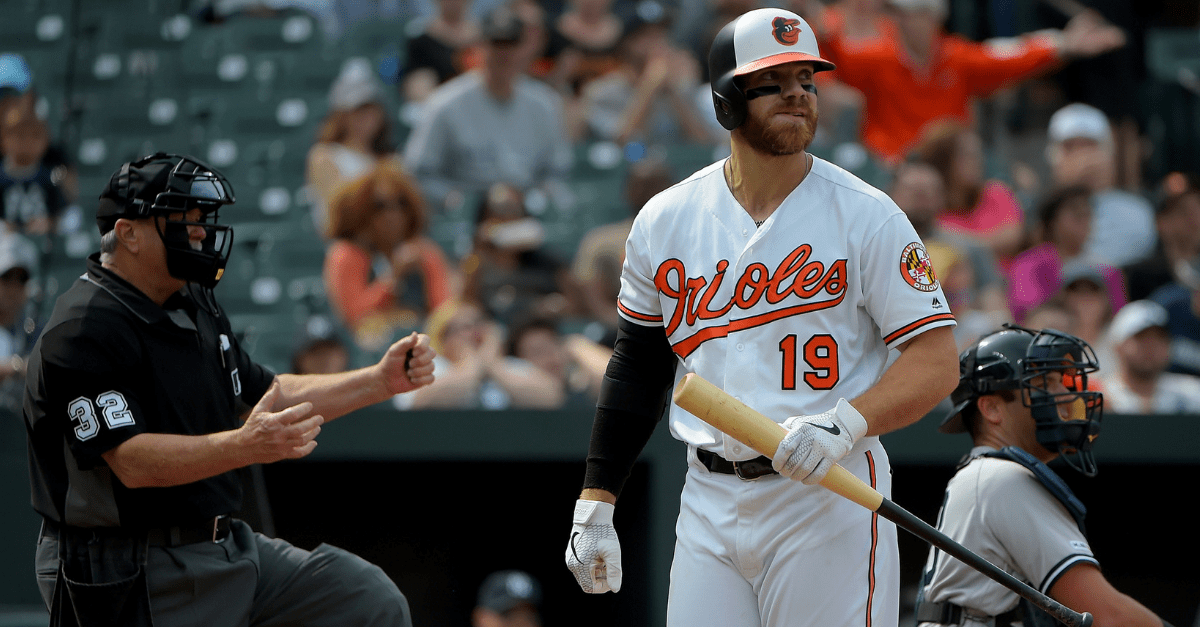 AP Photo/Will Newton
If you are struggling with something, whether it?s at work or at home, please know you are not alone. In fact, consider yourself somewhat lucky that the problems we all face on a daily basis aren?t always under the same microscope as a professional athlete. Just ask Baltimore Orioles first baseman Chris Davis how it feels to get booed by tens of thousands people on a daily basis because he simply cannot do the one thing he was paid millions for: hitting a baseball.
Not long ago, Davis was considered one of the best hitters in baseball. He was an MLB All-Star, the Silver Slugger Award winner, the league?s top home run hitter with 53, and the AL RBI leader with 138. He did all of that in 2013 alone, and it earned him a massive contract of seven years for $161 million guaranteed.
Fast forward to today and, well, the veteran lefty slugger is riding the struggle bus all the way to the record books. After going 0-for-5 in a 12-4 win over the Oakland Athletics at Camden Yards on Monday night, he now owns the saddest new baseball record of all time.
The 33-year-old Chris Davis hasn?t registered a hit in his last 49 at-bats, dating back to the middle of September 2018. Yes, it?s as bad as it sounds. He broke the record on a deep fly ball to the warning track in the bottom of the fifth inning.
WATCH: The Absolute Worst Attempt to Eat Sunflower Seeds in Baseball History
The longest hitless drought by a non-pitcher used to belong to Los Angeles Dodgers infielder Eugenio Velez, who went 46 at-bats without a hit back in 2011. There?s even been three more players ? Pittsburgh?s Bill Bergen (1909), San Diego and St. Louis? Dave Campbell (1973) and Milwaukee?s Craig Counsell (2011) ? who went 45-straight at-bats without a hit, according to The Associated Press.
There?s now just one Chris Davis and that?s not exactly a good thing at the moment.
A Longview, Texas native, the man famously known as ?Crush Davis? is making $23 million to do his job at a very low level and be the brunt of jokes and boos across Major League Baseball, especially from Orioles fans.
Baseball?s longest hitless streak dates back to last year. It?s been 208 days since Davis has recorded a hit. TWO-HUNDRED-EIGHT-DAYS! By all accounts, and granted there was a long offseason in the middle, most everyone would be fired if they went that long without doing the one thing they were paid to do. There?s never been anything like this in Major League history.
The craziest part is he has a batting average below the Mendoza line for nearly two years. As a position player, that?s scary.
Maybe one day Chris Davis will end this hitless streak and nightmare MLB record, but, man, this is the saddest new record for someone who already makes too much money.
If not, Orioles manager Brandon Hyde will have a decision to make because this consecutive hitless streak dating back to last season is very ugly and hard to watch.