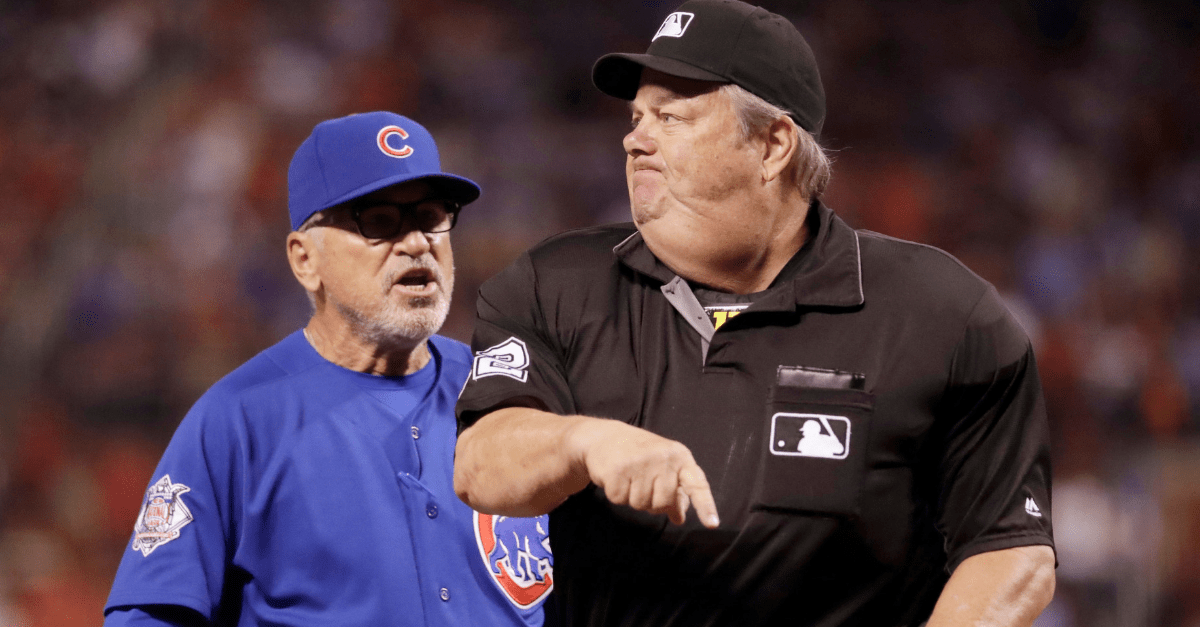 AP Photo/Jeff Roberson
Baseball has a lot of problems. Whether it's 6.5 hour games or players forgetting how to eat sunflower seeds, the writing is on the wall for major changes to overhaul the sport. In particular, Major League Baseball needs to fix its trend of slumping attendance and lack of a huge superstar, but its biggest problem actually has nothing to do with the players.
Boston University Master Lecturer Mark T. Williams analyzed every pitch called during an MLB game over the last 11 years. With the help of several graduate students at BU's Questrom School of Business, the team studied nearly four million pitches from 2008 through 2018. What they found doesn't seem like it should makes sense, but then again, numbers never lie.
There were 34,294 pitches incorrectly called during the 2018 MLB season. Considering that's about 14 per game on average, it doesn't exactly sound like a huge problem. But when you look at when these calls came, and more importantly, WHO was blowing them, that's where the real story begins.
In 2018, 89 umpires worked MLB games. The average person was male, 46 years old and had 13 years of experience calling professional baseball. If you think that age and wisdom made them better, you're sadly mistaken.
The 10 worst umpires in the study averaged 20.6 years of experience, were about 56 years old, and made a bad call almost 14 percent of the time. According to the study, 2018's worst umpire was 20-year veteran Ted Barrett, who made a bad call about 11 percent of the time last year.
Somehow, Major League Baseball chose Ted Barrett as the crew chief of the 2018 World Series.
Joe West is one of baseball's most unpopular home plate umpires and for good reason; West made 21 incorrect calls per game in 2018 despite working over 5,000 games in his career. During Game 4 of last year's ALDS between the New York Yankees and Boston Red Sox, veteran umpire Angel Hernandez blew three calls at first base in a four-inning span, all of which were overturned using video replay.
But what about the other side of the spectrum? The 10 best MLB umpires in this study averaged 2.7 years of experience, were around 33 years old, and had a bad call rate of only 8.94 percent.
The league refuses this black-and-white data that says umpires get worse as they age, yet they hold onto these guys for no apparent reason. MLB gives seniority the nod as World Series umpires are always older than the league average. Veteran umpires are paid more than $350,000 per season while rookies start around $120,000, according to the Houston Chronicle.
You'd think that the older, terrible umpires would get fired because they stink at their job. Major League Baseball just doesn't seem to hold anyone accountable.
RELATED: Watch 2 Texas HS Players Intentionally Smoke an Official After Bad Call
To make matters worse, there were 55 MLB games that ended on an incorrect call in 2018. With a 162-game regular season that always gets decided during the final week of the year, blowing that many games is a HUGE problem to have.
Also, the group found that umpires have a clear "two-strike bias." This means that when there are two strikes on a batter, an MLB umpire is more likely to call strike three on a pitch outside the strike zone, just so they could do their over-the-top punch out thing.
According to the study, there were 96,542 called strike threes over the last 11 seasons, but almost 30 percent of those pitches were actually balls.
Every MLB park uses advanced technology to track everywhere the baseball goes. Using that data, we can easily see that terrible umpires are hurting baseball. MLB teams would be smart to implement new technology that helps umpires get the call right and stop losing credibility with the fans.
Keep the "humans make mistakes and that's part of the game" crap to yourself. If baseball wants to save its image, it will modernize the game and give America's Pastime a much-needed upgrade.
Research used in this study came from Baseball Savant, MLB.com, and Retrosheet.
WATCH: