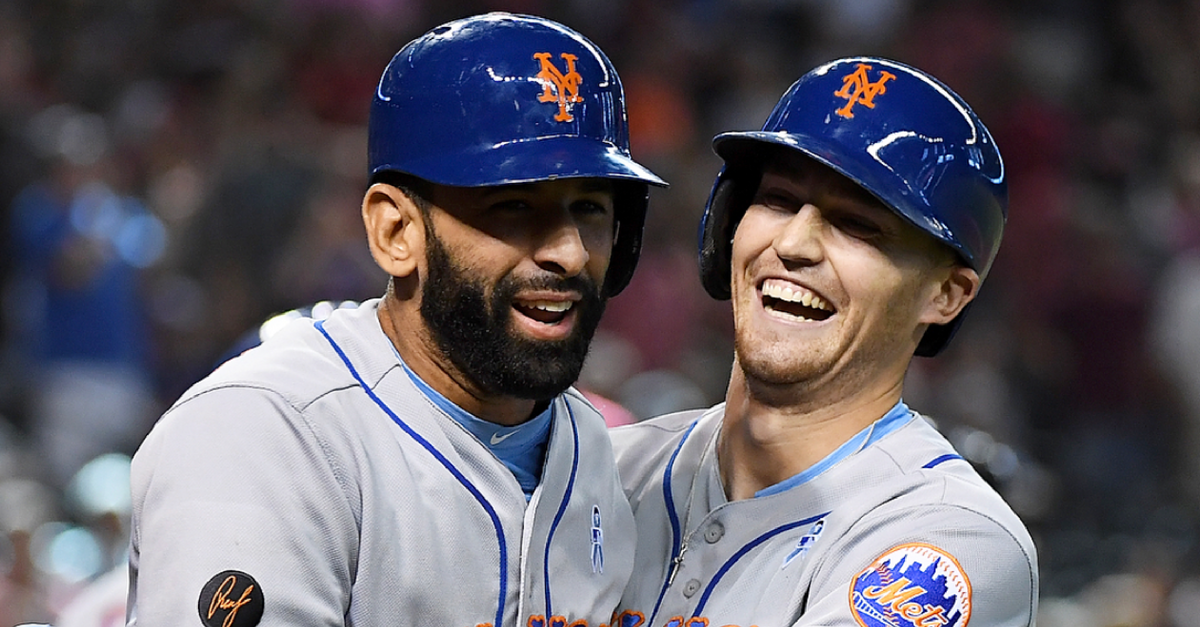 Instagram: @mets
Some may say it's luck. Others could call it skill. Regardless, the next round of beers should be on Jose Bautista for the New York Mets fans in left-center field on Thursday night.
In the bottom of the fourth inning in the Mets' 5-4 loss to the Washington Nationals, Joey Bats teed off on an off-speed pitch from ace Max Scherzer, sent a rocket to left field, and destroyed a fan's beer.
Nobody seemed to care, nor should they. It's a cool story they could go to work the next day and share with proof.
Nobody seemed to want to catch the ball, either.
The most logical person to catch the ball — the man in the dark shirt in the front with his hands up — looks interested and then gets out of the way, which led to the beer crushing incident. All the man behind him could do is just wear in.
An underrated part of the sequence happens just a few feet away from the beer. The man in a lighter-colored polo shirt leans over and looks to want the ball. However, he can only lean so far as a woman is literally ducking out harm's way.
This is nothing new to 37-year-old Bautista. Hitting beer cups is the new normal now since he did it on a foul ball in 2016 while playing for the Toronto Blue Jays.
Bautista, who is hitting .219 with seven home runs and 25 RBIs for the dismal Mets this season, can easily afford getting the next round.
Heck, after making over $100 million in his MLB career, he can afford an entire round for a sold-out Citi Field.
To save everyone some math, at a capacity of 41,922 and factoring beer cost at $8 each, Joey Bats would need to spend $335,376 on one round. Tack on another $67,075 for a solid 20 percent gratuity, too, because that's a lot of work.
Now, he doesn't need to do this. This was one beer in left field and there's no way everyone at the ballpark is of age anyway.
Come to think of it, on second thought, the man in front who ducked out of the way should be getting the next round.
You're off the hook for now, Joey Bats.