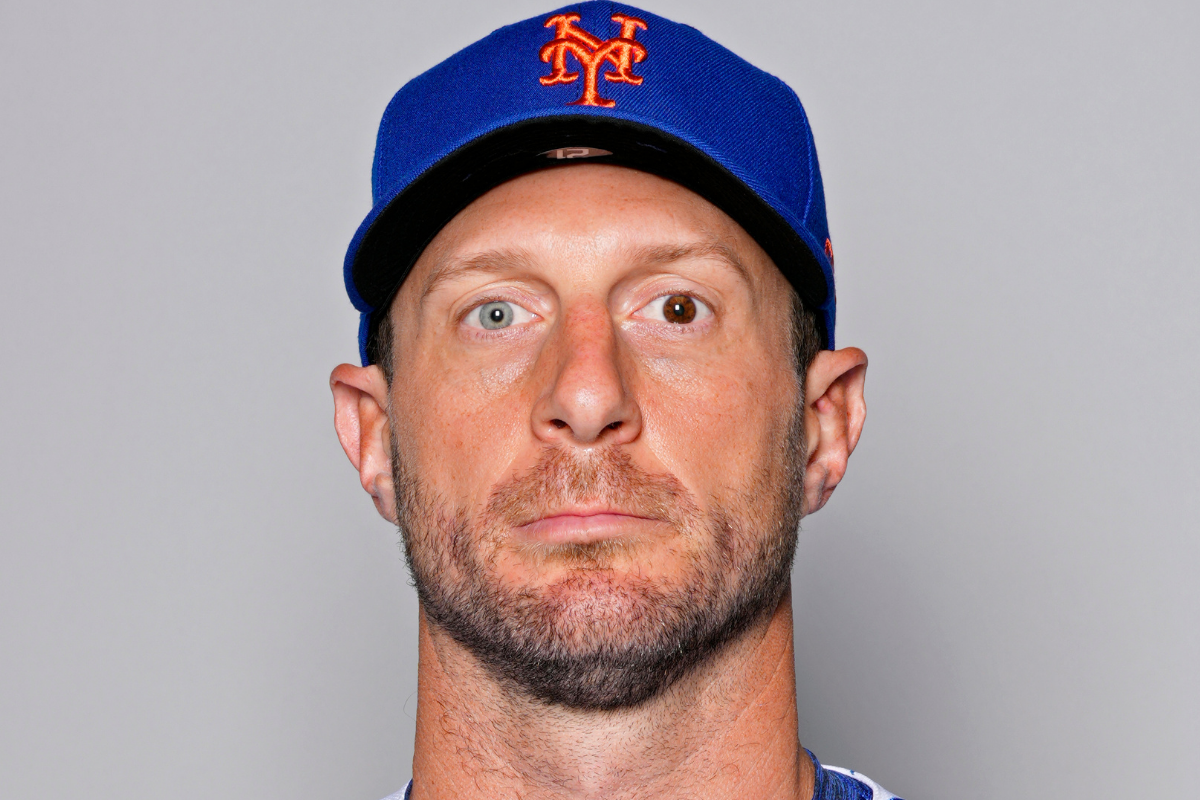 Photo by Mark Brown/MLB Photos via Getty Images
There's something different about stepping into the batter's box against former Washington Nationals and Los Angeles Dodgers starting pitcher Max Scherzer. Not only is he one of the greatest hurlers of all time, but staring the 37-year-old straight in the eye can also be a bit intimidating, which is exactly what the New York Mets are hoping for in 2022.
No, not because Scherzer is casting a devastating death glare at his opposing hitters (he certainly might be). The hard-throwing right-hander actually has different color eyes.
In fact, the condition behind this makes him a pretty rare specimen.
Why Are Max Scherzer's Eyes Different Colors?
RELATED: Bryce Harper's Wife is a Former College Soccer Star
Yep, stare the three-time Cy Young award winner in the eyes, and you'll come to realize that Scherzer's eyes are different colors. Scherzer has a condition, heterochromia iridum, which impacts the color of his iris. The condition affects less than 1 percent of people. Heterochromia iridis, which is similar, occurs when a patch of different color appears in one eye.
Scherzer has one blue eye and one brown eye, and he said that the pigmentation of his eyes can even change — the shades of blue and brown fluctuate. Scherzer's mother told the Kansas City Star that her son had one blue eye and one green eye when he was born and that his eye color changed multiple times throughout his upbringing.
Furthermore, his father, Brad, told The Chicago Tribune that Scherzer had embraced his varying eye colors from a young age.
When the Nationals had a Max Scherzer Bobblehead night at Nationals Park, Nats fans were thrilled to see the bobblehead came with different colored eyes.
It even featured a black eye, which Scherzer sustained after a miscue during batting practice.
Scherzer's Dogs Also Have Different-Colored Eyes
Scherzer apparently has a soft spot for furry friends with the same eye condition.
According to the NBC Sports, Max and his wife Erica have adopted four dogs, three of which have heterochromia iridis. Bo, Rafi and Max all have those Scherzer-like eyes, and the couple added Zou thanks to the Human Rescue Alliance.
"Humane Rescue Alliance, HRA, was an up-and-coming organization that she wanted to partner with, and we both felt very passionate about that–that's something that's very easy to help out in the community, in so many different capacities," Scherzer told NBC Sports. "Pet supplies or veterinary visits or just finding different ways to help people to adopt animals. We really want to erase that stigma: 'You don't want a shelter dog, you want to try to go through a breeder and get a purebred dog,' and a lot of times you pass over some great animals, absolutely great animals that are in need of a home."
How Rare is Max Scherzer's Condition?
Scherzer isn't the only well-known individual who has heterochromia iridis. Actresses Mila Kunis, Dan Aykroyd, Jane Seymour and Kate Bosworth are all afflicted by the condition, which is reportedly found in one in every 200,000 Americans.
MLB Career
Max Scherzer grew up in St. Louis, Missouri, and played high school baseball at Parkway Central High School. He was drafted by the Cardinals in the 43rd round of the 2003 MLB Draft. Still, he opted to play college baseball at the University of Missouri.
He was again drafted in 2006, this time as the 11th overall pick of the first round by the Arizona Diamondbacks. Scherzer made his MLB debut in 2008 against the Houston Astros.
He spent two seasons with the D-Backs before they dealt him to the Detroit Tigers as part of a three-team trade, including the New York Yankees. Ultimately, the Tigers were the benefactor of the transaction.
Scherzer played five seasons at Comerica Park, making two All-Star Games and winning the Cy Young award in 2013 after recording a 2.90 ERA, 0.97 WHIP and 240 strikeouts across 214 innings.
While in Detroit, Scherzer and the Tigers made the playoffs in four of his five seasons but never managed to win a ring. In 2012, the Tigers were swept by the San Francisco Giants in the World Series. The following year they were ousted in the ALCS by the Boston Red Sox, and in 2014 the Baltimore Orioles took down the Tigers in the ALDS.
Scherzer joined the Washington Nationals in 2015 on a seven-year contract in free agency.
Scherzer dominated NL East rivals such as the Miami Marlins and Philadelphia Phillies. He added two more Cy Young awards to his resume in 2016 and 2017. In 2017, Scherzer posted a 2.51 ERA and struck out 268 batters while surrendering 18 home runs.
Despite Scherzer's dominance, the Nationals were ousted in the postseason by the Dodgers in 2016 and the Cubs in 2017. Scherzer finished second in Cy Young voting in 2018, dethroned by Mets' ace (and current teammate) Jacob deGrom.
Finally, in 2019, Scherzer and the Nationals added a World Series ring to the trophy case. Despite finishing behind the Atlanta Braves in the NL East, the Nationals rode a Wild Card berth past the Brewers, Dodgers and Cardinals before taking down the Astros on the big stage.
Scherzer was traded to the Los Angeles Dodgers during the 2021 season along with shortstop Trea Turner. He's back in the postseason after the Dodgers beat the St. Louis Cardinals in the NL Wild Card Game. Scherzer and his squad will take on the San Francisco Giants in the NLDS. All along the way, you can bet Scherzer was staring into the souls of batters.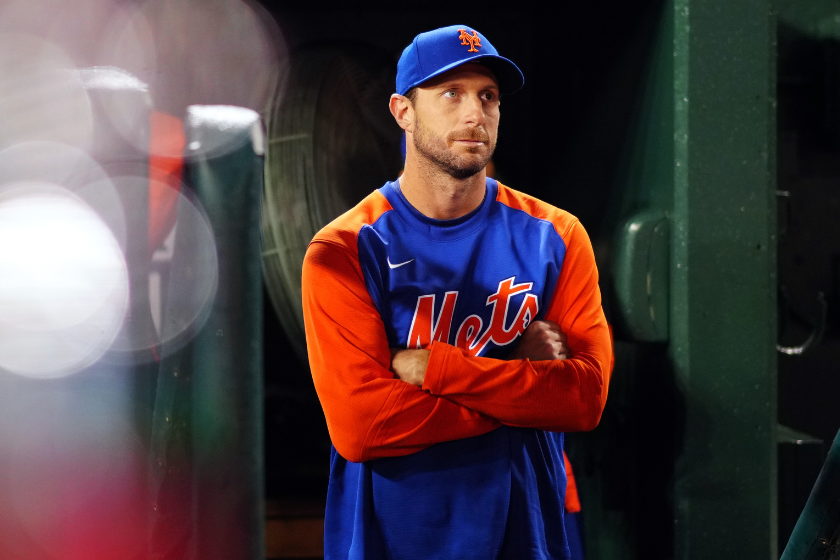 After his brief stint with the Dodgers, Scherzer looked for his newest challenge and may have landed the biggest of his career. Inking an agreement with the New York Mets in the offseason, Scherzer's three-year, $130 million deal comes with multiple incentives. According to Ken Rosenthal of The Athletic Max will earn $200,000 if he is named MVP, $200,000 for a Cy Young Award, $150,000 if he is named World Series MVP, $100,000 if he's named NLCS MVP and finally $100,000 if he is named to the All-Star team while a member of the New York Mets.
Needless to say, the Mets have faith in Scherzer being able to hit these career marks and bring their franchise to new heights.
This post was originally published on June 26, 2021.
Related Videos