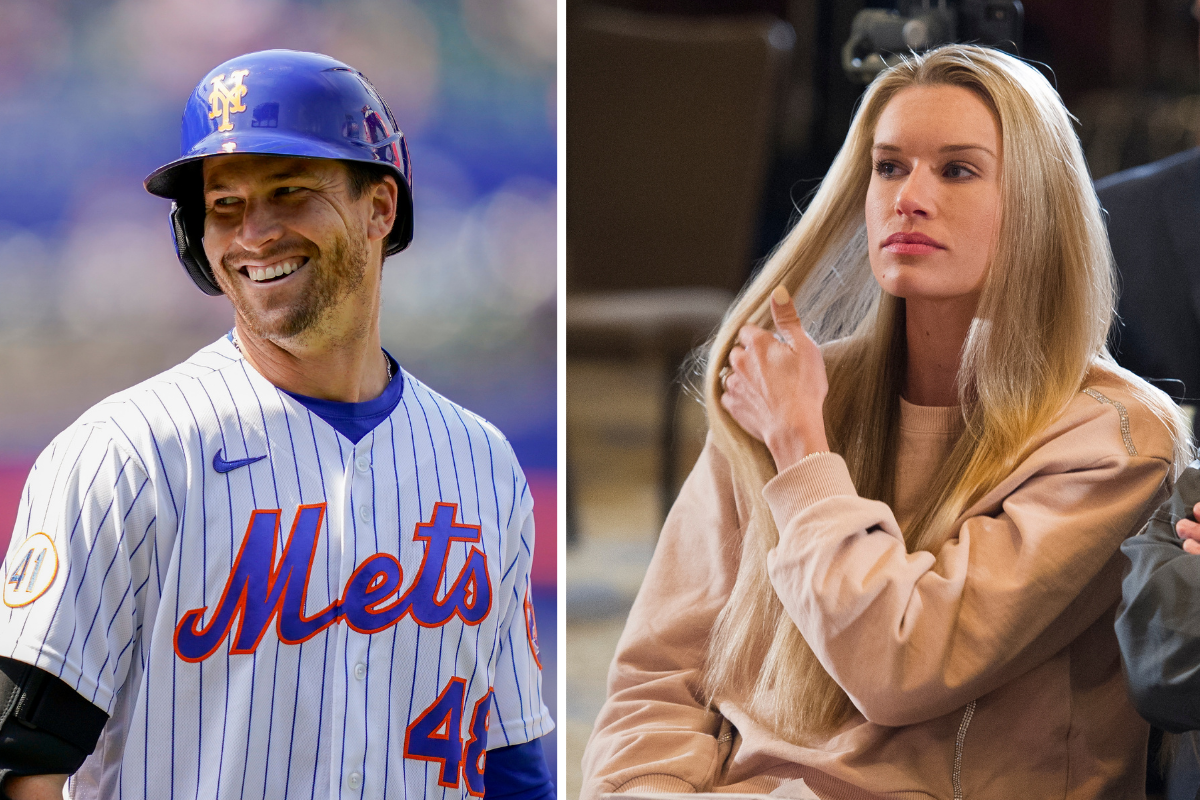 AP Photo/John Minchillo (left), AP Photo/Cliff Owen (right)
New York Mets pitcher Jacob deGrom has claimed the title of MLB's best pitcher all to himself. He has been borderline unhittable in 2021, but this is nothing new.
Baseball fans know just how dominant deGrom has been throughout his professional career, despite the Mets achieving very little.
deGrom doesn't yet have a World Series ring on his finger, and based on how the Mets' hitters seem incapable of providing run support when he takes the mound, he may be without one for quite a long time.
He does, however, have an even more important piece of jewelry: a wedding ring.
deGrom is married to his biggest fan, his wife Stacey Harris deGrom.
Who is Jacob deGrom's Wife?
RELATED: Clayton Kershaw Married His High School Sweetheart & Had 3 Kids
Jacob Anthony deGrom and his wife Stacey were introduced by a mutual friend.
deGrom met his future bride for the first time at a bull-riding event, and they reportedly dated for around seven years before getting married in November 2014 at New Smyrna Beach in Florida.
The pair welcomed their first child, son Jaxon in 2016. They welcomed their daughter Aniston Grace in 2018.
Stacey, much like Jacob, is a Florida native, and grew up in Lake Helen to parents Thomas and Nina Harris. She formerly worked night shifts doing clinical studies on people dealing with sleep apnea.
These days, she's focused on raising her two children and decorating the couple's home in DeLand, Florida.
Jacob deGrom's Baseball Career
Jacob deGrom was born and raised in DeLand, Florida, to parents Tony and Tammy deGrom. He showed promise as a baseball player from a young age and his father even built him a batting cage in the backyard.
deGrom played high school baseball at Calvary Christian Academy, and would later go on to play college baseball for the Stetson Hatters. He primarily played shortstop growing up, and it wasn't until his junior year at Stetson University that he converted to become a pitcher. Talk about a smart career move.
After an impressive college career, the Mets drafted the right-hander in the ninth round of the 2010 MLB Draft. The rest, as they say, is history.
While it took a while for deGrom to work his way through the minor leagues, he was surely worth the wait. Since arriving in the pros, deGrom has consistently tied up batters with his nasty breaking pitches and scorching fastball, which frequently lights up radar guns in the triple-digits.
deGrom won two Rookie of the Month awards in addition to the 2014 NL Rookie of the Year award after going 9-6 with a 2.69 ERA. He followed that up with his first MLB All-Star Game appearance in 2015. He made his only postseason appearances in 2015, helping lead the Mets to the World Series.
In 2018, deGrom made his second All-Star appearance and won his first National League Cy Young Award after the Amazins' ace recorded an incredible 1.70 ERA and 269 strikeouts across 217 innings. He surrendered just 10 home runs that year while walking 46 batters.
His 2019 season was equally impressive, and as a result he earned his second-consecutive Cy Young award.
deGrom was awarded with a five-year, $137.5 million contract extension that will keep him at Citi Field through the 2024 season.
Jacob deGrom Net Worth
The American professional baseball pitcher has amassed a fortune throughout his playing career, and should only get wealthier as his current contract plays out.
According to reports, deGrom boasts an estimated net worth of $25 million.