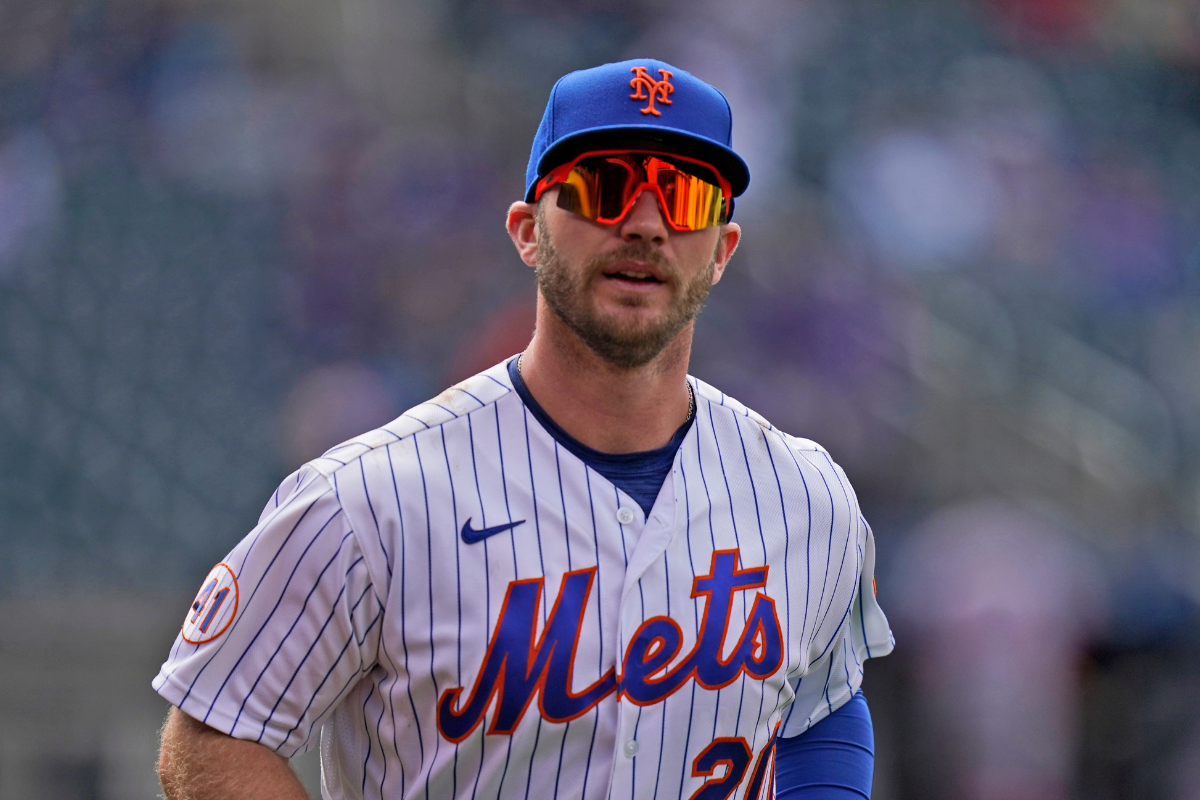 AP Photo/Seth Wenig
New York Mets first baseman Pete Alonso is one of the most exciting young players in Major League Baseball. The 26-year-old can mash home runs with the best of them and has quickly risen to star status within MLB.
While it can be easy to lose focus being a star athlete in New York, Alonso has managed to stay grounded early on in his career. That could be thanks to his fiancée Haley Walsh.
Pete Alonso's Fiancée Haley Walsh
RELATED: Pete Alonso?s 429-Foot HR is Still the Longest in CWS History
New York Mets slugger Pete Alonso is engaged to his longtime girlfriend, Haley Renee Walsh. The pair reportedly met at the Cape Cod League?Pete was still in college and Haley hails from Boston, Massachusetts. She attended Michigan State University while Alonso starred at the University of Florida. She then moved to Tampa, Florida, to be with him after graduating.
While at Florida, Alonso was bullied by teammates and roommates for maintaining his long-distance relationship with Haley.
?It got bad to where they were totally tearing into me about it,? Alonso told ESPN. ?And then I was really upset.?
Alonso proposed to Walsh in 2018, though they have yet to officially celebrate their wedding, meaning she's yet to formally become Alonso's wife. While "Polar Pete" is swinging for the fences in the big leagues, Haley is a lifestyle blogger.
Walsh was formerly active on social media, but she and Alonso have since deactivated their accounts, opting to "live in real life" instead of virtually. Pete is still on Instagram, though he doesn't share much.
Alonso and Walsh are both also active in charity work. He launched the Homers for Heroes foundation in 2020 after winning the 2019 Home Run Derby (during which he used a bat model he dubbed "Haley's Comet").
Pete Alonso Early Life & MLB Career
Peter Morgan Alonso was born and raised in Tampa, Florida, to Peter Matthew Alonso and his wife, Michelle. Alonso played baseball from a young age and attended Jesuit High School for two years before transferring to Henry B. Plant High School for his last two years. After graduation, Alonso joined the Florida Gators, where he mashed home runs from 2014-16.
In 2016, the New York Mets drafted Alonso in the second round of the 2016 MLB Draft. After three seasons in the minor leagues, Alonso made his MLB debut in 2019 against the Washington Nationals. He'd go on to win NL Rookie of the Year after launching 53 home runs and 120 RBIs, making his first All-Star Game.
Additionally, the Polar Bear was crowned the 2019 Home Run Derby champion after defeating Toronto Blue Jays third baseman Vladimir Guerrero Jr. in an intense showdown. The 2020 Home Run Derby was canceled due to the coronavirus pandemic, but Alonso returned in 2021 to defend his home run crown at Denver's Coors Field.
The American professional baseball player hit his first walk-off home run in a cross-city rivalry matchup against the New York Yankees. Having been one of baseball's most highly-rated prospects, featuring on MLB's top prospects list alongside the likes of star outfielders Cody Bellinger and Ronald Acuña Jr., it's safe to say Alonso has lived up to the hype early on in his career.
As Alonso continues to improve, he and the rest of the Mets core, including stars Francisco Lindor and Jacob deGrom, will continue to push towards World Series contention. Alonso's future wife, Haley, will be there cheering him on along the way as his biggest fan.