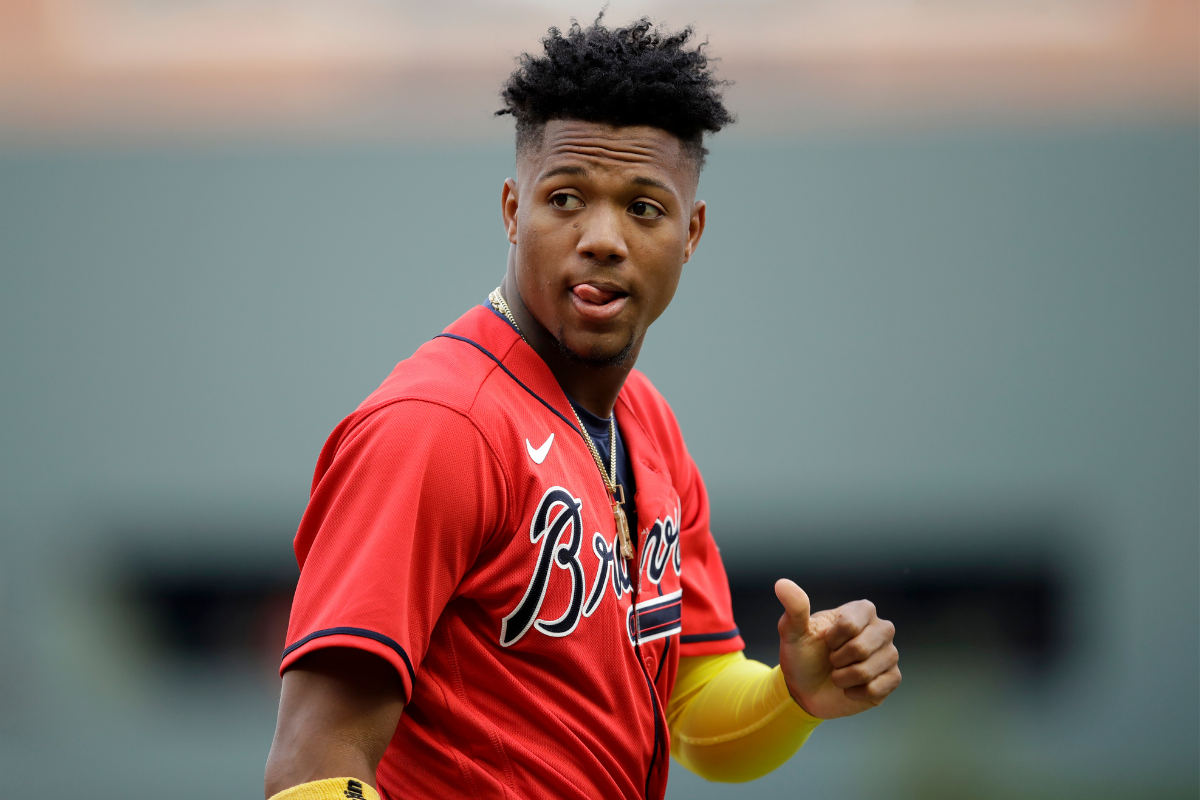 AP Photo/Ben Margot
Ronald Acuna Jr. looks to be on the fast track toward overtaking Mike Trout as the best baseball player in the world.
The star Atlanta Braves outfielder has taken MLB by storm since making his professional debut in 2018, and it's clear to see where he gets his talent from.
Acuna isn't the only baseball player in his family. Far from it. The 23-year-old comes from a long line of ball players within his family, and they are all well-known back home in Venezuela.
Ronald Acuna Jr.'s Family
RELATED: Freddie Freeman?s Wife is a Former Model & Mother of 3
The Acuna family, which hails from La Guaira, Venezuela, is loaded with talent, and several members have even reached professional baseball.
Acuna's father, Ronald Acuna Sr., is a fellow Venezuelan outfielder who spent eight years in the minor leagues with the New York Mets. Acuna's grandfather Romualdo Blanco was also a minor league baseball player.
Additionally, Acuna is the cousin of former Major League Baseball players Alcides Escobar, Kelvim Escobarm and Edwin Escobar.
Alcides played 11 years in the big leagues for the Milwaukee Brewers and Kansas City Royals. Kelvim pitched 12 seasons in MLB for the Angels and Blue Jays. Edwin spent two seasons in the pros as a pitcher for the Red Sox and Arizona Diamondbacks.
Acuna is also the cousin of Vicente Campos, who pitched in one game as a major leaguer in 2016.
Acuna's uncle Jose Escobar also reached the MLB level with the Cleveland Indians in the 1990s.
Luisangel Acuna, Ronald's younger brother, is a prospect in the Texas Rangers' farm system.
Ronald Acuna Jr.'s MLB Career
Ronald Acuna Jr. initially signed with the Atlanta Braves as an international free agent on a deal worth just $100,000. He made his pro debut for the Gulf Coast Braves in 2015, and began working his way up the minor league system.
He was ranked in MLB.com's Top 100 prospects in 2017, among the likes of Shohei Ohtani, Juan Soto and teammate Ozzie Albies.
"El Abusador" made his MLB debut in 2018 after impressing at spring training and won the National League Rookie of the Year award.
Acuna became the first player in MLB history to hit a leadoff home run in each leg of a doubleheader against the Miami Marlins. Additionally, he became the youngest player in MLB history to hit a postseason grand slam after parking a ball in the bleachers against the Los Angeles Dodgers in the 2018 NLCS.
He had his best season to date in 2019, when he launched 41 home runs, drove in 101 RBIs, 37 stolen bases and logged a .883 OPS. He made his first All-Star Game and finished fifth in National League MVP voting. Acuna featured in the Home Run Derby that year, advancing as far as the semifinals.
In 2020, Acuna became the youngest player in MLB history to sign a contract worth $100 million, agreeing to stick around in Atlanta through the 2028 season.
The star outfielder has a reported net worth of roughly $2 million, though that figure is sure to skyrocket as he plays out his contract with the Braves.