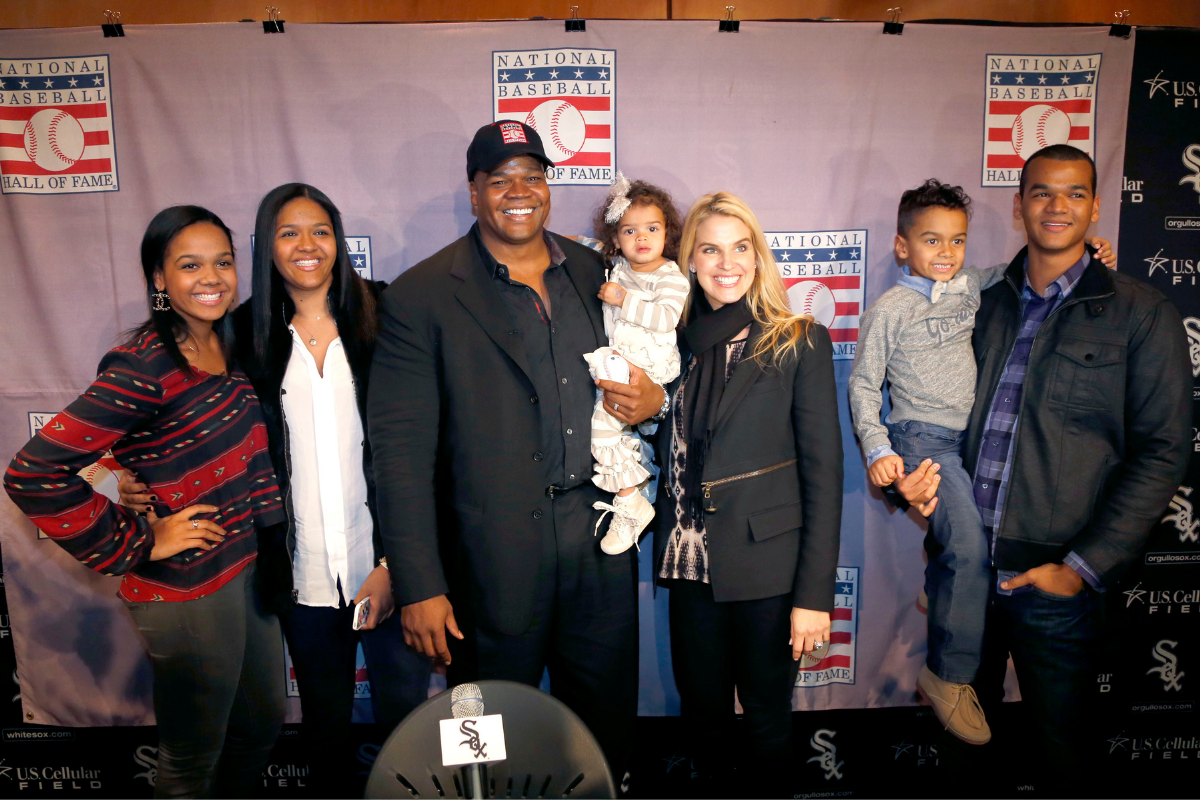 AP Photo/Charles Rex Arbogast
Frank Thomas was one of the most feared sluggers in baseball throughout his career. The Big Hurt was a nightmare for opposing pitchers, mashing home runs with ease as the first baseman and designated hitter of the Chicago White Sox.
Since he retired after the 2008 season, Thomas has been focusing on life after baseball. The Big Hurt is currently employed by Fox Sports as an MLB Studio Analyst, where he?s worked since 2014. He is also the face of the supplement company Nugenix and started a beer company, Big Hurt Beer.
While baseball has always come easy for Thomas, he?s faced his share of difficulties in his romantic life.
Early Life
RELATED: 12 Famous People Who Attended Auburn University
It had always been clear that Frank Edward Thomas Jr. was a great athlete, but baseball wasn?t always his priority. Thomas was a three-sport standout at Columbus High School in Georgia. He was also a member of the Auburn University football team, where he played tight end in 1986.
Thomas eventually opted to pursue a career in Major League Baseball, a decision which has paid dividends. He played three years of college baseball at Auburn, before being drafted as the seventh-overall pick by the Chicago White Sox in the first round of the 1989 MLB Amateur Draft. He made his major league debut in 1990.
Frank Thomas? First Marriage
Frank Thomas first tied the knot with ex-wife Elise Silver. The couple got married in February 1992, but divorced nine years later in 2001. Silver is an actress and model who has appeared in a variety of films, television shows and commercials.
The pair had three children together: Sterling Edward Thomas, Sloan Alexandra Thomas, and Sydney Blake Thomas.
Frank Thomas' Wife Megan Thomas
While his first marriage didn?t end up lasting, Thomas has taken another try at romance, and married life is treating him much better this time around. The 52-year-old married his second wife Megan Thomas.
Details about their wedding aren?t publicly available. They couple are parents to three children: Frank Thomas III, Chase Edward and Ashleigh Kate.
Frank and Megan Thomas appear happy together, frequently gracing social media with posts of them together as a family, enjoying each other?s company, particularly during the coronavirus pandemic and COVID-19 outbreak.
Frank Thomas Net Worth
Frank Thomas, through his days as a superstar professional baseball player, off-field ventures and endorsements as well as his work as an analyst, has amassed quite the fortune.
According to Celebrity Net Worth, Thomas owns an estimated net worth of $40 million.
The Big Hurt was one the best power hitters of his era. The two-time MVP spent 19 years in the majors, crushing 521 career home runs, recording 2,468 hits and 1,704 RBIs. Thomas made five All-Star teams with the White Sox and won consecutive Most Valuable Player awards in 1993 and 1994.
Thomas hit for a batting average of over .300 for eight consecutive seasons to start his career and was fittingly inducted into the Baseball Hall of Fame in 2014. The slugger finished his playing career for a couple of American League teams, having brief stints with the Oakland Athletics and Toronto Blue Jays.