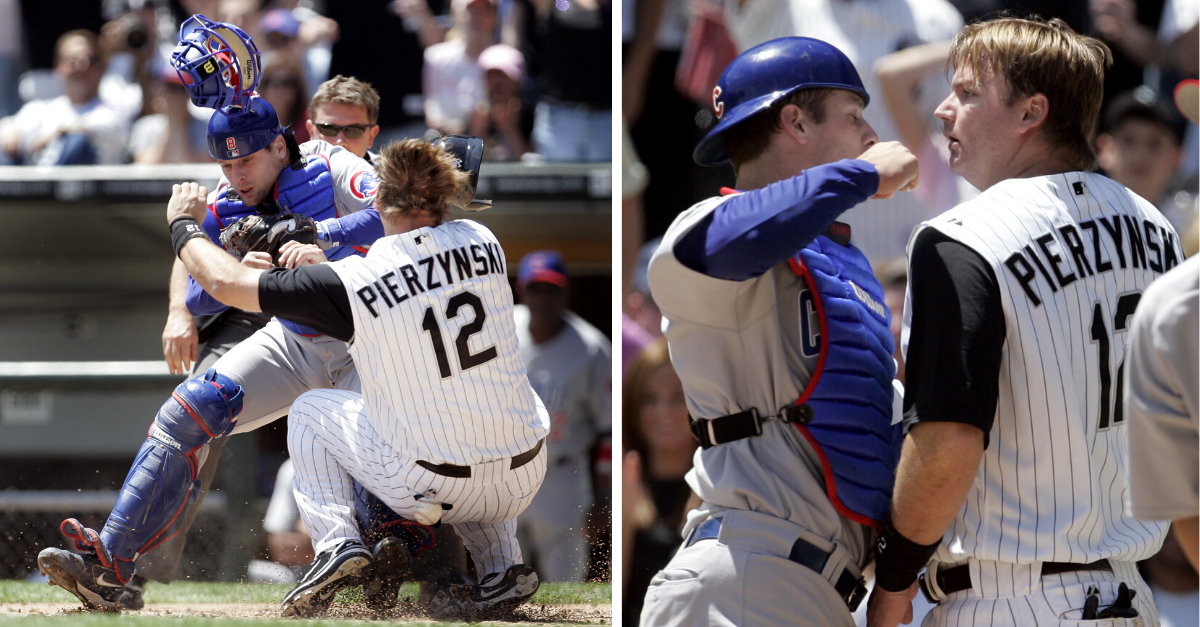 AP Photos/Jeff Roberson
The Chicago Cubs and Chicago White Sox do not like each other. The two Major League Baseball teams in the Windy City are more than crosstown rivals. They are bitter enemies. Nothing proved that more than a bench-clearing brawl.
Back in May 2006 at U.S. Cellular Field, the White Sox got on the board with a bases-loaded sacrifice fly in the second inning. That?s what the box score will forever say, at least. However, anyone who watched that game live or remembers it at all knows there is so much more to the story.
After the Brian Anderson sac fly, both dugouts cleared, four players were ejected, and it took 15 minutes to restart the Cubs-White Sox game.
Michael Barrett vs. A.J. Pierzynski Fight
RELATED: Infamous Braves-Padres Brawls Started Ugly and Went Out of Control
As soon as the ball was caught, Chicago White Sox catcher A.J. Pierzynski took off for home plate. Nothing was going to stop him, especially Chicago Cubs catcher Michael Barrett.
The throw home by outfielder Matt Murton was on the way, but Pierzynski was already close. So he charged even harder, lowered his shoulder, and knocked Barrett on the ground before slapping home plate. The baserunner was unquestionably safe.
Home plate collisions happened all of the time in MLB, but not all of them resulted in brawls. This one did.
After Pierzynski slapped home plate and walked toward the guy he just barreled over, Barrett rose to his feet and wrapped his arms around Pierzynski. Then, with a clean look, Barrett landed a right hook. The fight was on.
Not only was there an all-out melee at home plate, Blake Anderson ? the player who hit the sacrifice fly ? also got into a fight with the Cubs? John Mabry near first base.
Barrett, Pierzynski, Anderson and Mabry were all ejected, and it fired up White Sox fans in attendance. Barrett was suspended 10 games for the incident.
Once play in the White Sox-Cubs game resumed, and after Scott Podsednik got out, Tadahito Iguchi hit a grand slam off Rich Hill to bust the game wide open. He hit two home runs that day, and the White Sox won 7-0.
Coming off a World Series title, the Sox won four of six games versus the Cubs that season, including two wins at Wrigley Field. They were the more dominant team that season by a large margin, but that?s in the past.
All that most fans remember from that season is the fight, and we all long for the day that series continues after the coronavirus pandemic and COVID-19 outbreak.