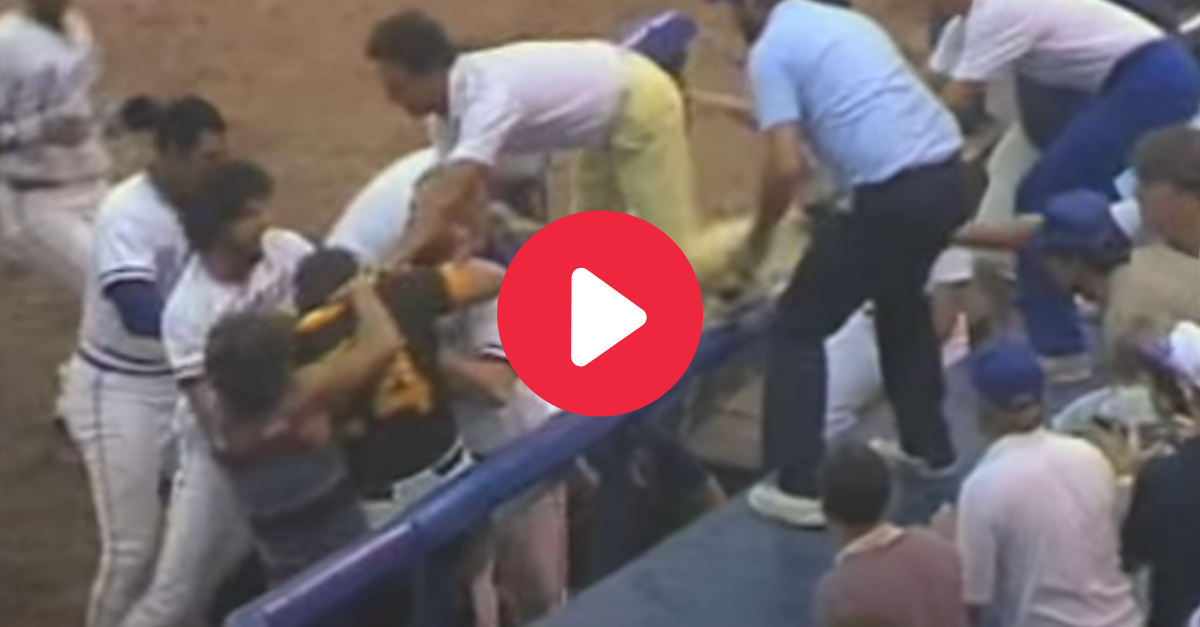 Screenshot from YouTube
Give a baseball player a pitch he can hit, and he?ll try to launch it a mile. Brush him off the plate, and he?ll try to send the next one to the moon. Actually hit him with a fastball, and, well, just be prepared to fight him and his entire team.
For whatever reason, nobody loves to throw down more than Major League Baseball players. They want to retaliate when they are offended and refuse to back down. There have been some serious brawls over the years, but there has been absolutely nothing quite like the infamous Sunday afternoon between the Atlanta Braves and San Diego Padres.
Back on August 12, 1984, the two National League teams fought multiple times, which resulted in over a dozen ejections and several fans arrested. It doesn?t have a nickname, but it?s one of the uglier moments in MLB history.
1984 Braves-Padres Brawl
That afternoon, the Atlanta Braves and San Diego Padres met for the rubber match of a three-game series at Atlanta-Fulton County Stadium. The Padres held a commanding lead in the NL West division standings, so no serious playoff implications were on the line, but the two teams clearly didn?t like each other.
The tension started on the very first pitch of the game, when Braves starting pitcher Pascual Perez beamed Padres second baseman Alan Wiggins. Everything took off from there.
When Perez came up to bat, the Padres, especially starting pitcher Ed Whitson, threw at him. Every. Single. Time.
The first bench-clearing fight happened in the second inning when Whitson sailed a pitch behind Perez. In self defense, Perez wielded his bat like a weapon as catcher Terry Kennedy went after him.
Tempers flared again in the fourth inning when Whitson tried to hit Perez three times during his next at-bat. As a result, both Whitson and Padres manager Dick Williams were ejected by the umpire.
RELATED: 1998 Fight Between Baltimore Orioles and New York Yankees Gives MLB Another Black Eye
Then, in the eighth inning, all hell broke loose. Instead of brushing Perez off the plate, Padres reliever Craig Lefferts actually drilled Perez. The dugouts were emptied, players were fighting all over the place, and fans were throwing beer down on the field.
Perez was taken out of the game in the ninth inning, but Braves relief pitcher Donnie Moore decided to retaliate and plunk Padres third baseman Graig Nettles. That triggered yet another brawl with fans rushing the field. Umpire crew chief John McSherry then cleared both dugouts.
The Braves won the game, 5-3. How it actually finished remains a mystery.
The Aftermath
In all, there were at least three brawls, somewhere between 13 and 17 ejections, and five fans arrested. The Padres had three managers ? Dick Williams, Ozzie Virgil Sr. and Jack Krol ? were among the players and coaches tossed. Braves manager Joe Torre was also ejected.
Ed Whitson (Padres), Champ Summers (Padres), Greg Booker (Padres), Craig Lefferts (Padres), Bobby Brown (Padres), Kurt Bevacqua (Padres), Tim Flannery (Padres), Goose Gossage (Padres), Graig Nettles (Padres),Rick Mahler (Braves), Steve Bedrosian (Braves), Gerald Perry (Braves), Donnie Moore (Braves) were all reportedly thrown out, according to Society for American Baseball Research.
Williams, who led the Padres to the World Series that season, was suspended for 10 games and fined $10,000. Torre was suspended three games.
Needless to say, umpire crew chief John McSherry earned his paycheck that day.
Pascual Perez deserves a medal for not getting ejected, too.