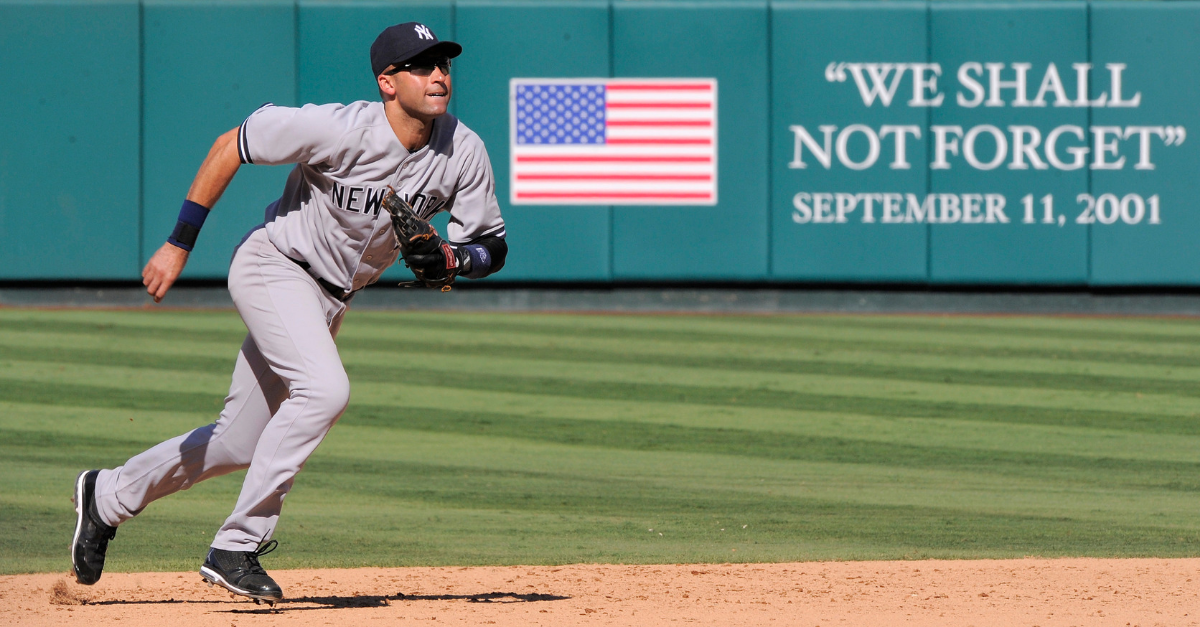 AP Photo/Mark J. Terrill
For six days after the terrorist attacks on September 11, 2001, Major League Baseball came to a grinding halt. Our nation began picking up the pieces of what was lost, including honoring the 2,977 people killed at the World Trade Center and Pentagon, plus the victims on four airplanes. In addition, 19 hijackers died and thousands more fell victim to long-term mental and physical trauma. On September 18, the sports world came together as the MLB season returned with its first game after 9/11 being played in San Francisco between the Giants and Houston Astros.
18 years later, the United States continues to honor those lost every year. MLB is one of the most vocal platforms with tributes and memorial services planned during the day's games, including racking up royalties from merchandise sales every year that is donated, in full, to the National September 11 Memorial & Museum in New York, the Flight 93 National Memorial in Shanksville, Pa., and the Pentagon Memorial Fund.
This year, 15 games will be played on Wednesday, Sept. 11 with all 30 teams in action. And once again, every umpire, coach and player will sport custom New Era 9/11 Remembrance fitted hats with a 9/11 ribbon on their caps. The side patch features the MLB logo in red, white and blue colors, the American flag, and reads: "We Shall Never Forget."
You can buy your favorite team's hat and donate to the 9/11 memorials right here.
MLB's 9/11 Hats – 2019
RELATED: Remembering Dale Earnhardt Jr.'s Emotional Win in First NASCAR Race After 9/11
Every team features an identical design in this authentic collection, while the Toronto Blue Jays will wear a custom cap featuring the flags of both the United States and Canada.
"All of our clubs have a commitment to honoring those whose lives we lost and to ensuring that we don't forget," Melanie LeGrande, MLB's vice president of social responsibility, said via MLB.com. "We're preserving the legacy for those who perished on that day."
In addition, every game features a moment of silence, pregame ceremony honoring military members, first responders, and public service workers, plus tickets are donated to those members. Also, the New York Mets and Arizona Diamondbacks will wear NYPD and FDNY hats during batting practice prior to their game at Citi Field in New York City.
It's going to be an emotional day across the country, but MLB's united showcase of patriotism proves just how powerful sports can be when they're needed most.
Full MLB Schedule: Sept. 11, 2019 (All Times EST)
6:40 p.m.
New York Yankees at Detroit Tigers
7:05 p.m.
Los Angeles Dodgers at Baltimore Orioles
Atlanta Braves at Philadelphia Phillies
Boston Red Sox at Toronto Blue Jays
7:10 p.m.
Milwaukee Brewers at Miami Marlins
Arizona Diamondbacks at New York Mets
7:40 p.m.
Washington Nationals at Minnesota Twins
8:05 p.m.
Tampa Bay Rays at Texas Rangers
Cleveland Indians at Los Angeles Angels
8:10 p.m.
Oakland Athletics at Houston Astros
Kansas City Royals at Chicago White Sox
8:40 p.m.
St. Louis Cardinals at Colorado Rockies
9:45 p.m.
Pittsburgh Pirates at San Francisco Giants
10:10 p.m.
Cincinnati Reds at Seattle Mariners
Chicago Cubs at San Diego Padres