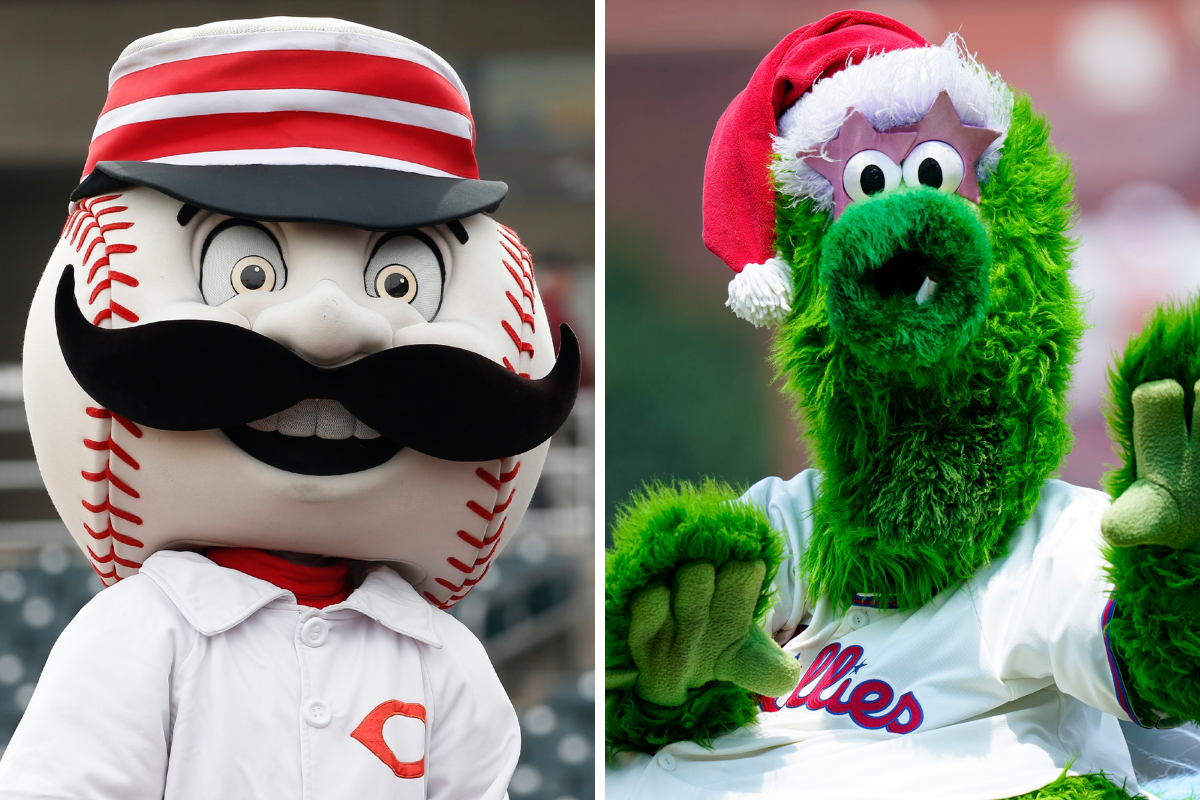 AP Photo/Ross D. Franklin (left), AP Photo/Chris Szagola (right)
What is it that makes a Major League Baseball game experience so much fun? Watching elite athletes? Eating a way-too-big hot dog? Getting drunk in the hot sun? Perhaps all of those things, but when you are sitting at a home game watching your team, part of the fun may be the antics of your team's mascot.
When you grow up and put away childish things, perhaps you lose some of your affinity for sports mascots. That being said, for kids?and occasionally for adults?there is fun to be had when mascots are involved. We aren't here to knock NFL, NHL or NBA mascots.
Benny the Bull?the Chicago Bulls' mascot?is iconic. Rocky the Denver Nuggets mascot is reportedly the highest-paid mascot in professional sports. Remember when the Charlotte Hornets mascot Hugo caught on fire? Don't let anybody tell you a team mascot doesn't put their well-being on the line.
All that being said, when it comes to mascots, MLB reigns supreme. There are a handful of MLB mascots in the Mascot Hall of Fame (it's a real thing), and there are also quite a few official mascots of MLB teams that are really raking in the cash.
MLB Mascot Salaries
RELATED: The Phillie Phanatic Makes a Ridiculous Amount of Money
First, we have to shout out a couple legends who are no longer active within the realm of baseball.
One is the famous San Diego Chicken. For the entirety of the Chicken's run, he was portrayed by Ted Giannoulas. Funny enough, the Chicken started as the mascot for a radio station in San Diego before he was ever affiliated with the San Diego Padres.
Also, he is the rare mascot who would show up and work for other sports teams. He reportedly made appearances in all 50 states in his career. While Giannoulas has retired, he told ESPN that at his peak he made $40,000 per game, which means he was definitely pulling in a six-figure salary just dressing like a chicken and goofing around. That's enough to surprise even the Minnesota Vikings' Ragnar (Joe Juranitch), who once asked for $20,000 a game (he didn't get it).
The other mascot to mention is Youppi!, who spells his name with the exclamation point. That's not us expressing our enthusiasm. Youppi! was the mascot for the Montreal Expos until they moved down to Washington and became the Nationals. And yet, Youppi! lives. He's now a full-time representative of the NHL's Montreal Canadiens, and he reportedly makes up to $1,000 per appearance.
MLB's Highest-Paid Mascot: Phillie Phanatic
Perhaps the most-iconic active mascot in MLB today is the Phillie Phanatic. The Philadelphia Phillies' mascot purportedly makes $600 per hour for appearances outside of baseball games, but when you throw in his time riding around on his ATV in Philly and merchandising he also has an annual salary believed to be in the six figures.
The Phanatic's NL East rival (and one-time commercial costar) Mr. Met of the New York Mets is also supremely famous. He and his baseball head make $600 an hour just like the Phanatic.
Wally the Green Monster Salary
The Yankees aren't really the mascot type?they don't even let players have facial hair like it's the 1940s or something?,but their rivals the Boston Red Sox have more fun. Wally the Green Monster is not a literal personification of the famous outfield wall in Beantown. He's an actual green monster. Wally evidently makes somewhere between $50,000 and $70,000. He's also fun on social media.
The Oriole Bird Salary
Let's get avian! The Baltimore Orioles' mascot is one of baseball's members of the Mascot Hall of Fame, but he apparently only grabs $350 per hour, per Go Banking Rates. Maybe it's because his name is simply "The Oriole Bird." Meanwhile, the St. Louis Cardinals' Fredbird gets $400 per hour.
The San Francisco Giants once had an "anti-mascot" called Crazy Crab who fans were supposed to jeer. Then it got too real. Now, they have Lou Seal who gets $500 for private events. However, he comes bearing bobbleheads! While we're in California, we will note both Los Angeles teams are sans mascot.
Bernie Brewer Salary
Bernie Brewer of the Milwaukee Brewers gets up to $275 per appearance, but he also gets to slide into that beer glass after home runs which you can't put a price on. The Detroit Tigers' Paws get $200 per hour. While the Seattle Mariners have never made the World Series, that hasn't stopped the Mariner Moose from making a whopping $600 per hour like he's the Phanatic or something.
Before we close this out, we wanted to dip into the minor leagues briefly. Arguably the most famous, or at least most beloved, minor league baseball mascot is Big Mo, who represents the Tampa Bay Ray's Double-A affiliate the Montgomery Biscuits.
Sports Illustrated named him mascot of the year in 2016. Also, he's an anteater. Oh, and guess what? All his appearances are free. You can request an appearance from Big Mo right now, but if you do, maybe at least give him a biscuit for his efforts?