Few debates in baseball, or in sports, are as hotly contested as whether Major League Baseball should allow Pete Rose into the National Baseball Hall of Fame, or rather eligible for election, which is decided by the Baseball Writer's Association of America.
Rose, of course, infamously bet on his own team's baseball games as a player-manager for the Cincinnati Reds and received a lifetime ban from commissioner Bart Giamatti in 1989 following the Dowd Report. An important distinction to note is no evidence exists of him betting against his team or throwing games like the 1919 Chicago White Sox (Black Sox) when they fixed the World Series and it changed the future of baseball as well as Rose's fate.
Rose doesn't mind that he's been blackballed by MLB, because he's acknowledged his mistakes and admitted his screw-ups. Despite him saying his ineligibility for the Hall in Cooperstown, New York, is no big deal, it has to be. He was inducted into the Reds Hall of Fame in 2016 at Great American Ball Park, which he said meant more to him anyway because Cincinnati is his hometown.
But let's be real. Why wouldn't you want to be cemented in history as one of the greatest players in baseball history, especially when you deserve it?
The decision is a no-brainer: Let the freakin' guy on the ballot. Then, it's up to the writers to decide.
Pete Rose's MLB Career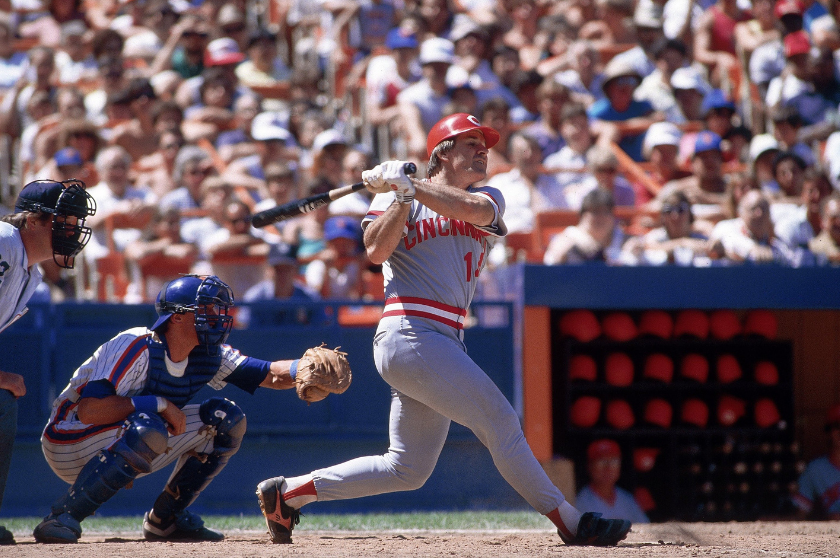 Rose earned the nickname "Charlie Hustle" for his playing style. Sprinting out routine ground balls and fly outs was common for Rose. In the 1970 All-Star Game, the Reds player singled off California Angels pitcher Clyde Wright in the 12th inning and later scored by trucking catcher Ray Fosse despite the game's outcome meaning next to nothing. Kids are taught from a young age to give 110-percent effort on every play, and Rose is the perfect embodiment of that.
Baseball's all-time hits leader collected 4,256 base knocks, played in 17 All-Star Games, won the 1963 National League Rookie of the Year award, the National League MVP in 1973 (he just missed out on a second one finishing running up to St. Louis' Bob Gibson in 1968) and collected three World Series titles.
He holds the records for most games (3,562), plate appearances (15,890), at-bats (14,053) and was a key member of the Cincinnati Reds "Big Red Machine" in the 1970s before going on to play with the Philadelphia Phillies and Montreal Expos.
To keep a player of his magnitude out of the hall for so long for gambling on games is just silly.
Is Pete Rose in the Hall of Fame?
RELATED: Who is Pete Rose's Playboy Model Fiancée?
The Hall of Fame doubled down on its decision to keep Rose off the ballot after a 1991 ruling determined ineligible players can't be considered for election. He applied for reinstatement but was shot down by the Hall's board of directors.
Maybe MLB commissioner Rob Manfred should reconsider that hypocritical stance after MLB partnered with MGM Resorts on a deal worth $80 million that introduced the league's first ever gambling partner, according to ESPN. For what it's worth, the NBA also partnered with the sports betting operator.
Even teams like the Chicago Cubs -- one of the most storied franchises in history -- have made news for approving the addition of a sportsbook to Wrigley Field that will allow fans to live bet in-person. From the sounds of it, MLB has no problem with the idea as long as its done "in a socially responsible manner."
Obviously, players, umpires and employees of teams are still not allowed to gamble on games according to Major League Rule 21, which Rose broke. But this sure looks like MLB is loosening its stance on gambling, especially because big money is in play.
MLB Commissioner Rob Manfred on Pete Rose @SloanSportsConf: pic.twitter.com/OLnJY5iTgO

— David Payne Purdum (@DavidPurdum) February 23, 2018
While the Hall of Fame continues to keep the door closed on Rose's enshrinement hopes, it consistently leaves it open for human beings like former Red Sox and Arizona Diamondbacks pitcher Curt Schilling, the man who online has voiced hateful anti-LGBT opinions, aligned himself with a white supremacist, compared Muslims to Nazis and "jokingly" encouraged the lynching of journalists. Schilling was the leading vote-getter at 71.1 percent in 2021, but requested he be taken off the ballot before his 10th and final year of eligibility. He needed 75 percent.
It leaves it open for cheaters forever tied to steroid scandals like home run king Barry Bonds, Mark McGwire, Roger Clemens, Sammy Sosa and Baltimore Orioles' Rafael Palmeiro -- and welcomed that era's baseball commissioner Bud Selig into the HOF -- so why not do the same for another fella who also broke the rules and admitted his mistakes?
What's ironic is that despite a Hall of Fame voting rule that states "voting shall be based upon the player's record, playing ability, integrity, sportsmanship, character, and contributions to the team(s) on which the player played," a player like Cap Anson still has his plaque. It's been well-documented that the Hall of Famer was racist and was one of the key men responsible for creating baseball's color barrier in the late 1800s. He, on multiple occasions, refused to play against black baseball players like Moses Fleetwood Walker, which led to teams banning black players altogether until Jackie Robinson broke that barrier in 1947.
Does it really make sense that someone with Anson's past, no matter his numbers on the diamond, should be considered an exemplary player and legend of the game? How can we even celebrate Robinson's legacy every year when the man who created the color barrier's name sits next to Robinson's in Cooperstown?
Even former President Donald Trump agreed Rose deserves Hall of Fame recognition.
"Pete Rose played Major League Baseball for 24 seasons, from 1963-1986, and had more hits, 4,256, than any other player (by a wide margin). He gambled, but only on his own team winning, and paid a decades long price. GET PETE ROSE INTO THE BASEBALL HALL OF FAME. It's Time!" Trump tweeted in 2020.
You've heard of Yankees legend Mickey Mantle and Giants great Willie Mays. Even they were, at one point, placed on the ineligible list next to Rose by commissioner Bowie Kuhn for accepting jobs as greeters at Atlantic City casinos.
In 1985, commissioner Pete Ueberroth reversed that decision and was quoted saying, "the world changes."
Indeed it does. This is 2022, not 1989. It's time to let the Hit King on the ballot.
Rose Petitioned MLB For Reinstatement
After three decades, Mr. Rose has petitioned Major League Baseball and the Hall of Fame to reinstate him, citing the recent penalties passed down in the wake of the Houston Astros cheating scandal.
MLB Network's Jon Heyman explains the petition and argument by Rose's lawyer Ray Genco in a series of tweets:
Only time will tell what will happen. Regardless, MLB needs to consider changing its stance.
This article was originally published January 26, 2019.
Enjoy all things sports?
Don't miss a story! Sign up for daily stories delivered to your inbox.