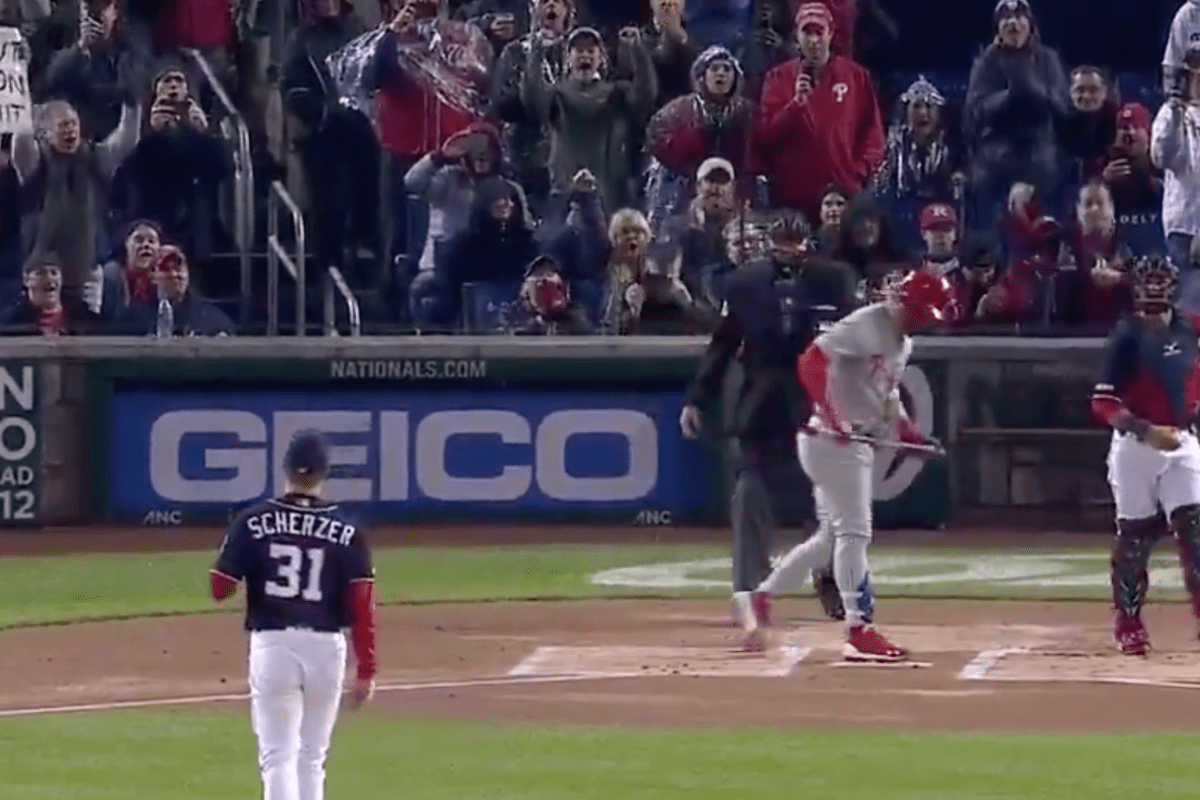 Twitter/@YahooSports
Twitter: @YahooSports
Washington Nationals fans justifiably wanted to keep Bryce Harper this offseason. He's the most iconic (though not the best) player in the history of the franchise. He's an annual threat to not just have an MVP season, but to do it in a way that just feels mean.
Like, he'd win the award by treating the rest of the National League the way a super handsome bully treats the weak outcast. He'd beat them mercilessly and then go home and have sex with his hot cheerleader girlfriend who the outcast secretly loves. Except there's no redemption arc for the outcast and that's the end of the story. The handsome bully with everything wins.
But deep down, Nats fans knew they could get on with their baseball lives if Harper were offered a better deal elsewhere. Because though Harper, as an opposing player, is a constant threat to rip your soul out through your butthole and then trot away laughing, he's not so indispensable that a team — especially a team as talented as the Nats — can't absorb the blow.
RELATED: Bryce Harper?s Mega Deal Pays More in One Day Than Some Really Important Jobs
It'd be one thing if Harper were putting up 9-win, 40-homer, MVP-caliber seasons every year. But he isn't Mike Trout (which is like saying he isn't God, but still). Harper is a threat to win an MVP every year mostly because of how talented he is, not because of how much he actually produces on a regular basis. Harper has hit over 30 home runs twice. He's had 100 RBIs once. For some reason, defensive metrics say he's getting worse and worse at fielding his position despite the fact that he's only 26 and is a freakishly talented athlete with great baseball instincts.
You could make an argument that Harper has issues staying engaged. Harper is definitely a player you want on your team, but not a player you'd do anything to have. (At least not in terms of on-field production.)
But the thing is, Bryce Harper is also rad and hands down the coolest player in baseball and I'd be mad if he left my team too.
So when Bryce Harper made his return to Washington this week, now a member of the Philadelphia Phillies, Nats fans booed him mercilessly. The last time anyone wearing red was that hated in D.C. they were burning down the White House.
Harper may not have quite lived up to the sky-high expectations set for him in Washington — they never won a single playoff series despite being the favorite to win the pennant multiple times — but he made the team matter. So when the Washington fans laid into him and then celebrated raucously when their actual best player in franchise history, starting pitcher Max Scherzer, struck Harper out, Phillies TV play-by-play man Tom McCarthy was not pleased. So he said the meanest thing he could think of about the Nationals.
"The Nats have never won a World Championship since coming back to D.C. but they're celebrating as if they've won something."
Devastating. (Even though Bryce played a part in that, ahem.)
And then Bryce killed them too.
The Nats are dead. Bryce Harper appears to be engaged. And now the rest of the National League is in really, really big trouble.