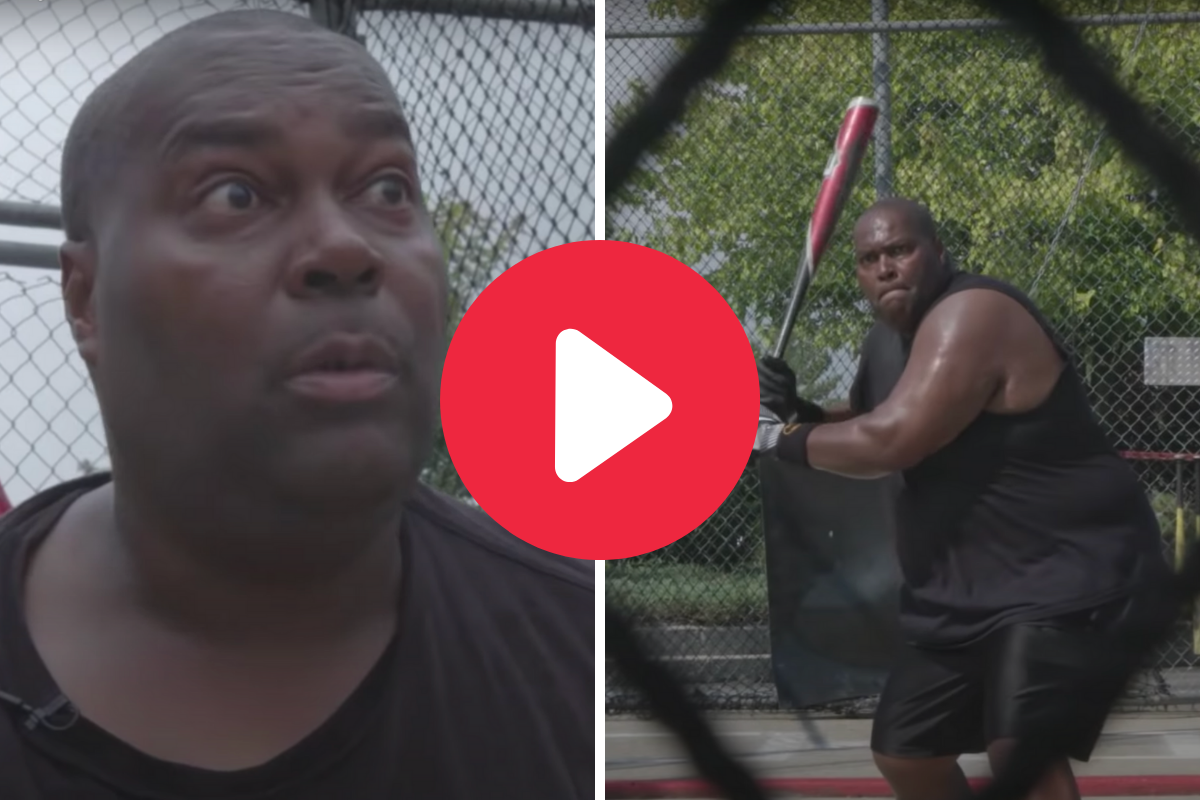 Screenshot from YouTube
We've all been in the batting cage and turned up the heat just to see if we could make contact with a Major League fastball. As most of us have found out, simply putting the bat on a 90-MPH two-seamer or a 100-MPH heater is much tougher than it looks on TV.
Even a pitching machine simulating a Nolan Ryan fastball isn't really comparable to stepping to the plate against The Ryan Express. Aroldis Chapman and his 105-MPH gas, too, is practically a death sentence to try to hit.
To one Detroit security guard, Stanley Anderson, that velocity is a piece of cake. Turn the dial up to 250 MPH and making contact is still a walk in the park for a man who at 53 years young claimed he could hit speeds of up to 266 MPH.
The best part? He challenged a former MLB All-Star and won.
Stanley Anderson & The 250-MPH Fastball
RELATED: MLB Player Takes 99 MPH Fastball to Head, Walks To First Like a Champ
That's Stanley Anderson. He's the head of security at a Michigan family entertainment center and former college baseball player at Kentucky State University. He's also known as the "Hit Man" at C.J. Barrymore's in Clinton, Michigan.
Anderson claims he can hit a 250-MPH fastball better than anyone else in the world, and he challenged any and Major League Baseball players to do so.
In an interview with Fox 2 in Detroit that turned into more videos, the 53-year-old explained the physics. To be honest, it makes a lot of sense.
Anderson stands anywhere from 17-22 feet away from the machine that's releasing a 95-MPH fastball. That means he has almost a third less reaction time to decide when and where to swing. That also means the perceived velocity of the pitch is significantly higher.
It's the same reason a 75-MPH pitch in softball is comparable to a 100-MPH pitch in baseball.
I know what you're going to say. This dude is barely swinging. He's chopping at the ball. None of his hits are even hard contact. I know, I know. I thought the exact same thing.
Screw that, though, I'm giving Stanley Anderson some serious props. Why? Because he enjoys the heck out of what he does and he's good at it. Plus, I'm not coming close to touching 250 MPH.
"I make contact with with 99.568 [percent] of every pitch. I've swung at 22,700 pitches so far this year. I've missed 98. I keep count," Anderson told Whistle in a YouTube video.
I'm calling B.S. on those numbers. But Anderson is confident that he's the best at what he does. So much so that he challenged a trio of a MLB players.
"Any baseball player on this planet please step into the cage with me and see if you can do what I do. That goes to everybody. Bryce Harper. Mike Trout. Miguel Cabrera," Anderson said in the YouTube video.
He Challenged (And Defeated) a Former MLB All-Star
While numerous big leaguers responded to Anderson's challenge on social media (Former Houston Astros' Mike Fiers and Los Angeles Dodgers' Justin Turner and Enrique Hernandez), one retired player who made an All-Star team and clubbed 233 home runs over his career accepted the challenge and stepped in the cage with Anderson.
The result? Defeat.
Cliff Floyd, a 1997 World Series champion with the Florida Marlins who played 17 years in the majors for teams like the New York Mets and Montreal Expos, couldn't outhit the 53-year-old security guard.
Sure, Floyd was producing some full swings instead of the half swings that Anderson did. But at least Anderson has some pretty awesome bragging rights.
What do we think? Is Stanley Anderson legit? Or is he just another average Joe that has spent way too much free time in the batting cage?
Either way, I'm not stepping in against him.