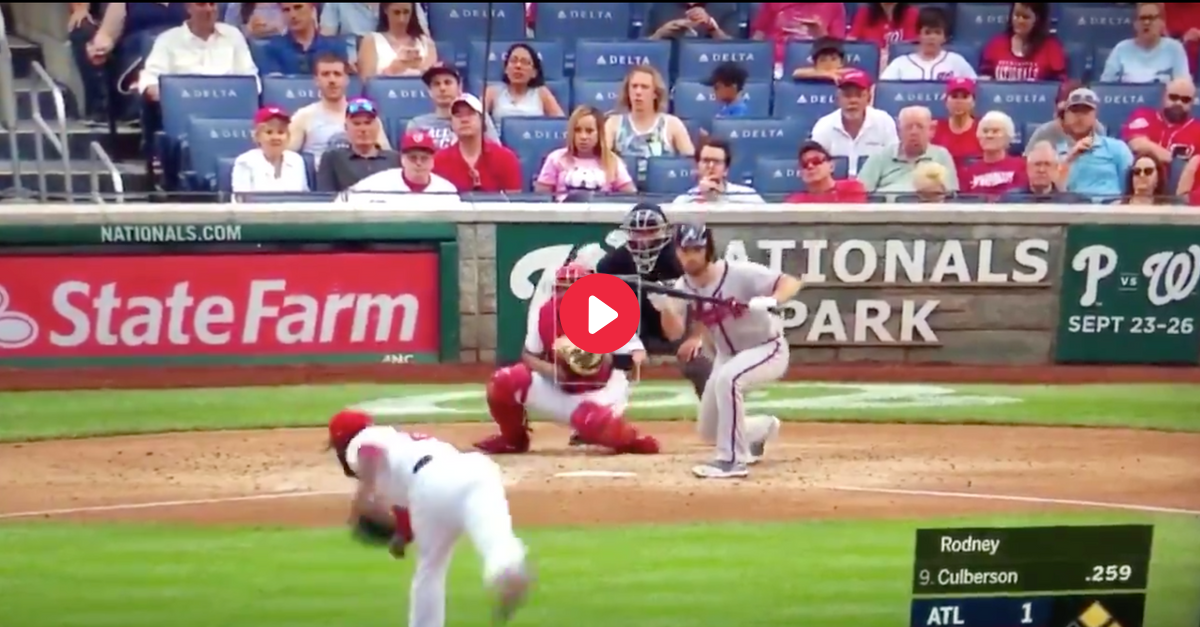 Screenshot from Twitter: Paul Sporer
Although baseball is not really a big contact sport, there are still a surprising amount of gruesome injuries that take place. One of the all-time worst is having a ball hit you in the face, and this might be one of the worst ever seen during an MLB game.
In the top of the seventh inning during Saturday's game, Atlanta Braves outfield Charlie Culberson stepped to the plate to pinch hit and face Washington Nationals reliever Fernando Rodney. With two runners on, nobody paying attention to the game in the nation's capital was surprised Culberson was going to lay down a bunt to advance the runners.
However, everybody was surprised when Rodney's 90-mile-per-hour fastball — the first pitch of the at-bat — sailed inside and hit Culberson right in the face. It looks as nasty as it sounds.
WATCH: Nationals Pitcher Breaks His Nose During Bunting Practice
Culberson, naturally, went down immediately in absolute pain. What else would you do if you took a missile to the cheek? The pinch hitter was attended to by the medical staff, eventually got up with a towel over his face to stop the bleeding, and gave a thumbs up before he carted off the field.
The 30-year-old from Rome, Georgia was taken to a local hospital. According to a Braves press release, Culberson suffered multiple facial fractures. His season is likely over, too.
"Charlie Culberson suffered multiple facial fractures after being hit with a pitch in the right cheek yesterday. He has been cleared to travel today to Atlanta, where he will meet with team doctors to determine the next steps in his treatment."
"It was awful," Nationals manager Dave Martinez added after the game, via MLB.com. "You never wish that upon anybody. You don't. I hope he's all right and my plan is to talk to [Snitker] either tonight or tomorrow and make sure he's all right and I know they get it, it stinks, but it's part of it. I know Rodney feels awful. I just hope Culberson's all right."
To add insult to injury, the home plate umpire Tim Timmons and first base umpire Bill Welke met and called a strike on Culberson. Braves manager Brian Snitker completely lost it and came out of the dugout as hot as could be. He used a few four-letter words and got ejected from the game.
The Braves rallied around the injury, too. After everything cleared up, they scored four runs that inning and nine total in three innings to win 10-1 at Nationals Park to keep control of the NL East before postseason play begins next month.
The Braves' Charlie Culberson, who has played for the San Francisco Giants, Colorado Rockies, Los Angeles Dodgers, and Atlanta is very well-liked in the clubhouse and a solid utility man on the baseball diamond. Let's hope for a speedy recovery because that did not look good. That hit by pitch under the right eye on the cheekbone is a scary moment you don't wish on anyone.