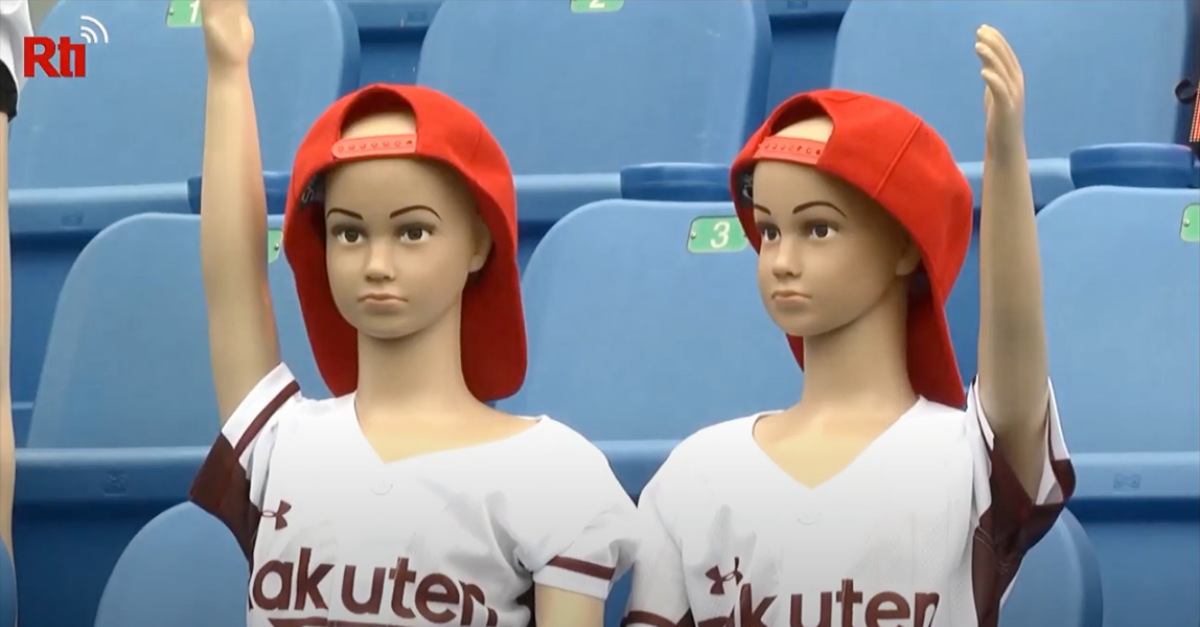 YouTube: RTI English
The Chinese Professional Baseball League finally restarted its 2020 season amidst the ongoing battle against the coronavirus pandemic and COVID-19 around the world. The island league's official opening day and return to baseball fell on April 11, but rain ultimately delayed games for the following day.
The cardboard fans dotting the stadium weren't properly prepared for such conditions, though.
At the home opener for the Rakuten Monkeys, cardboard cut-outs wearing facemasks and mannequins sporting Rakuten's red and white gear were placed throughout the Taoyuan Baseball Stadium in an attempt to (I guess) bring a sense of normalcy to the players on the field.
Even stranger, robots were playing the drums during Rakuten's home game against the Chinatrust Brothers.
"Since we are not allowed to have any fans in attendance, we might as well have some fun with it," Monkeys General Manager Justin Liu said, via USA Today. "We went with 500 robot mannequins to comply with the current CDC guideline."
All that's missing is Will Smith running in to save the day in I, Robot style.
Taiwan Baseball's Robot Fans
RELATED: Athletes, Celebs Raising Millions Through 'All In Challenge'
"We are the first pro-baseball league to start playing in the world during the pandemic," the CPBL said in a statement, via AFP. "We welcome everyone to follow the new 2020 season and to relax from their tense lives because of the outbreak."
I have so many questions.
1. Why?

2. Who decided cardboard cheerleaders were not only a good idea, but necessary? For starters, you have to spend time printing off a bunch of mask-clad stiffs and place them around the ballpark. There's no way the J.C. Penney mannequins were sitting around behind the concession stands, so someone had to actually buy them, dress them up, and dish out premium seats down the third base line. Do they get premium box upgrades for that kind of service?

3. Are the robot mannequin drummers taking requests, and if so, can I hear "Mr. Roboto" by Styx?

4. Seriously, why?
Taiwan's reported fewer than 400 confirmed COVID-19 cases and only six deaths on the island off the coast of China as of April 17. The country's population is estimated around 23 million people.
Several Taiwanese sports leagues, including pro basketball and football, are playing games again. According to AFP, fans are not in attendance for those contests, but many are still weary of exposing athletes to the health risks that exist.
One thing is for sure: mannequin fans and actual robots are having more fun at sporting events than we are these days, but at least sports are coming back.