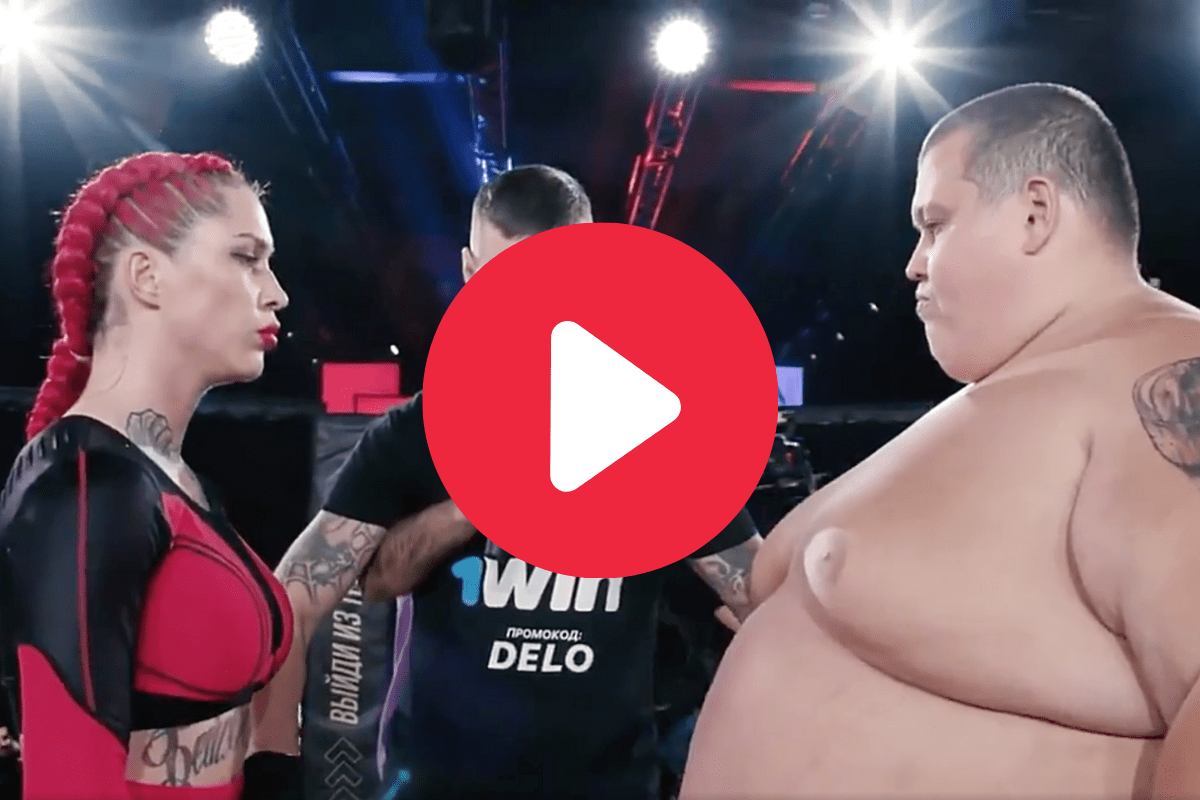 Screenshot from Twitter
First-round knockouts in UFC matches are far too common. Francis Ngannou once ended a fight with one swift uppercut punch. Even a 48-year-old Herschel Walker took out his opponent in the first couple minutes.
What's far less common is what took place at a recent event in Russia. A female MMA fighter weighing 139 pounds took on a 529-pound man (yes, almost 400 pounds heavier) in the Octagon at a fighting promotion dubbed "Our Business" by Nashe Delo Fights in Moscow.
The shocker? She won via first-round knockout.
Raise your hand if you had this story on your 2020 bingo card.
Female Fighter KOs 529-Pound Man
RELATED: 600-Pound MMA Fighter Takes On Puny Man, Inexplicably Loses
That red-headed, braided-up woman is Darina Madzyuk. She's making waves on social media for taking down YouTuber Grigory Chistyakov, a hefty man who tips the scale at 529 pounds.
Despite weighing almost 400 pounds less, Madzyuk defeated her big-boned opponent at this bizarre bout in Russia.
We need to start with that incredible barrel roll from Chistyakov to enter the Octagon. That was simply magnificent. He originally pins her against the cage and lands some body shots on her. The referee breaks them up, and that's when Madzyuk begins to take over. She gets her male opponent on the ground and pounds his face in repeatedly.
The whole thing is super weird and the announcers lose their minds at the result. I don't know if this was all staged or not but it sure was entertaining to watch.
Not everyone agreed.
Veteran UFC referee Marc Goddard wrote on Twitter that the fight was "shameful."
"This is what we are dealing with – in 2020. This is what we are fighting against as the parallels & negative connotations are continually drawn. To outsiders & detractors this is MMA. Shameful. Sickening. Abysmal," he said, via MMAFighting.com.
"Freak Show" mixed martial arts fights like these aren't uncommon. We've written about the time former MLB player Jose Canseco fought a 7-foot man and the time a 600-pound dude lost to a much smaller guy. What's next? Conor McGregor fighting Shaq or Khabib Nurmagomedov versus a bear? Oh wait, that already happened.
I've got to be honest, though. I've never seen a fight quite like this. Only in Russia.