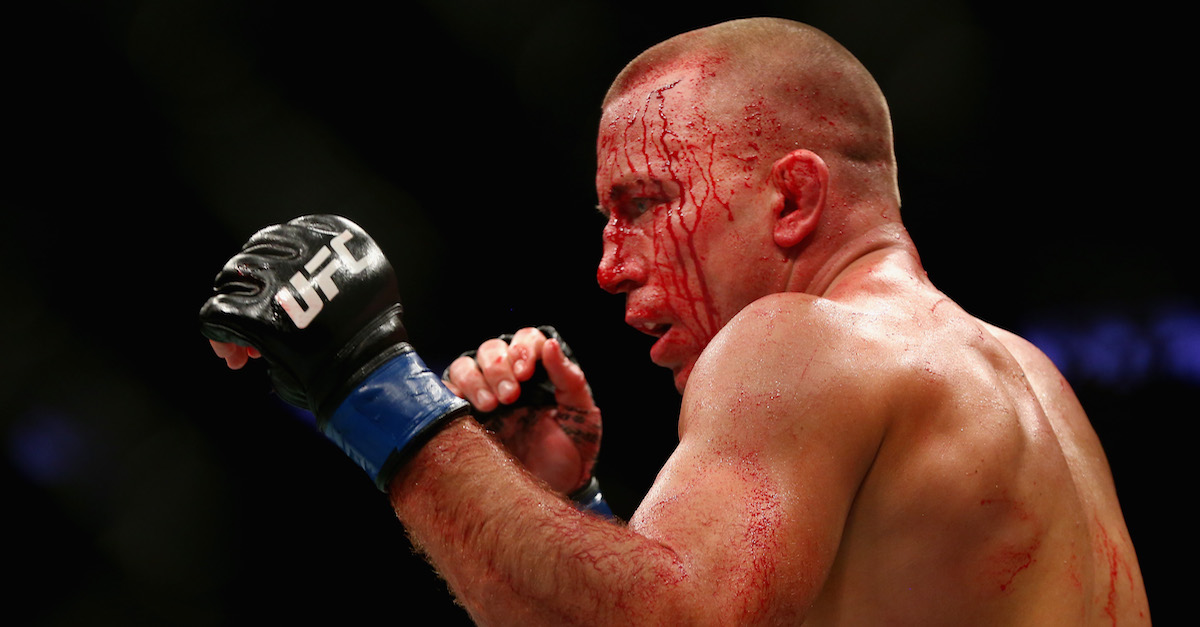 Mike Stobe/Getty Images
NEW YORK, NY - NOVEMBER 04: Georges St-Pierre of Canada fights Michael Bisping of England in their UFC middleweight championship bout during the UFC 217 event at Madison Square Garden on November 4, 2017 in New York City. (Photo by Mike Stobe/Getty Images)
Georges St-Pierre is the UFC's current middleweight champion, but unfortunately, he won't be much of a fighting champion, at least right now, as he suffers through a nasty affliction.
St-Pierre, who recently won the strap after a third-round submission win over Michael Bisping at UFC 217, is suffering from ulcerative colitis, which is no joke. It's a disease that can lead to inflammation and ulcers in the digestive tract and it has no cure, though it can be treated.
The 5-foot-11, 185-pound fighter released a statement via Facebook, and for what it's worth, he does sound optimistic:
"I now understand the health issues that I had during my last training camp… I hoped my condition would improve after the fight but unfortunately it got worse and I had to go straight to the hospital for a colonoscopy when I came back from vacation last Wednesday. The diagnosis is ulcerative colitis and I am now taking medication that will hopefully appease the symptoms. My health is my #1 priority right now, I'm still a very happy man, thanks for your support!!!"
St-Pierre may be a very happy man and it's great to see his health taking priority, but not having him in fighting shape is bad news for the UFC, especially considering the fact that he just recently won the middleweight title.
Per MMAJunkie.com, neither UFC President Dana White nor St-Pierre himself would give a timetable for his return. Most notably, this likely delays what was expected to be a title-unification match between St-Pierre and interim champion Robert Whittaker.