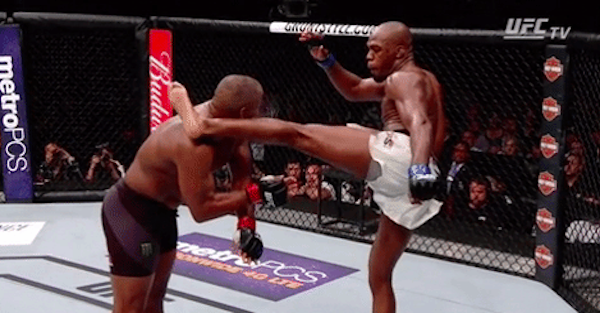 UFC screenshot
Jon Jones (23-1) knocked out Daniel Cormier (19-2) for the light heavyweight championship Saturday night at UFC 214 in Anaheim, California.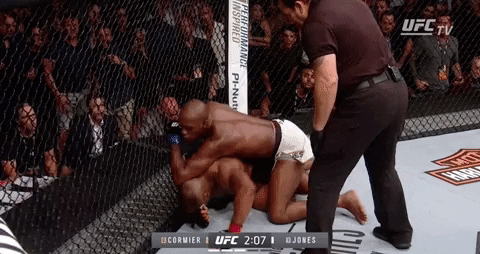 A vicious head kick stunned Cormier midway through the third round before finishing him on the mat with a brutal ground and pound.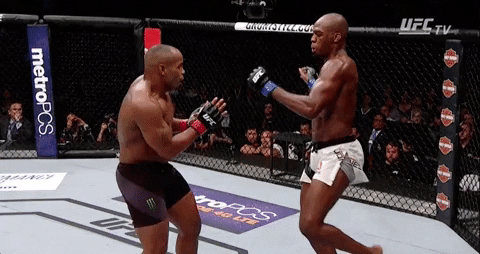 Jones picked up exactly where he left off, attacking early and often with leg kicks followed by a flurry of punches. Cormier knocked out Jones' mouthpiece with a nasty uppercut, which caused a momentary delay in the bout. A takedown attempt by Cormier was rolled through by Jones and the former champ went back to work on his feet. Jones' height and reach was the significant difference early on as Cormier's jab attempts were more like jumping punch attempts. Cormier appeared to catch Jones late in the first round, but Jones jumped into the clinch and didn't let up until he had recovered.
Cormier opened the second round with the same composure he had in the first. He attacked Jones body early, but an accidental headbutt opened a cut on the right eye of Cormier. Jones' consistent leg kicks disrupted Cormier's strike attempts, but the champ looked confident in his continued pursuit.
A much more aggressive Jones changed the tune of the fight to open the third, landing three strikes for every one attempt of Cormier's. Soon it would all be over for Cormier.
Jones hadn't fought since April 2016, when he defeated Ovince St. Preux. His last fight before that was a title victory over Cormier, by decision, in January 2015. He had won 13 straight fights entering Saturday night's main event.
Cormier had taken the reigns of the light heavyweight division in Jones' absence, rattling off four consecutive victories.
Saturday was Jones' first fight since a USADA suspension gave him a year off outside of the Octagon.
Jones was ticketed for allegedly drag racing back in March of last year ? an accusation Jones strongly denies in the video above, and per a statement, via TMZ:
?I was not drag racing nor was I speeding. I did not get a speeding ticket. I was driving within the speed limit of the 35mph zone.?

?I feel that police used a technicality to ticket me for drag racing, for simply revving my engine and acknowledging some of my local fans. I regrettably said words to the police officer out of frustration, for which I apologize for, but I do feel this was excessive.?
Jones was sentenced to probation in 2015 following a hit-and-run case in which the star ran from the scene of the accident, and was arrested after terms of his probation were considered a violation.
The one-time champion was stripped of his light heavyweight belt after his hit-and-run incident.