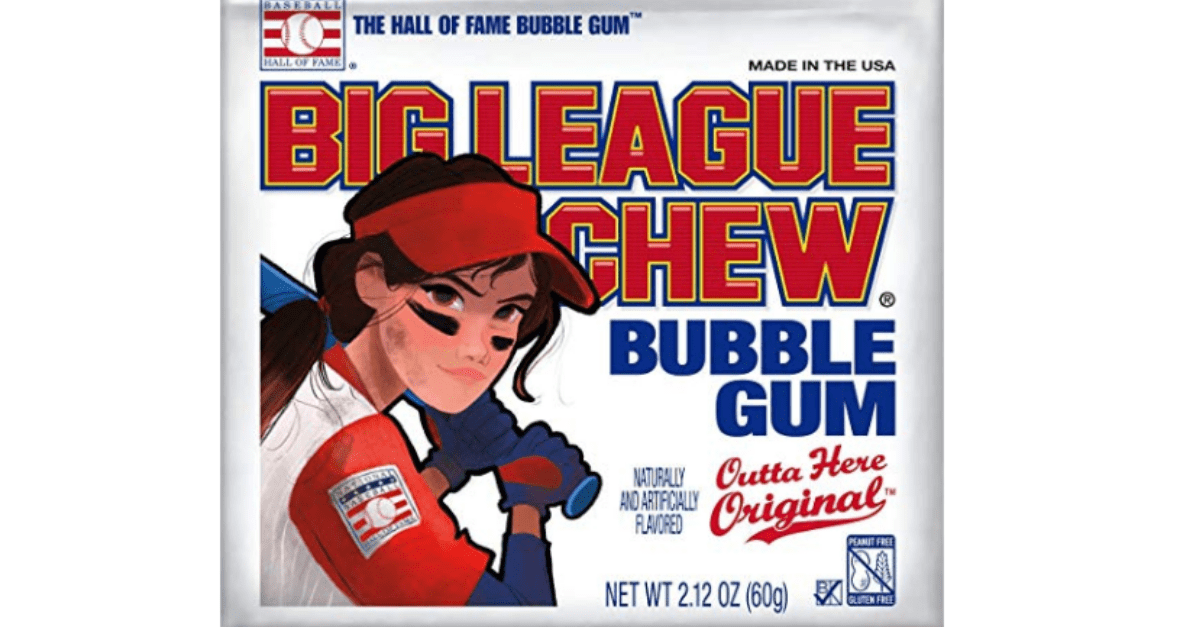 Amazon
You remember Big League Chew bubble gum, right? It was that shredded, stringy stuff in those aluminum pouches you bought before (and probably after) every game you had as a kid. Me? I'd grab a huge pinch, pretend there was a wad of chewing tobacco in my cheek, then jog out to right field secretly hoping the ball didn't come my way. Big League Chew was a big part of my childhood growing up ? as I hope it was yours ? but I bet both of us never realized the iconic bubble gum pouch only ever had a male baseball player on it.
For the first time, you can finally buy pouches of Big League Chew's softball edition. The classic image of a right-handed, burly baseball player took a backseat to a left-handed, female softball player proudly sporting the National Baseball Hall of Fame's logo on her sleeve. The newest character of the Big League Chew family signals the shift we're seeing across the country: women's sports are on the rise, and the girls are just getting started.
Pitcher Rob Nelson created the first batch of shredded bubble gum while coming out of the Portland Mavericks bullpen back in 1979. To celebrate the company's 40th anniversary season, the company tasked Amanda MacFarlane, a freelance character designer, with drawing up the first-ever female softball player to be featured on the reinvented 'Outta Here Original' flavored chewing gum's new pouch.
MacFarlane's design inspiration for the new character? That'd be her softball-playing niece, Alayna Berry, the daughter of former Major League shortstop Bobby Bonner.
"Girl power is a big part of the world today, I?m proud that I?m a part of that," Berry told ABC 13 News. "Girls can be just as great as guys, and that we?re all equal, and that girls are empowered like big strong boys that play baseball, we?re just as important and special."
Big League Chew Introduces Softball Pouch

RELATED: MLB Umpires Accept 30% Pay Cut for COVID-19-Shortened Season
Ford Gum & Machine Co., which purchased the rights to Big League Chew in 2010, has made softball a huge priority in promoting their brand. The company partnered with National Pro Fastpitch (NPF) for the start of the league's 2019 season to help Big League Chew promote the game's professional ranks and a sport that's largely been forgotten in the national spotlight.
Thanks to sponsors like Big League Chew, the girls won't be forgotten anymore with this softball pouch.
The next time you walk past a busy concession stand at your local park, take a peek behind the counter at what kind of Big League Chew they have in stock. Chances are high that you're going to see a variety of bubble gum flavors made in the USA, like sour apple, cotton candy, watermelon or blue raspberry, and different pouch choices ? for both the boys AND the girls ? just like it should be.
This post was originally published on March 12, 2019.