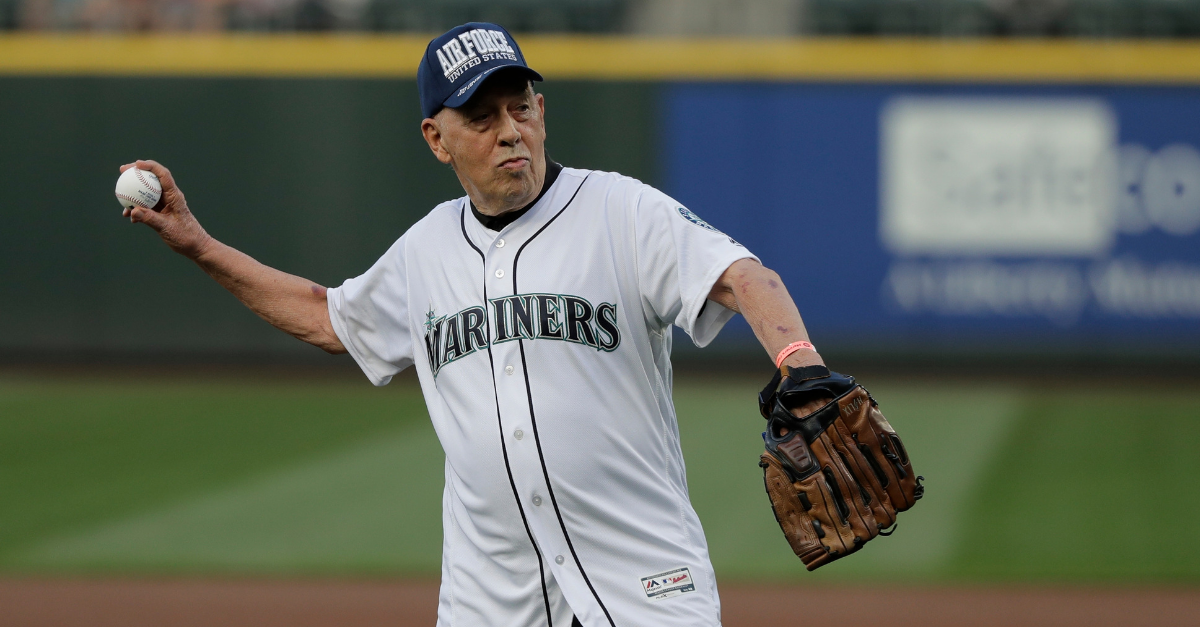 AP Photo/Ted S. Warren
If anyone knows what it?s like to start a sports empire, it?s Bill Rasmussen. After all, he founded ESPN and served as the first president and CEO of ?The Worldwide Leader in Sports? before anyone had a clue what a 24-hour sports network could look like. A lot has changed since the launch in 1979, and Rasmussen has shared some stories along the way, but the 86-year-old had been hiding one thing for the past few years.
ESPN founder Bill Rasmussen has Parkinson?s Disease, a progressive brain disease. He was diagnosed back in 2014, but waited until Monday to share the story publicly in a heartfelt letter titled ?The Story Changes, While the Message Endures? on ESPN Front Row.
?First and foremost ? I?m doing well,? he wrote. ?For a guy pushing 87, and with the help of medicine that helps treat my symptoms, I still get around quite well and continue to travel the country telling the ESPN/life lessons stories as I have for decades. I live in Seattle now with my amazing daughter, Lynn, a Registered Nurse and her incredible family, who have been on this journey with me and without whom this Parkinson?s mystery would be a lot harder to tackle.
?Now, by expanding the circle, by sharing my experiences, my hope is that I can help others who are impacted by Parkinson?s and we?ll all learn more together.?
RELATED: ESPN Legend Bob Ley Calls it Quits After 40 Years
Parkinson?s Disease is no joke. Rasmussen, a Chicago, Illinois native and former DePauw University and United States Air Force baseball player, understands that. He now wants everyone to be aware of his condition and the fact there?s 600,000 to 1 million people living with Parkinson?s in the United States.
?I?m a positive guy . . . I always look at the positive side of people, projects, ideas, etc. For some reason, Parkinson?s is kind of an orphaned malady ? people don?t like to talk about it, as if it were taboo. Well, 40 years ago, people didn?t want to talk about a 24-hour sports network either as if competing with ?The Big Three? broadcast networks was taboo. We never stopped asking questions, solving problems and selling the dream. A lot of really good people did believe and we see the results of that effort today.

?Let?s tackle Parkinson?s with the same enthusiastic effort. I?ll be talking a lot about PD in the weeks and months ahead ? not as a victim, but as living, breathing proof that when you or a loved one hears the dreaded words, ?You have Parkinson?s disease,? life is not over ? it?s just the beginning of a new chapter.?

? ESPN Founder Bill Rasmussen, via ESPN's Front Row
Rasmussen, who founded ESPN with his son Scott, says he has shaking hands and is walking a little slower. He also has unexpected balance issues that have him in a wheelchair all the time at the airport.
However, that?s not going to stop Bill Rasmussen from living his best life. Not one bit.
On September 8, the 40th anniversary of Sunday Night Baseball, Rasmussen and ESPN President Jimmy Pitaro will throw out the first pitch at Fenway Park when the Boston Red Sox host the New York Yankees. He will also visit various ESPN employees across the country in Charlotte, New York, Bristol and Los Angeles.
Rasmussen has been dealing with this for five years, and now the rest of the world knows.