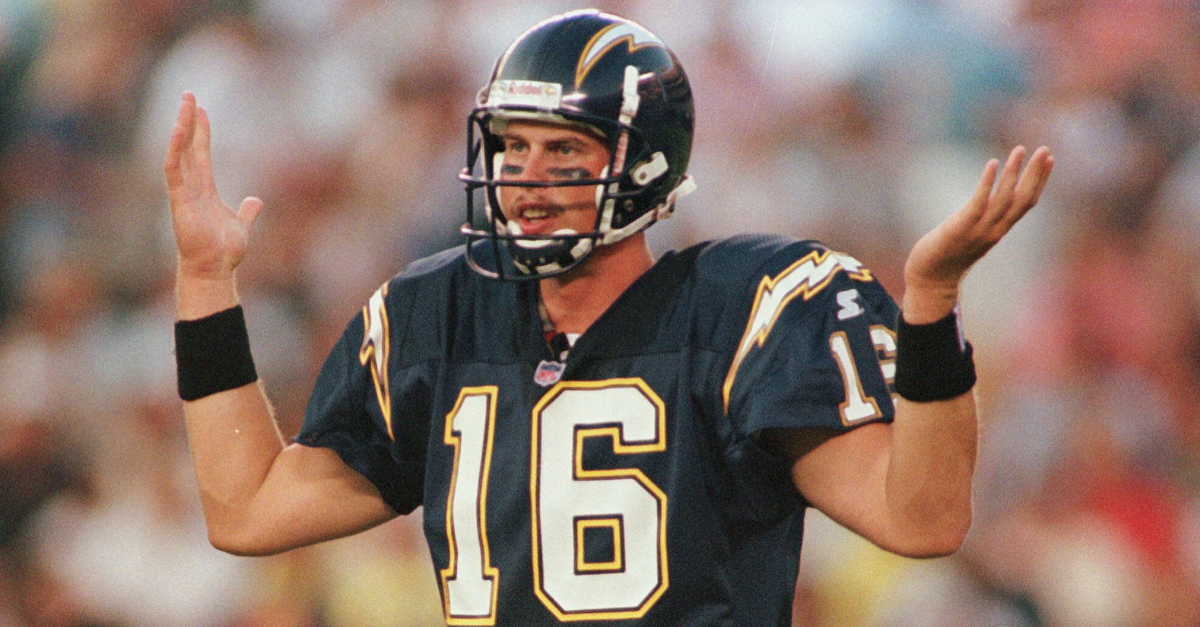 AP Photo/Kent Horner
Ryan Leaf is making a comeback. The middle-aged man who everyone remembers as a football bust isn?t returning to the gridiron to play, but he has found a new job to keep him around the game he loves and was once a stud at.
On Monday, ESPN announced they have hired Leaf to be a college football analyst. He will be paired with play-by-play announcer Clay Matvick and call games primarily on ESPN2 and ESPNU.
Needless to say, it?s another step in the right direction after Leaf?s personal life took a turn for the worse years ago.
?Thank you to everyone who supported me along this journey,? Leaf wrote on Twitter. ?Ton of gratitude in the Leaf household tonight. Thanks to [ESPN] for giving a flawed human being a chance to be better today. #soberlife #cfb #letsgettowork?
?RELATED: What is Kirk Herbstreit?s Net Worth?
After a sensational college football career with the Washington State Cougars, Leaf was the No. 2 overall NFL Draft pick in 1998 ? just behind Peyton Manning ? by the San Diego Chargers. However, he only played in 25 career games with the Chargers and Dallas Cowboys.
Leaf fizzled out of the league in a hurry, competing under 50 percent of his passes with 14 touchdowns and 36 interceptions, and then his life spiraled out of control.
From legal issues in Texas to pleading guilty to felony burglary and drug possession in Montana, Leaf certainly had a drug addiction and it even resulted in a stint in a prison cell. He was sentenced to five years in prison for violating his Texas probation after he broke into a home to steal prescription drugs.
The good news is Leaf, now 43, is back on the right track. He spent last season on the Pac-12 Network and co-hosting a show on SiriusXM?s Pac-12 channel before being hired by ESPN. He?s also a Program Ambassador for sober living houses in Los Angeles, Houston, and New York.
"Ryan has experienced the highs and lows in the game of football, putting him in a position to relate to a wide range of situations players can find themselves in. He will be able to rely on those experiences — including an unbelievable college career where he was an All-American and Heisman Trophy finalist — in his analysis, making him a tremendous asset for our team.??

? Lee Fitting, ESPN's Senior Vice President of Production
Former NFL and Washington State quarterback Ryan Leaf got a second chance to be around the game on a national sports network, and he?s looking to make people remember him for the right reasons, not the short, four-year NFL career and being known as a draft bust.