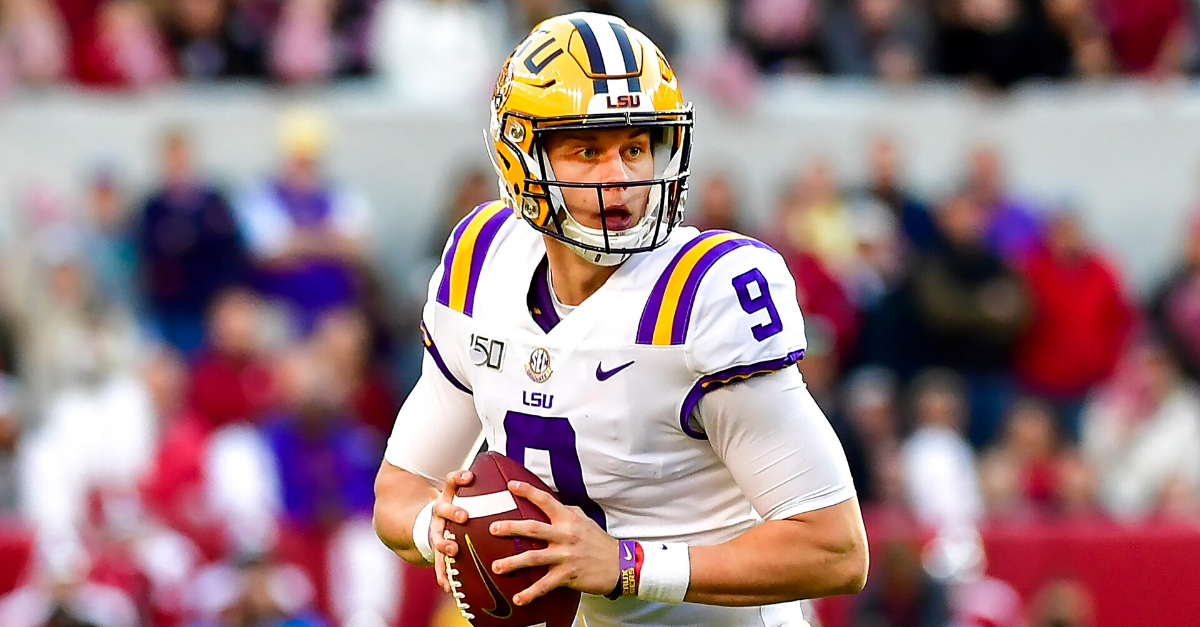 AP Photo/Vasha Hunt
For as great as the 2018-19 college football season, that offseason will forever be remembered for one thing: the NCAA Transfer Portal. Players transferring programs has been happening for a long time, but last year seemed to take it to the extreme.
From several teams welcoming the idea of loading up on Transfer Portal talent to big-time programs losing a bunch of players to the now-famous Transfer Portal, there are definitely some winners and losers to this new reality.
However, while some transfers have loads of success, such as winning the Heisman Trophy and being drafted No. 1 overall, some don't live up to the hype of their arrival in a new place.
The NCAA Transfer Portal
RELATED: Michigan's Jim Harbaugh Rips the SEC: ?Hard to Beat the Cheaters?
When a player decides to transfer, it is usually because things haven't worked out or they aren't getting the playing time they want and think they deserve. There are also some graduate transfers who seek a final year to improve their draft stock before making the leap toward the NFL.
However, no matter how promising their new situations seem, there are never guarantees, and then there are players who make whatever situation they find themselves in work.
Here's a look at some of the biggest booms and busts of transfers over the years:
Transfer Booms
Baker Mayfield (Oklahoma Sooners)
Baker Mayfield obviously had a ton of success after leaving Texas Tech and joining the Oklahoma Sooners. He led them to the College Football Playoff and won the Heisman Trophy before becoming the No. 1 pick in the 2018 NFL Draft by the Cleveland Browns. Yes, he could have possibly still had a great career at Texas Tech, but it looks like he made the right decision.
In eight games with the Red Raiders, Mayfield completed 64 percent of his passes with 2,315 yards, 12 touchdowns and nine interceptions. It is interesting that as a freshman, it was the lowest number of games he played in, but also the most interceptions he threw during a season.
In 40 games over three seasons at Oklahoma, he completed 69.8 percent of his passes for 12,292 yards, 119 touchdowns, and just 21 interceptions.
Cam Newton (Auburn Tigers)
Cam Newton ended up at Auburn, but not just because he wanted to transfer. He was kicked out of the University of Florida and had to attend a junior college for a season before finishing his college career with the Tigers. Once he joined Auburn, it was obvious why he was supposed to take over for Tim Tebow as the Gators' starting quarterback.
In his one season for the Tigers, Newton threw for 2,854 yards with 30 touchdowns and seven interceptions, while also rushing for 1,473 yards and 20 touchdowns. Newton won the Heisman Trophy and went on to lead Auburn to a national championship.
Randy Moss (Marshall Thundering Herd)
Randy Moss is a similar case to Newton because he was forced out of a Florida school due to something that happened off the field before becoming a dominant player at another school. Moss was kicked off Florida State's team, transferred to Marshall, and became one of the best college football wide receivers of all time. The then-Division I-AA Thundering Herd gave him an opportunity to have an outrageous season and become a Heisman Trophy finalist.
In his one season, Moss finished with 96 catches for 1,820 yards and 26 touchdowns in 13 games.
Kyler Murray (Oklahoma Sooners)
Kyler Murray followed a similar path of Mayfield by starting his career at Texas A&M before transferring to Oklahoma, taking his Sooners team to the College Football Playoff and winning the Heisman Trophy. In one season with the Aggies, he played in eight games, completed 59.5 percent of his passes, and threw for 686 yards with five touchdowns and seven interceptions. He also ran for 335 yards and a touchdown on 53 carries during that season.
In 21 games as a Sooner, seven of which were as a backup to Mayfield, he completed 69.8 percent of his passes for 4,720 yards, 45 touchdowns and seven interceptions. He also ran for 1,143 yards with 12 touchdowns on 154 carries.
Russell Wilson (Wisconsin Badgers)
Unlike many transfers, Russell Wilson had a ton of success before transferring to another school. He played three seasons at North Carolina State and is high in the record books for the school and ACC. He decided to be a graduate transfer at Wisconsin, where he had a really good final season.
In three seasons and 36 games for the Wolfpack, he completed 57.8 percent of his passes for 11,720 yards, 109 touchdowns, and 30 interceptions. In 14 games for the Badgers, he completed 72.8 percent of his passes for 3,175 yards with 33 touchdowns and only four interceptions.
Joe Burrow (LSU Tigers)
After three seasons with the Ohio State Buckeyes, including a redshirt, Joe Burrow needed a change. So he decided to take his talents to LSU and, needless to say, it's the greatest decision he could have made.
Burrow showed his abilities in spurts last season, but he had a senior season for the record books. The All-American beat the Alabama Crimson Tide in Tuscaloosa, won the SEC Championship over the Georgia Bulldogs, took home the Heisman Trophy, and led the Tigers to the CFP National Championship Game against the Clemson Tigers.
It's safe to say Burrow's two years in Baton Rouge were magical.
The Busts
Bryce Brown (Kansas State Wildcats)
As the No. 2-overall prospect in the 2009 recruiting class, Bryce Brown seemed to be a lock for a great career. However, he only spent spent one season at Tennessee, where he rushed for only 460 yards and three touchdowns before deciding to transfer to back home to Kansas State. He only played in two games for the Wildcats and had three carries for 16 yards.
Brown did eventually make his way onto an NFL roster with the Philadelphia Eagles, and had a pretty solid rookie season, but it didn't last long as he spent four seasons on three different teams until 2015.
Malik Zaire (Florida Gators)
The idea was for Malik Zaire to go from Notre Dame to Florida, take over, and hopefully improve the offense. That is not even close to what happened, though. He didn't even win the starting quarterback job and only played in four games for the Gators.
Brandon Harris (North Carolina Tar Heels)
Coming out of high school, Brandon Harris was the third-ranked dual-threat quarterback. He played for three seasons at LSU, and had a solid sophomore season, but he could never do enough to prove he was the guy to lead the Tigers to the next level.
After his junior season, he transferred to UNC, but he wasn't the answer there, either. He only played in six games and attempted just 71 passes.
Mitch Mustain (USC Trojans)
Mitch Mustain was a five-star recruit out of high school who decided to stay home and play for Arkansas. He played one season for the Razorbacks, and was successful, but transferred to USC because of disagreements with head coach Houston Nutt. In two seasons with the Trojans, he played in 21 games but only attempted 89 passes after failing to win the starting job both seasons.
Whether it's a quarterback, running back, lineman, or linebacker, there are tons of players who walk away from or are forced out of their first college football teams. Some work out in the long run while others don't.
Usually, if there is another FBS school and coaching staff that is willing to take in that player, there is something there that they think can be used to help their program, but that isn't always how things work out.