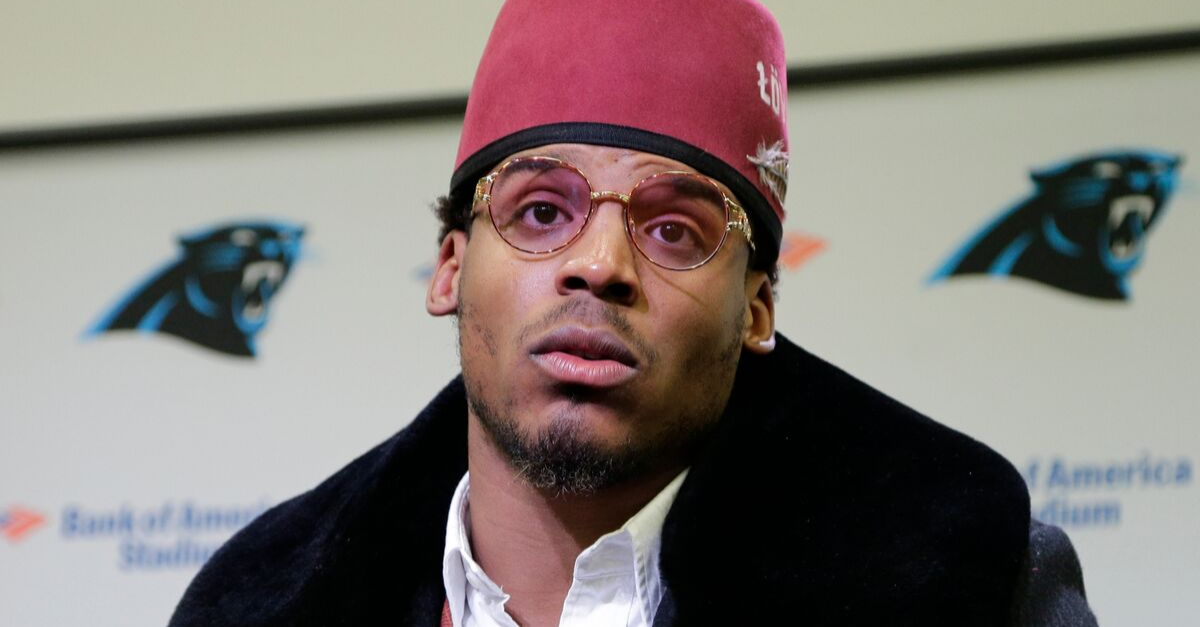 AP Photo/Chuck Burton
One of the most entertaining and electric quarterbacks in the NFL is Carolina Panthers quarterback Cam Newton.
With on-field accomplishments, one of the most recognizable faces in football, and a long list of endorsements, "Superman" has stacked up a ton of money, but how much has he earned exactly over his career?
Early Life & College Highlights
Coming out of Westlake High School in Atlanta, Cameron Jerrell Newton was touted as a five-star recruit and ranked as the second-best dual-threat quarterback recruit in the country and second player out of the state of Georgia. He chose to sign with the University of Florida as part of the 2007 recruiting class.
After two seasons of college football playing behind Tim Tebow, Newton was kicked off the team for stealing a Florida student's laptop and throwing it out his window. He then played one season in junior college for Blinn College, winning the NJCAA National Football Championship.
The American football quarterback continued his college career by transferring to Auburn University.
RELATED: Cam Newton?s 2010 Heisman Season Was Simply Incredible
In one season as starting quarterback of the Auburn Tigers, Newton become a legend with 2,854 yards and 30 touchdowns through the air, plus 1,473 yards and 20 touchdowns on the ground. In his Heisman Trophy season as the best player in the country, Newton also led the Tigers to a 2010 National Championship win over the Oregon Ducks.
But this not only won him numerous quarterback awards, it showed his generational talent and moved him up draft boards in a hurry. At the 2011 NFL Draft, the Carolina Panthers chose Newton with the first overall pick.
Cam Newton's NFL Career
His career started extremely well as the first rookie quarterback in NFL history to throw for 4,000 yards, winning him NFL Rookie of the Year in 2011. In the first eight seasons as an NFL player, Newton was selected to three Pro Bowls and named the 2015 NFL MVP when he led the Panthers to the NFC Championship game before eventually losing to Peyton Manning and the Denver Broncos in Super Bowl 50.
He is easily one of the most athletic quarterbacks alongside names like Russell Wilson and Aaron Rodgers in National Football League history, but numerous hits have taken their toll. Newton has proven his durability but has experienced his fair share of injuries through nine NFL seasons.
In 2019, nagging shoulder and foot injuries landed him on injured receive. He played in only two games and ultimately missed the entire regular season. He became a free agent in the offseason, but still made more than $121 million over his first nine years in the league, according to Spotrac.
Newton will go down as an all-time great, but some people believe he could be even better.
Endorsements & Investments
RELATED: Cam Newton Reveals He?s ?A Proud Father of 7 Children?
Since being drafted, Newton's had endorsement deals with Under Armour, Danon, Gatorade and Beats among many others. In addition, he's invested money in the UFC, a Nickelodeon show called "All In With Cam Newton," and opened a $7 million cigar bar in Atlanta.
Maybe the most notable thing about Newton off the field is how he dresses. Newton's flashy suits, hats and shoes are hard to miss, and some people would even call them hideous. But what's clear is that these gaudy outfits are expensive, which tell you Newton loves to show off his wealth.

Cam Newton's Girlfriend and Kids
Newton has four children with ex-girlfriend Kia Proctor, who first gained fame as a stripper in Washington, D.C.
Newton and Proctor chose some interesting names for their four kids. Chosen Sebastian Newton was born in 2015, Sovereign-Dio Cambella Newton in 2017, Camidas Swain Newton in 2018 and Cashmere Saint Newton in 2019.
Newton reportedly had a "secret baby" with someone else. He revealed in June 2020 that he actually has seven children, including a child Proctor had with another guy whom Newton considers his own.
Cam Newton Net Worth
Following the 2015 season, Newton agreed to a five-year contract with Carolina worth $103.8 million. Before that, he had played on his rookie contract that was for four years and $22 million.
With such a household name, Newton has built a massive net worth since becoming a professional football player. As of 2020, Cam Newton has an estimated net worth around $45 million, though that number will only grow in the next few years with his base salary, contract bonuses, and various investments continuing to grow the NFL icon's brand.
Cam Newton's net worth is enough for him to never play in the NFL again and probably live comfortably.