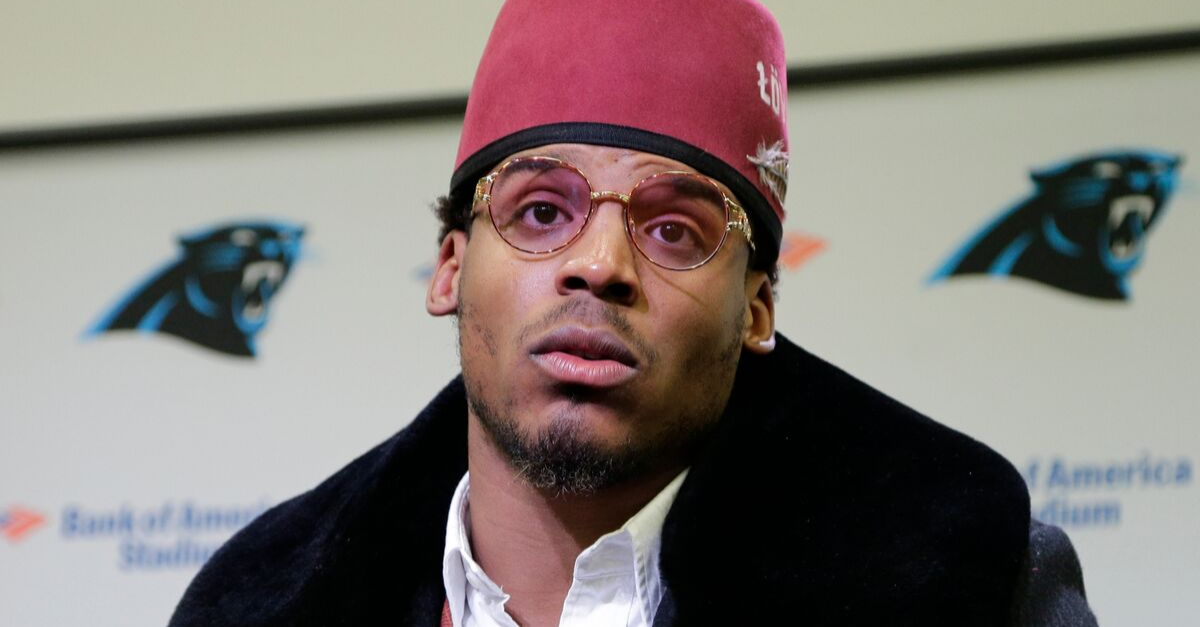 AP Photo/Chuck Burton
One of the most entertaining and electric quarterbacks in the NFL is Carolina Panthers quarterback Cam Newton.
With on-field accomplishments, one of the most recognizable faces in football, and a long list of endorsements, "Superman" has stacked up a ton of money, but how much has he earned exactly over his career?
Early Life & College Highlights
Coming out of Westlake High School in Atlanta, Cameron Jerrell Newton was touted as a five-star recruit and ranked as the second-best dual-threat quarterback recruit in the country and second player out of the state of Georgia. He chose to sign with the University of Florida as part of the 2007 recruiting class.
After two seasons of college football playing behind Tim Tebow, Newton was kicked off the team for stealing a Florida student's laptop and throwing it out his window. He then played one season in junior college for Blinn College, winning the NJCAA National Football Championship.
The American football quarterback continued his college career by transferring to Auburn University.
RELATED: Cam Newton's 2010 Heisman Season Was Simply Incredible
In one season as starting quarterback of the Auburn Tigers, Newton become a legend with 2,854 yards and 30 touchdowns through the air, plus 1,473 yards and 20 touchdowns on the ground. In his Heisman Trophy season as the best player in the country, Newton also led the Tigers to a 2010 National Championship win over the Oregon Ducks.
But this not only won him numerous quarterback awards, it showed his generational talent and moved him up draft boards in a hurry. At the 2011 NFL Draft, the Carolina Panthers chose Newton with the first overall pick.
Cam Newton's NFL Career
His career started extremely well as the first rookie quarterback in NFL history to throw for 4,000 yards, winning him NFL Rookie of the Year in 2011.  In the first eight seasons as an NFL player, Newton was selected to three Pro Bowls and named the 2015 NFL MVP when he led the Panthers to the NFC Championship game before eventually losing to Peyton Manning and the Denver Broncos in Super Bowl 50.
He is easily one of the most athletic quarterbacks in National Football League history, but numerous hits have taken their toll. Newton is more than durable, considering that in his first eight seasons he never played fewer than 14 games in a year. But how many of those games was he injured and didn't play nearly as well as he could have?
In 2019, nagging shoulder and foot injuries landed him on injured receive. He played in only two games and ultimately missed the entire regular season.
Newton will go down as an all-time great, but some people believe he could be even better.
Endorsements & Investments
Since being drafted, Newton's had endorsement deals with Under Armour, Danon, Gatorade and Beats among many others. In addition, he's invested money in the UFC, a Nickelodeon show called "All In With Cam Newton," and opened a $7 million cigar bar in Atlanta.
Maybe the most notable thing about Newton off the field is how he dresses. Newton's flashy suits, hats and shoes are hard to miss, and some people would even call them hideous.

Cam Newton Net Worth
Following the 2015 season, Newton agreed to a five-year contract with Carolina worth $103.8 million. Before that, he had played on his rookie contract that was for four years and $22 million.
With such a household name, Newton has built a massive net worth since becoming a professional football player. As of 2019, Cam Newton has an estimated net worth around $45 million, though that number will only grow in the next few years with his base salary, contract bonuses, and various investments continuing to grow the NFL icon's brand.
This article was originally published October 1, 2019.