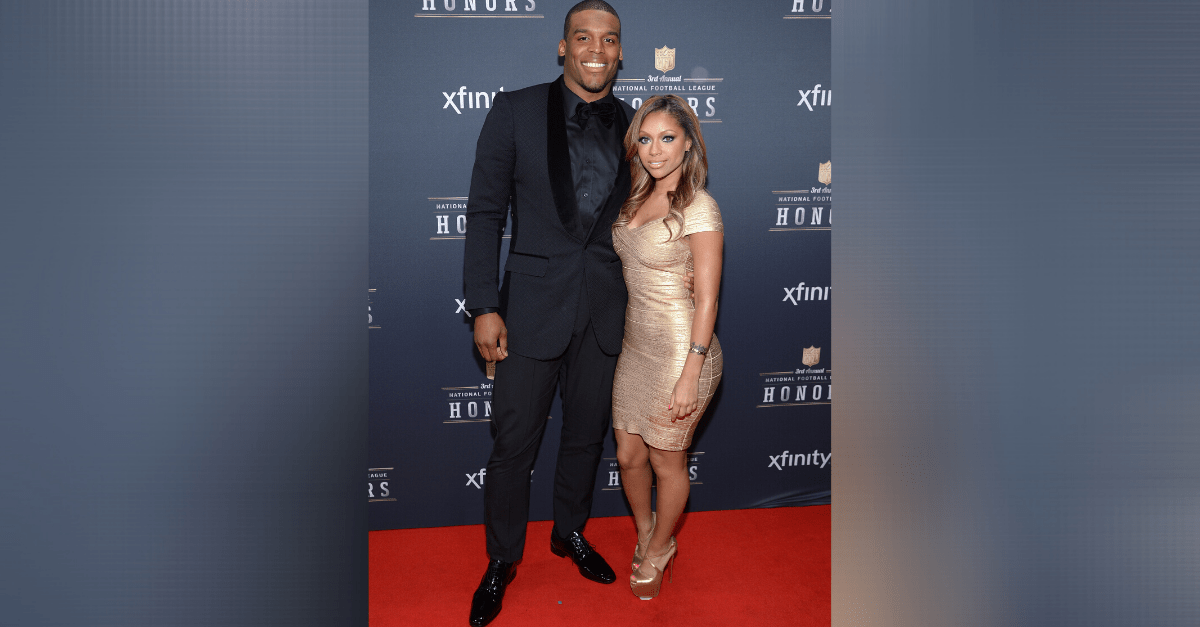 Photo by Evan Agostini/Invision for NFL/AP Images
Cam Newton is one of the more polarizing quarterbacks in the NFL. The man known as Superman proved his worth at every level, winning the 2015 NFL MVP and playing in a Super Bowl with the Carolina Panthers after winning a Heisman Trophy and national championship at Auburn.
When he's not dressing himself in absurd and hilarious outfits, the former first overall pick and fashionista is setting world records on Youtube and making headlines for saying he's giving up sex to become a better quarterback. How'd that work for him?
The Carolina Panthers quarterback was dropped from his team this year, leaving him a free agent. That's a common theme for the former Heisman winner, who is playing the dating field in 2020 after splitting from his longtime girlfriend Kia Proctor despite fathering four children with her.
Who is Cam Newton's Ex-Girlfriend Kia Proctor?
RELATED: Christian McCaffrey Stole Miss Universe From Another NFL Star
Kia Proctor first gained fame as a dancer under the name 'Hazel' at Washington DC Stadium Club, a strip club in Washington, D.C.
It's unknown if Newton, who is from Atlanta, met Proctor while she was stripping, but she moved to the Georgia city to work as a party host and pursue a modeling career after her dancing career.
Proctor and Newton began dating in 2013 and first appeared together in public at the Kentucky Derby. In the years after, they showed face at events like the 3rd Annual NFL Honors in New York City in 2014 and began to start a family the following year.
Newton and Proctor Have Four Children
Proctor and Newton welcomed their first child the day before Christmas in 2015, a son named Chosen Sebastian Newton. The three-time Pro Bowl quarterback has spoken about his love for fatherhood, even writing a letter to Chosen in The Players' Tribune that also mentioned his relationship with Chosen's baby mama.
"Your mom is the best thing to happen to me," he wrote. "Yet I have failed in some regards. But I still love her unconditionally."
Newton has three other children with Proctor — daughter Sovereign-Dior Cambella Newton in 2017, son Camidas Swain Newton in 2018 and their fourth child, Cashmere Saint Newton in December 2019.
Clearly, Cam is pretty fond of his name. And fashion.
Proctor also has a 12-year-old daughter, Shakira, from a previous relationship. Things between Newton and Proctor began to sour in 2019 which led to a custody battle.
Newton & Proctor Broke Up After "Secret Baby"
Newton's relationship with longtime girlfriend Kia Proctor reportedly came to an end in January 2020 amid a report that the NFL player had a secret child over the summer with Instagram model La Reina Shaw.
A quick Instagram search reveals that the IG model has more than 2 million followers on social media, looks a whole lot like Kim Kardashian and definitely flaunted a baby bump last year. According to Yahoo, Shaw lives in a place above Newton's Atlanta restaurant, Fellaship, and the pair were spotted celebrating New Year's Eve together.
Shaw also commented on an Instagram post of Newton's in December 2019. Newton wished Chosen a happy birthday and the model commented on the photo, "happy birthday cutie."
Now, Proctor and Newton are battling it out in court for custody of their four children. Proctor is also suing Newton for child support, and she may get a hefty check considering the NFL star is worth a whole lot of money.
For now, "free agent quarterback Cam Newton" means more than you might think.