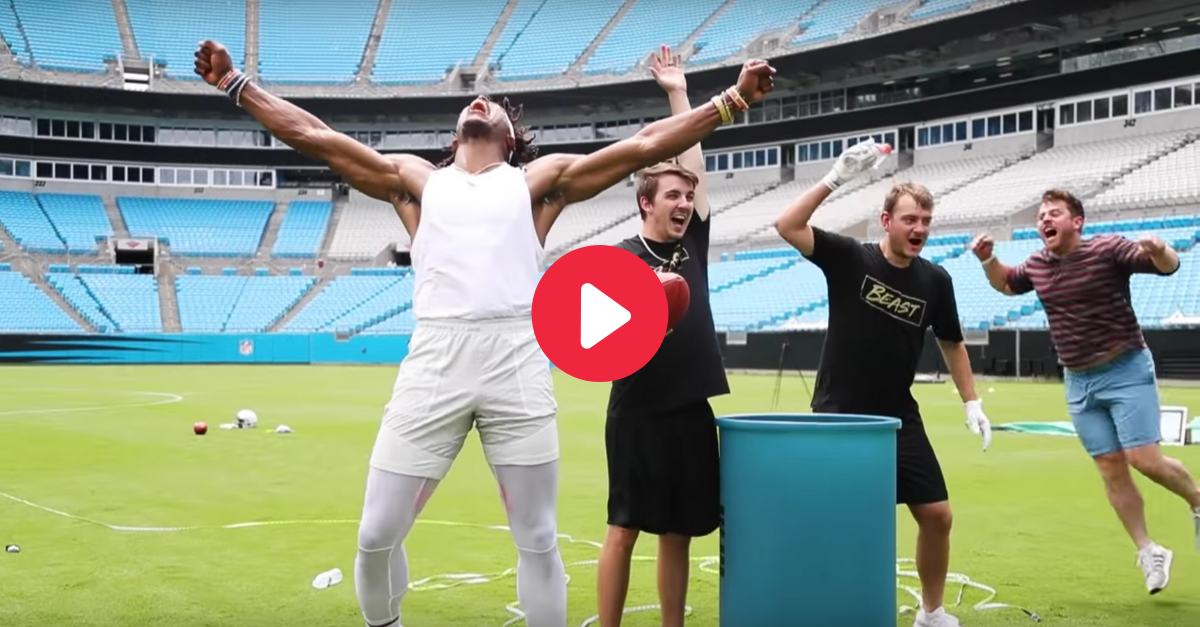 Screenshot from YouTube
Throughout his football career, Carolina Panthers quarterback Cam Newton has put together an incredible resume of accomplishments. Whether it was winning the Heisman Trophy at Auburn or taking home the NFL Most Valuable Player award, there?s no denying the 6-foot-5 signal caller?s ability to perform at a very high level. Well, he decided that wasn't enough, so he broke more a few more records during the offseason.
While many were skeptical whether Newton?s surgically-repaired shoulder would be ready to go for the upcoming season, the 30-year-old certainly showed no signs of pain while breaking three Guinness World Records at Bank of America Stadium in Charlotte, North Carolina back in 2019.
The three-time Pro Bowl selection teamed up with YouTube star Mr. Beast and his squad to make history. All of them related to football, of course, but they are different than what you might think.
The longest catch between the legs? The farthest blindfolded catch in motion? The most one-handed catches in 60 seconds? All of those Guinness records now belong to Newton.
Cam Newton's Guinness World Records
RELATED: Ezekiel Elliott Inks New $90 Million Contract Extension
A native of Atlanta, Georgia, and product of Westlake High School, Cam Newton sets Guinness World Records in style. The former college football All-American made it look way too easy.
For the first record, Newton launched an underhand pass 39 yards with someone catching the football between his legs. It took several tries, of course, but YouTube stars Dude Perfect have officially been dethroned.
The second record, which was also set by Dude Perfect, include Newton firing a 24-yard pass to one of Mr. Beast?s teammates while he was walking blindfolded. This definitely looks hard on the receiving end, but Newton got the longest pass completed done and celebrated after.
Perhaps the most impressive one of all is the most one-handed catches in one minute. The previous record number was 48 and had been held by current Cleveland Browns wide receiver Jarvis Landry and former NFL quarterback Brady Quinn. It had also been broken several times by NFL players Antonio Brown, Kirk Cousins, Odell Beckham Jr., and Drew Brees.
Well, after further review, Newton caught a new record of 51 passes in 60 seconds.
?Let?s put it like this. I have the best hands in the NFL, and you can document that,? he said. ?I really do have film of me catching passes in an actual game and I haven?t dropped one yet that was catchable.?
Don?t get it twisted, Newton would throw these three Guinness Book of World Record accompaniments for a Super Bowl ring. Heck, he?d likely give back his MVP and all of his touchdowns for it.
But it's a cool consolation prize to have "World Record Holder" sitting pretty on your resume.
This article was originally published September 4, 2019.