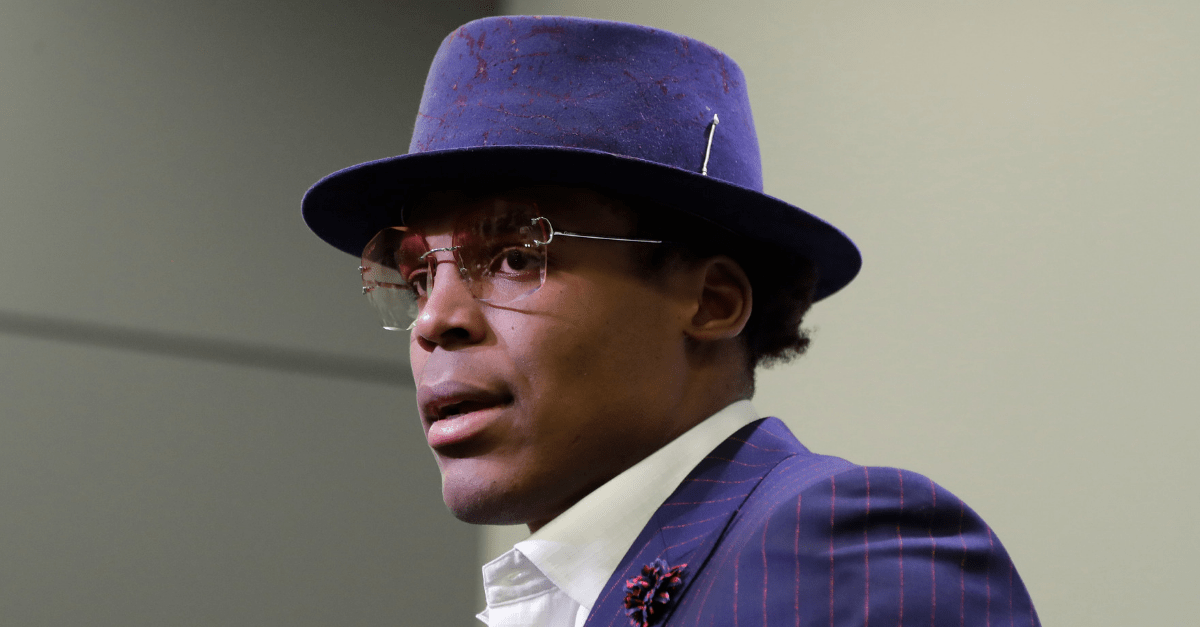 AP Photo/Chuck Burton
Since the beginning of the calendar year, Carolina Panthers quarterback Cam Newton has given up something for one month in order to prepare for the upcoming NFL season. He's stopped gambling, went vegan, and even gave up sex. Turns out, he was working on other projects as well.
It's been quite the week for the former NFL MVP. Newton and his girlfriend, Kia Proctor, announced they are expecting a fourth child, and now the star quarterback just opened a brand new cigar bar in downtown Atlanta, Georgia.
Some people got to see Newton's new business venture near Mercedes-Benz Stadium in a soft opening during Super Bowl weekend, but a ribbon cutting and grand opening this week made it official. The doors are open to new spot called Fellaship.
RELATED: Football Minds Actually Believe Panthers QB Cam Newton is a Dinosaur
So what is Fellaship? It's an "exclusive intimate lounge and restaurant" located on Centennial Olympic Park Drive, according to Eater Atlanta. It's a 4,600-foot club designed by the Meyer Davis Group with a dining room and bar, mezzanine level, a wine room and a VIP lounge behind moving bookshelves.
It sounds legit, but these pictures make the cigar lounge look incredible. According to ESPN and Melt Sports and Entertainment CEO Vince Thompson, Newton and his brother C.J. spent over $7 million to get the project off the ground.
"I'm excited because not only will you have a good opportunity to smoke a cigar, there will be a culinary experience like no other. For me, just smoking a cigar is just like the rookie stage. But when you pair it with certain wines, bourbons, and different things, being educated about that, that's what's so interesting about food in general and even cigars."

— Carolina Panthers Quarterback Cam Newton, via ESPN
Newton, an Atlanta native, started smoking cigars after the Panthers lost to the Denver Broncos in the Super Bowl to help him relax. Now his passion project came to live in the Castleberry Hill neighborhood.
So when the former Auburn Tigers superstar isn't playing football in Charlotte, there's a pretty good chance you can catch him at his new cigar bar-lounge in his hometown of Atlanta, enjoying some fine dining with a good cigar in his hands at all times.