For all sports fans, there's nothing better than watching the big game in style. Nobody understands that more than FanBuzz, and we decided to go all out to reward one lucky winner the Champions Dream Ticket Sweepstakes.
From a new TV to a customized cooler to streaming subscriptions, and more, FanBuzz is giving away $5,000 cash toward some great prizes in a game-changing fan giveaway.
Watching sporting events is one of our favorite pastimes — whether at the college level or professional level — and you could be the new champ with an unbelievable prize package.
The best part? It's free to enter.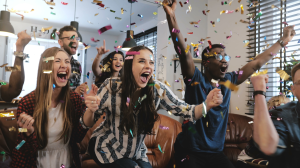 This is an all-star sports giveaway you don't want to miss!
There is no purchase necessary. All you need to do is share your email address here, and your entry could make you the grand prize winner.
The Champions Dream Ticket Sweepstakes winner will receive a $75 Dick's Sporting Goods Gift Card ® plus cash for everything listed below:
65" Ultra HD Smart Screen TV (est $800)
Versatile Indoor Home Workout System (est $1250)
Customized Flip-Top Cooler (est $350)
Outdoor Video Projector (est $300)
Streaming Subscriptions to ALL Leagues (est $300)
And, after all this, you'll still have over $1,900.00 cash for whatever else you'd choose! Whether you want to buy a stand for your Smart TV, the latest t-shirt or gear for your favorite sports team, a new chair, or snacks for your next party, the options are endless. It doesn't get much better than that!
The deadline to enter the sweepstakes is 11:59 P.M., ET on December 31, 2021. For more details, be sure to check out the giveaway's Official Rules.
The clock is winding down. Your chance to win is here. From New York to Los Angeles, and everywhere in between, it's time to show that team spirit and get in the game.
Enter to win the FanBuzz Champions Dream Ticket Sweepstakes now!
Want More Sports News?
Get the biggest and best sports news sent directly to your inbox.