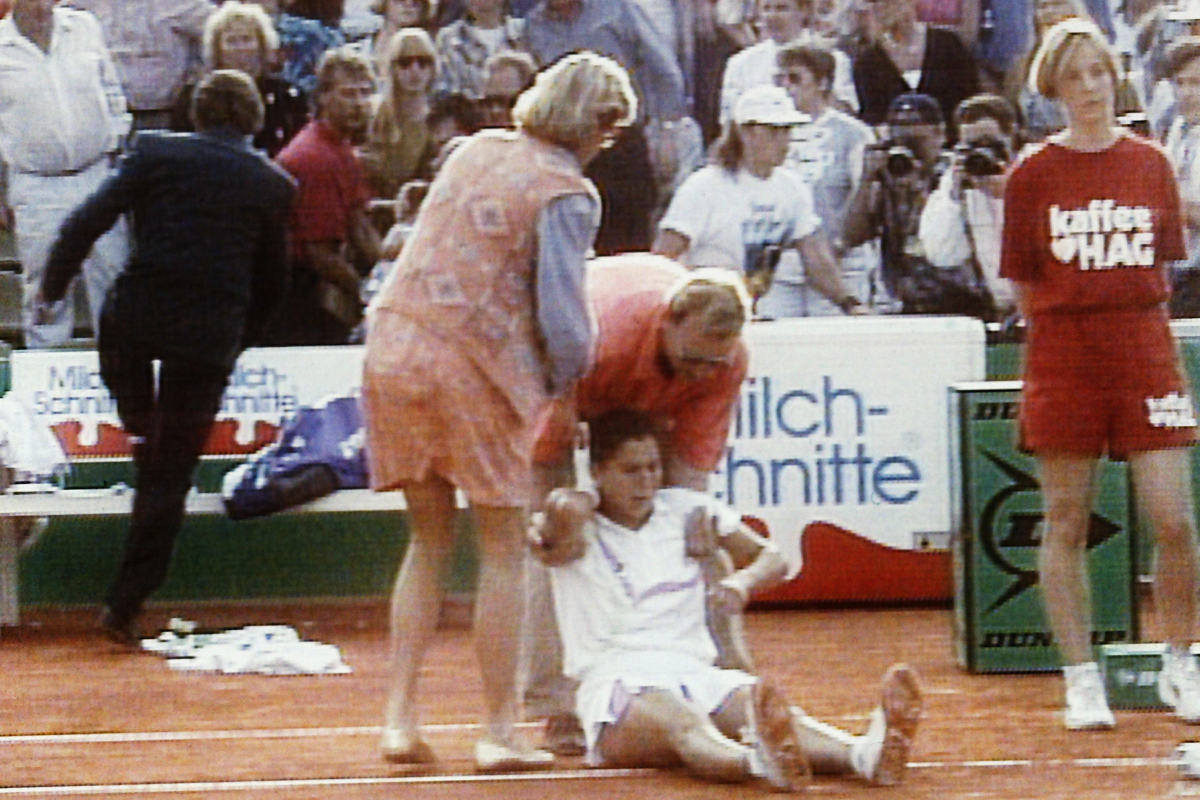 AP Photo
Back in 1993, Monica Seles was the greatest professional tennis player alive. The Hungarian-American was only 19, but, man, she had it all.
Multiple grand slam titles. An even brighter future ahead in the ATP and Women's Tennis Association. There was simply no stopping her on the court, until a crazed fan ruined her tennis career forever.
After winning three-straight Australian Opens, three French Opens at Roland Garros in Paris, two U.S. Opens ? it?s still unbelievable she had eight grand slam singles titles as a teenager ? Seles was the world number one player in the world, often jockeying pole positions with rival Martina Navratilova.
In her prime, she defeated every foe from Chris Evert to Steffi Graf. Then everything changed on April 30, 1993 in Hamburg, Germany.
During her quarterfinal match against Magdalena Maleeva, a man ran from the crowd to the edge of the court and stabbed Seles with a boning knife between her shoulder blades.
The wound was more than a half-inch deep, but it did more than draw blood on the German court. It pierced the entire sports world.
Monica Seles Stabbing
RELATED: John McEnroe Found Love Again With a Famous Rock Singer
At first, many thought the stabbing was possibly political. Monica Seles, a Hungarian born in Yugoslavia, had previously received death threats in relation to the Yugoslav Wars, according to ESPN. As it turns out, however, it was just a crazed fan of Steffi Graf.
His name is Gunter Parche and he is a scumbag. Using a long knife to stab the world No. 1 women?s tennis player because you like another is about as low as it gets. What makes it even more messed up is he pretty much got away with it.
Parche spent six months in pre-trial detention before being found mentally unstable and sentenced to two years probation and psychological treatment.
A suspended sentence and two years of probation. For that. It?s certainly up there as one of the most unfortunate court rulings of all time.
As for tennis star Monica Seles, her life would never be the same. It took her two years to make a comeback on the WTA Tour. She won one more grand slam tournament ? the 1996 Australian Open ? and competed in two Olympics, winning the bronze medal in 2000.
However, it simply wasn?t the same Seles everyone grew to admire.
"I can't say whatever was meant to be, was meant to be," Seles said, via ESPN. "When I look back, I'm sure my career, in terms of achievement, would've been different if I hadn't been stabbed, and I'll always wonder why I'm the only one in history who that ever happened to.

"But that was the course my life took, it was beyond my control, and I have to let it go. I don't want to think what could have been, what would have been.?
Seles never won a Wimbledon title, but her nine grand slam championships earned her a rightful place in the International Tennis Hall of Fame in 2009.
She released her memoir Getting a Grip: On My Body, My Mind, My Self that year as well, opening up about her depression and binge eating disorder after the stabbing.
Seles was also a contestant on Dancing With The Stars.
Before Serena Williams became a women's tennis icon, and before Roger Federer, Rafael Nadal and Novak Djokovic dominated men?s tennis, Seles was the superstar with the brightest future in the United States and abroad.
Then assailant Gunter Parche ruined the fun for all of us and changed the tennis world and tennis history with a nine-inch knife.
This post was originally published on February 20, 2020 before updating.