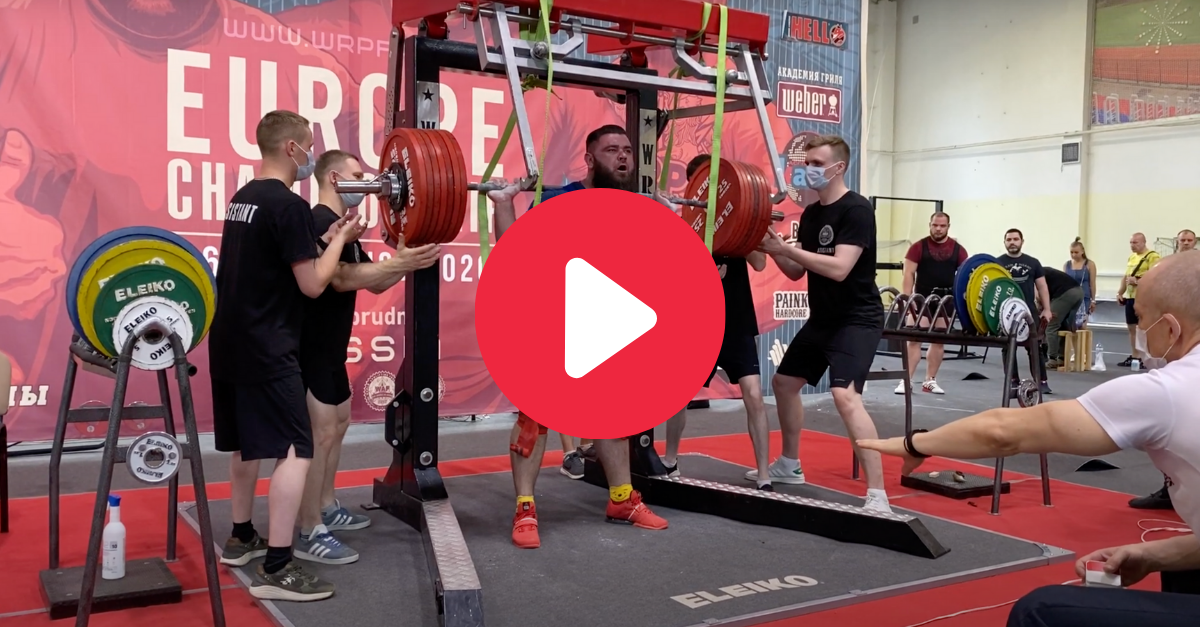 Screenshot from YouTube: WRPF
I'm gonna warn you now: This video isn't for the faint of heart. It's easily every powerlifter, weight lifter and anyone who's ever used the squat rack at the gym's worst nightmare. It is most definitely graphic content for those with weak stomachs.
Lifting insane amounts of weights can be very rewarding, which is why football players and this 16-year-old girl who can bench press 410 pounds do it. Some athletes, like the Arnold Schwarzeneggers of the world who compete in the Strongman competitions, have made picking up and putting weights down their full-time jobs.
Only trained professionals should place 1,000 pounds on their shoulders. Even they sometimes experience some of the most gruesome injuries you'll ever see.
Breaking both knees falls under that category.
Warning: The following video contains a graphic injury.
Powerlifter Fractures Both Knees Squatting Almost 900 Pounds
RELATED: MLB Pitcher Snaps Elbow Mid-Throw In Vomit-Inducing Injury
This is Alexander Sedykh. He's a Russian powerlifter who was competing in the 2020 World Raw Powerlifting Federation European Championships (WRPF) in Dolgoprudny, Moscow. According to CNN, he was attempting to squat 882 pounds.
He propped the weighted barbell — about the equivalent of a cow — on his shoulders and immediately began shaking. His knees and legs looked nowhere near stable enough for the 400KG squat that was about to take place.
Sedykh's knees blew out and the weight fell behind him as he grimaced in imaginable pain. He had just broken both knees. The video was posted on the WRPF Facebook Page on August 10 and began circulating on social media.
According to Russia's state-run news agency RIA Novosti, per CNN, Sedykh then underwent emergency surgery lasting six hours.
"Everything hurts, but we are holding on," Sedykh said, per CNN.

"The doctor said that they assembled my knee well, and the quads were sewn with a double stitch," the Russian powerlifting champion said of the six hours of surgery. "My wife also wrote that my meniscus was torn and the tendons flew off. But they have already sewn them all."
THE TENDONS DID WHAT? Yeah, you read that correctly. Sedykh's quadriceps muscles were sewn and his knees re-assembled. The gruesome injury has not only put his weightlifting career on hold but turned his life upside down.
Sedykh said he now has to lie "motionless in bed for two months" before he'll be "taught how to walk again," per the New York Post.
His recovery timetable is still up in the air, and he may not ever return to weightlifting after that horrifying injury. Prayers up for a full recovery to Alexander Sedykh.