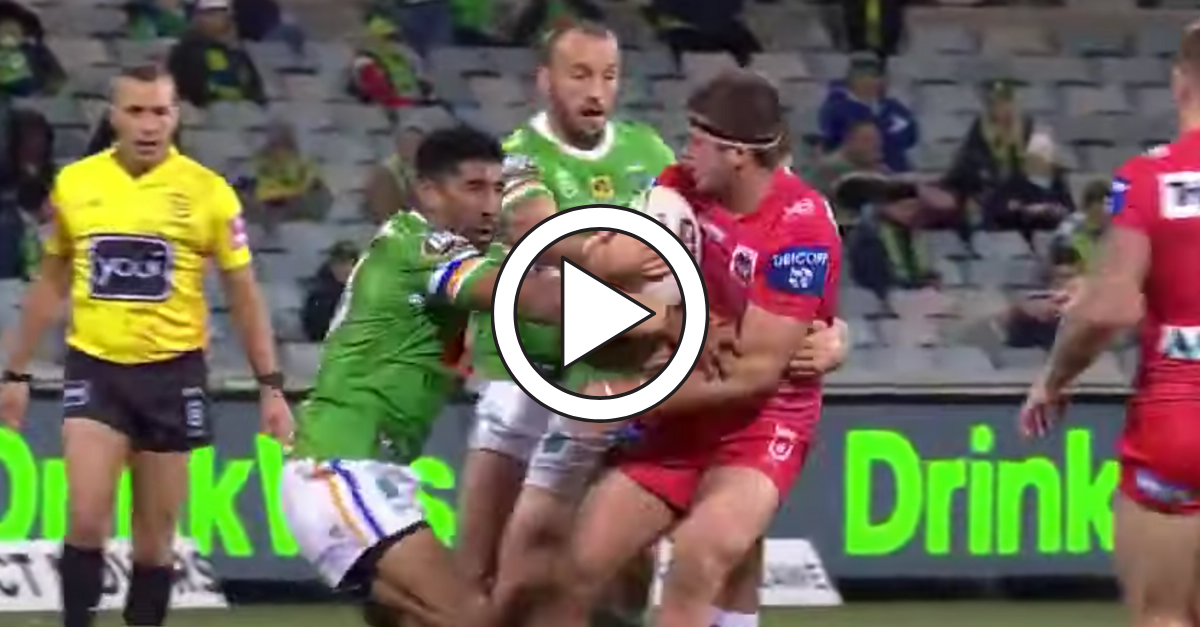 Screenshot from YouTube
Rugby players are downright tough. Anyone who tells you otherwise is a liar. There are countless examples that prove it, and NRL star Sia Soliola is the latest to sustain a serious injury and calmly act like it was nothing.
Soliola, a forward for the Canberra Raiders, was trying to make a play against the St. George Illawarra Dragons. Unfortunately, his face hit square on his opponent?s shoulder and he left the game for what sources indicated as a head injury assessment, or HIA, in Australia.
The extent of the injury was far worse, though. Despite not falling to the ground and walking off the field like he suffered a mild bump, Soliola actually suffered facial fractures that required surgery.
Needless to say, Soliola won?t be play again anytime soon.
Sia Soliola?s Face Injury & Surgery
RELATED: Rugby Guy Smacks Dislocated Knee Into Place, Keeps Being 100% Man
The Canberra Raiders have been injury-riddled during the coronavirus pandemic and COVID-19 outbreak. The National Rugby League team already lost back-rowers John Bateman and Corey Horsburgh to injury. Now, Sia Soliola will be on the sideline for at least six to eight weeks, and maybe through the end of the year.
The 33-year-old Soliola definitely got popped in his cheekbone pretty good. He had 20 screws put into his face and shared graphic images of the extent of his facial surgery, including X-Rays, on social media.
The comments came flooding in on Soliola?s post, too. Former New Zealand skipper Roy Asotasi called him ?The Terminator? while teammates such as Raiders stars Charnze Nicoll-Klokstad, Elliott Whitehead and Luke Bateman either wished him a speedy recovery or cracked a joke.
As for the game, the Raiders defeated the Dragons, 22-16, but Soliola?s head clash and horrific facial injury was the real story.
With Soliola facing months of recovery, Canberr?s premiership hopes took a hit as well with tough games against the Melbourne Storm and Sydney Roosters on the horizon in the Australian rugby league.