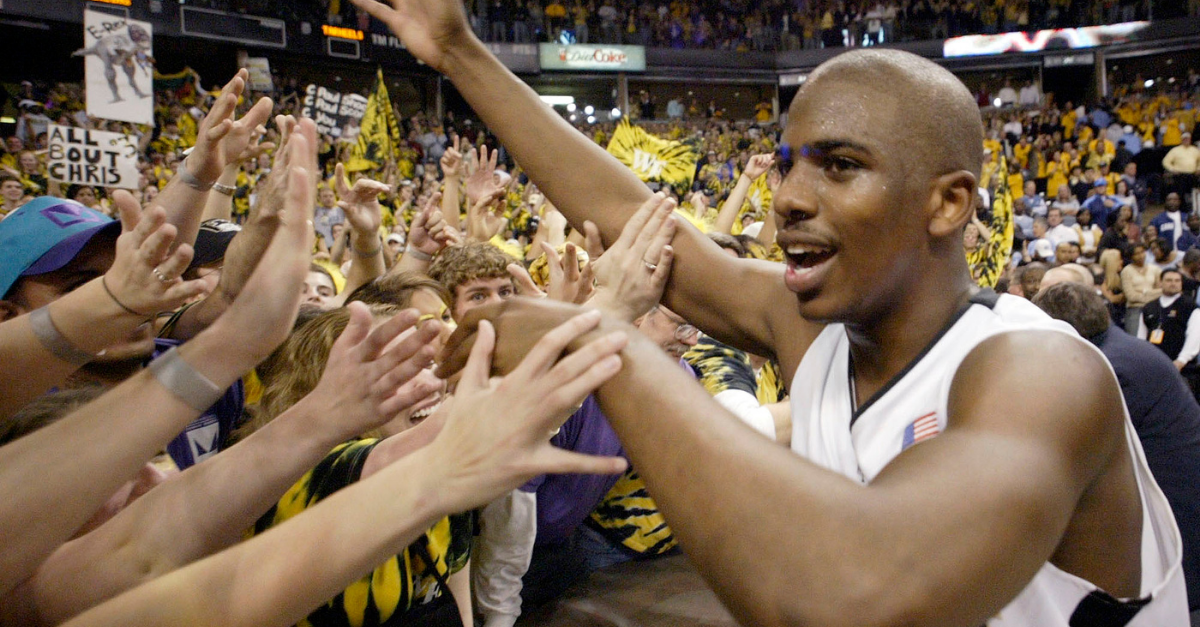 AP Photo/Chuck Burton
Chris Paul?s No. 3 jersey hangs in the rafters of Lawrence Joel Veterans Memorial Coliseum, but his legacy there is far from finished. The NBA superstar made a major contribution to his alma mater to support the Wake Forest basketball program in North Carolina.
After inking a four-year, $160 million max contract with the Houston Rockets in 2018, the NBA All-Star point guard and Winston-Salem native donated $2.5 million to help transform the men?s and women?s basketball clubhouses with ?expanded and enhanced locker rooms, nutrition resources and treatment areas.?
?Giving back has always been important to my family and me, and Wake Forest is part of my family," he said. "The recent investments towards improving Wake Forest Athletics are amazing, and now is the time to give back in a meaningful way.?
It was the largest donation ever by a former Wake Forest basketball student-athlete or any alumnus under the age of 35, according to school officials.
Chris Paul Donates $2.5 Million to Wake Forest
RELATED: Chris Paul?s 61-Point Game Was Inspired By His Grandfather?s Murder
NBA star Chris Paul is more than a former Wake Forest basketball player, 2005 NBA Draft pick, NBA Rookie of the Year, and two-time Olympic gold medal winner with the USA national team. He's a natural leader who loves giving back.
Part of the university?s Wake Will Lead campaign, the new upgrades for the men's team will be named Chris Paul Locker Room in his honor.
?The locker room transformation project inspired me, because that?s where players build relationships and create a unifying camaraderie that is the foundation of success on the court,? Paul said. ?Forming lifelong friendships with your teammates is one of the most rewarding aspects of sports.?
Paul?s philanthropic efforts expand so much beyond this one donation to Wake Forest Athletics, too.
He hosts the Chris Paul Family Foundation Charity Golf Classic each year, awards two scholarships annually for the Nathaniel Jones Student Scholarship he established in 2007, and is big in the grassroots basketball scene with Team CP3 of the Nike EYBL, among many others efforts.
Paul, a 2005 Consensus All-American playing college basketball in the ACC, is one of the game?s great leaders and ambassadors. His support of the Demon Deacons to improve men's locker room and women's locker room is more proof.
?Chris honors those who have inspired him by doing the same for many others,? Wake Forest University President Nathan O. Hatch said. ?I admire his leadership in the spirit of Pro Humanitate and am grateful for his unwavering commitment to his alma mater and our community.?
That?s what former Wake Forest guard Chris Paul did with this multi-million dollar donation, and chances are there will be more to follow.
This post was originally published on August 7, 2018 and updated as CP3 will make college football picks on ESPN's College GameDay during the coronavirus pandemic and COVID-19 outbreak.