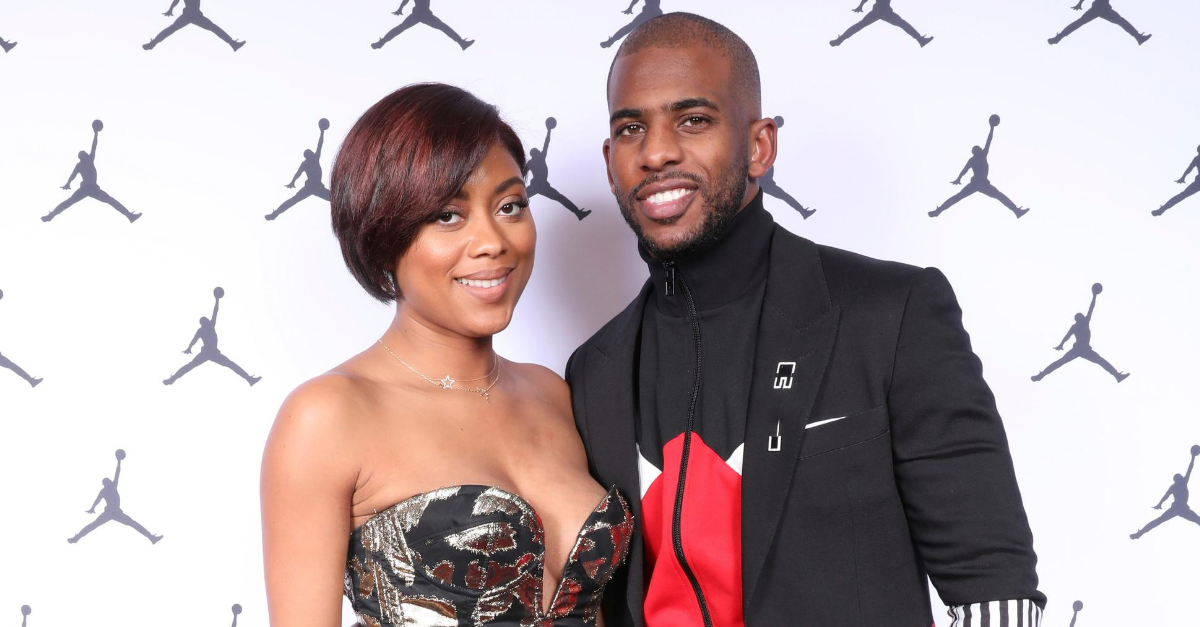 Photo by Omar Vega/Invision for Jordan Brand/AP Images
Much like his counterpart in the 2019 Oklahoma City Thunder-Houston Rockets trade Russell Westbrook, point guard Chris Paul found love in college. It didn't take long for someone to catch the 10-time NBA All-Star's eye.
That special someone was Jada Crawley.
Chris Paul's Wife Jada Paul
Chris and Jada both hail from North Carolina. Chris attended West Forsyth High School in Clemmons, and Jada graduated from Mount Tabor High School in Winston Salem.
They linked during their sophomore year at Wake Forest University. Chris left school following the basketball season and entered the 2005 NBA Draft. The basketball player was selected fourth overall by the New Orleans Hornets, winning NBA Rookie of the Year in 2006.
The couple was married in Charlotte, North Carolina, in September 2011 at the Ballantyne Hotel and Lodge. The whole banana boat crew of Carmelo Anthony and his wife LaLa, Dwyane Wade and Gabrielle Union, and LeBron James and his wife Savannah were in attendance. LeBron was a groomsman.
Jada and Chris Paul's Children
The two welcomed their first child, son Christopher Emmanuel Paul II, in May 2009. Their daughter Camryn Alexis Paul was born on August 16, 2012 in Winston-Salem.
Chris Jr. has a following of 288k on Instagram. He gained fame for his postgame press conference appearances with his dad during his time with the Los Angeles Clippers. He's appeared in State Farm commercials with his father and Fresh Prince of Bel-Air star Alfonso Ribeiro. (Now, "It's Not Unusual" by Tom Jones is stuck in my head.)
Camryn has 4.8k followers on Instagram. Both her and Chris Jr.'s accounts are monitored by their parents.
CP3 Foundation
RELATED: The Holiday Brothers Are Building an Underrated NBA Legacy
The NBA star started the CP3 Foundation in 2005 as a philanthropic partnership with the Winston-Salem Foundation to honor his late grandfather. The organization has since been renamed the Chris Paul Family Foundation. Via their website, the foundation "strives to positively impact individuals and families by leveling the playing field in Education, Sports and Life. The foundation provides resources that enrich and strengthen healthy development of strong communities."
Jada runs her own program in the foundation called the Jada Paul Prom Dress Giveaway. Around prom season, she hosts high school seniors at a local hotel to experience beauty tutorials and a fashion show. Each woman selects a prom dress, shoes, pursues, and jewelry. The event takes place in North Carolina and Los Angeles.
Jada Paul and Rajon Rondo's Girlfriend
In October 2018, Chris Paul and Rajon Rondo engaged in an on-court scuffle during a matchup between the Houston Rockets and Los Angeles Lakers. Meanwhile, Rondo's girlfriend and Jada had a verbal confrontation in the stands. It was later reported that Rondo's significant other shoved Jada, who was sitting next to Savannah James. Security broke up the confrontation. Last year's event was confirmed by the Houston Chronicle's Jonathan Feign via tweet.
CP3 is focused on the playoffs in the Orlando bubble. He's the leader of the Thunder locker room and a warm family at home.