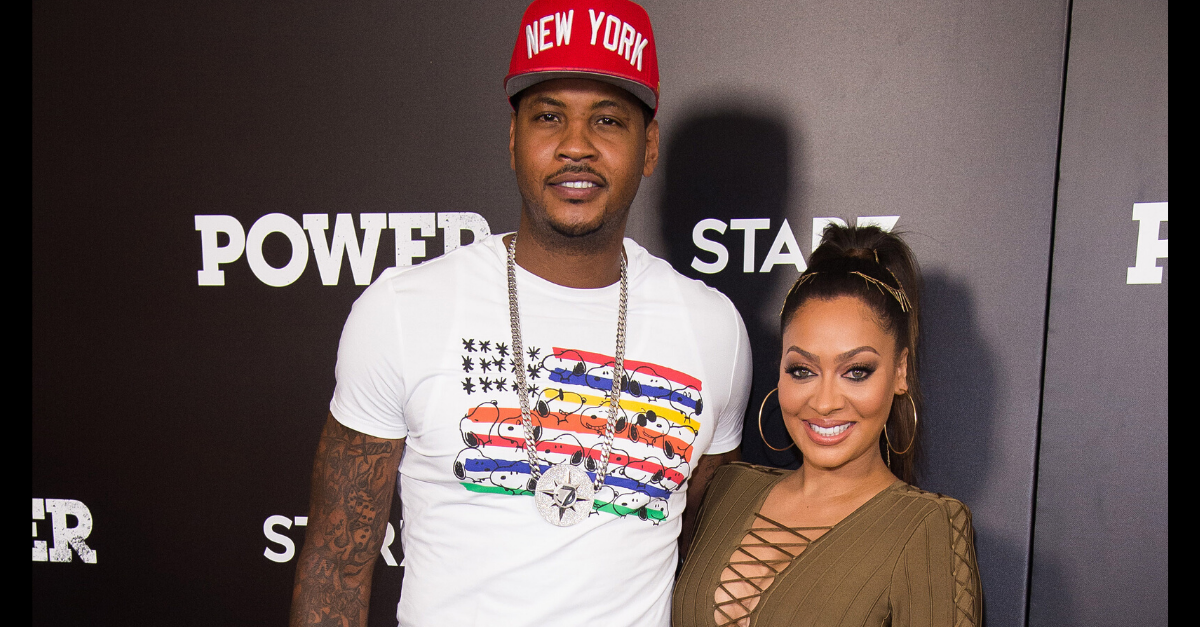 Charles Sykes/Invision/AP
DJ, record producer, radio personality and celebrity matchmaker DJ Clue is a jack of all trades. The legendary New York City DJ introduced MTV star La La Vasquez and a young NBA player named Carmelo Anthony in 2003. The two quickly became friends and started dating
He told a joke. She laughed. He went to hold her hand at the movies, hoping his palms weren't too sweaty. She returned with a squeeze. She agreed to a second date; We rooted for them with glee.
By late 2004, the couple was engaged. Way to go, Melo.
Who Is Carmelo Anthony's Wife, La La Anthony?
Just over two years following their engagement, the couple had a son, Kiyan Carmelo Anthony, born on March 7, 2007. He's a hooper like his father. La La is supportive of her son on social media.
The NBA star and La La tied the knot on July 10, 2010, at Cipriani's in NYC. The guest list was loaded with star power including LeBron James, Kim Kardashian, Chris Paul, Ludacris, Kelly Rowland, and Serena Williams just to name a few. The ceremony was documented on VH1's La La's Full Court Wedding (wedding hashtag of the year: #stayme7o). La La's Full Court Life, a follow-up series, chronicled their married life. It ran for five seasons.
In 2017, the couple split amidst cheating rumors. Carmelo was accused of fathering a daughter with 24-year-old Mia Burks. Melo and La La had been living separately at the time. The couple reconciled in late 2018 but ran into a roadblock when Melo was posted an Instagram with a 28-year-old Swedish model in Southern France on La La's birthday.
The couple's future is still in the air but during the coronavirus pandemic, they've been quarantining and co-parenting together in Los Angeles. They've been getting along amicably. La La's enjoying a recurring role on Showtime's The Chi, which held its season-three premiere on June 21, 2020.
After runs with the Denver Nuggets, New York Knicks, Oklahoma City Thunder, and Houston Rockets, the 10-time NBA All-Star is gearing for the league's restart with the Portland Trail Blazers. The Blazers are ninth in the Western Conference and three-and-a-half games behind the Memphis Grizzlies for the final playoff spot. Games resume on July 30th in Orlando, Florida.