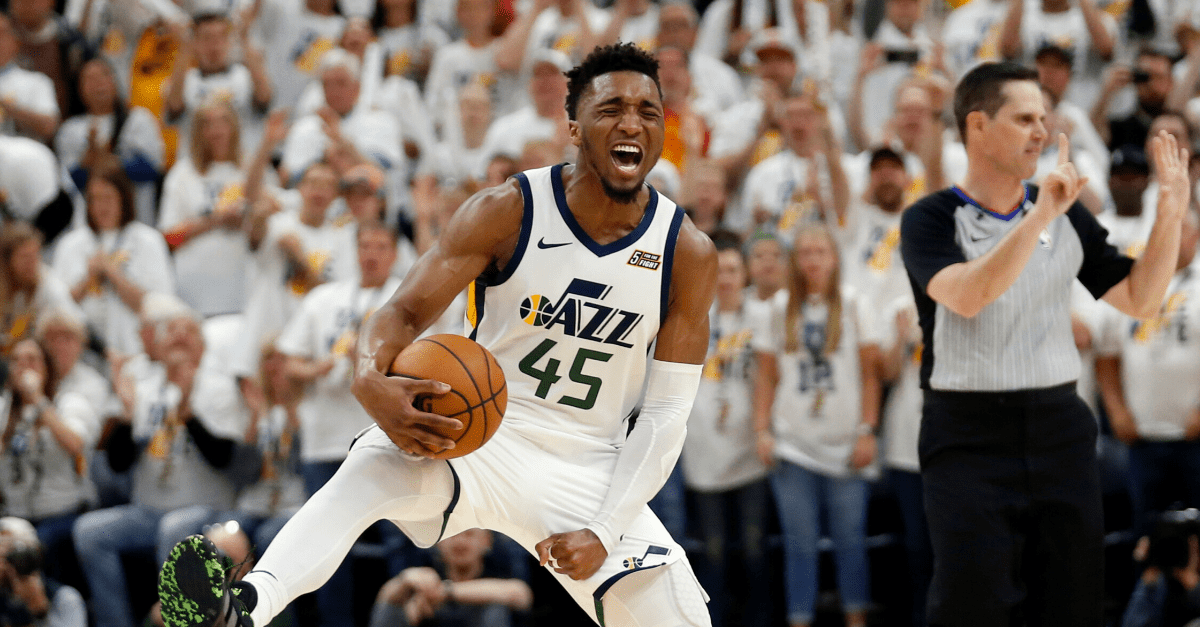 AP Photo/Rick Bowmer
At the top of Dictionary.com, words scroll across like the New York Stock Exchange. For all you word investors out there, it might be time to sell "howdy." My normal greeting is up 10,000% and the numbers are telling me to get out. Something like, "Nice day out, isn't it?" or "Hey there, partner," are possible replacements. From there, I'll work in some form of the word gangplank, because, folks, the American word dating back to 1840-50 is up 2,871% and all the indicators are telling me to buy.
In researching for the hottest new word, there's a term on the rise: Spida. Yes, there is a legitimate entry for Utah Jazz guard Donovan Mitchell's nickname.
"A basketball species usually found above the rim; equipped with superhuman senses, shot-slinging abilities and unrivaled bounce."
The definition continues:
"Nickname of Donovan Mitchell, record-breaking shooting guard for the Utah Jazz and contender for NBA's 2018 Rookie of the Year."
Donovan Mitchell's Spida Nickname
RELATED: Donovan Mitchell Honored Slain Track Star With Powerful Message
Mitchell snuck into the lottery as the 13th overall pick in the 2017 NBA Draft after playing two years for the Louisville Cardinals. He unexpectedly exploded onto the scene and won the Western Conference Rookie of the Month from December to March.
In the middle of that run, he participated in the 2018 NBA Slam Dunk Contest and delved further into his nickname's origin.
"When I was younger, I was just a dunker. Like, it was all I loved to do, was just dunk. One of my teammate?s dad called me Spida. It just stuck."
The nickname proved fitting. Mitchell won the contest and took home the dunking title.
The Utah Jazz rookie finished second in the 2018 NBA Rookie of the Year voting behind Ben Simmons of the Philadelphia 76ers to cap off a great first season. He jabbed at Simmons with a defining Adidas hoodie.
In 2020, the Jazz basketball player ran into some intrasquad issues after teammate Rudy Gobert was the first NBA player to test positive for the coronavirus on March 11, 2020. Gobert was lighthearted about COVID-19, touching teammates and their belongings in the locker room. Mitchell tested positive the next day.
The conflicts alleviated, and the Jazz entered the NBA's Orlando reboot in fourth place in the West. Utah, led by the 2020 All-Star tandem, kick off the restart on July 30 against Zion Williamson and the New Orleans Pelicans. The Western Conference playoffs go through LeBron James and the Los Angeles Lakers.
Forget building contenders, chasing rings, records, and glory, the biggest accomplishment an NBA player can achieve is an online dictionary entry dedicated to his nickname. Spida Mitchell already has that under his belt. Buy, buy, buy!