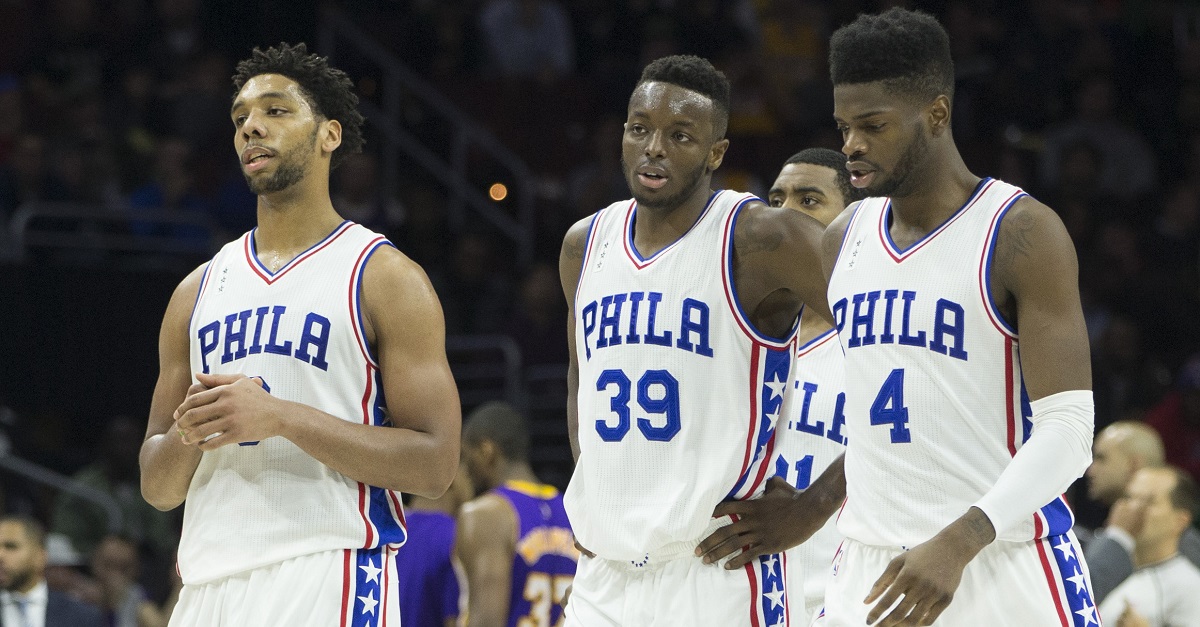 Mitchell Leff/Getty Images
PHILADELPHIA, PA - DECEMBER 1: Jahlil Okafor #8, Jerami Grant #39, and Nerlens Noel #4 of the Philadelphia 76ers walk to the bench after a timeout in the game against the Los Angeles Lakers on December 1, 2015 at the Wells Fargo Center in Philadelphia, Pennsylvania. NOTE TO USER: User expressly acknowledges and agrees that, by downloading and or using this photograph, User is consenting to the terms and conditions of the Getty Images License Agreement. (Photo by Mitchell Leff/Getty Images)
Two teams have emerged as potential trade destinations for Philadelphia 76ers center Jahlil Okafor, according to David Aldridge of NBA.com.
Okafor told reporters last week that he requested either a trade or buyout from the 76ers, but added that team president Bryan Colangelo denied a buyout because the team wouldn't be able to recoup assets in return. The Boston Celtics were reportedly interested in Okafor if he and the Sixers agreed to a buyout, but with a buyout likely off of the table, the Celtics may no longer be a potential destination for Okafor as they may not want to give up too many assets for him.
With a trade likely the only way Okafor would leave Philadelphia this season, Aldridge reported on Monday that the Chicago Bulls and Atlanta Hawks are the most likely destinations for the former third overall pick. As it currently stands now, Okafor would become an unrestricted free agent next summer after the team opted against picking up his fourth-year player option.
The Bulls and Hawks make sense in terms of a potential landing place for Okafor. Both teams are in rebuilding mode and likely won't be seriously competing for a playoff berth in the near future. Given the two teams are still a few years away from competing, it seems reasonable to think they would have an opportunity for playing time as Okafor attempts to turn his career around.
Many around the NBA still believe Okafor has a lot to offer a team and just needs an opportunity for playing time. He has played in just one game this season for the Sixers and likely won't be playing anytime soon barring an injury. The team is reportedly seeking a draft pick in return for Okafor and that could be something a team like the Bulls or Hawks would be willing to offer.
Okafor is certainly hoping that this relationship ends soon and he can continue on with another franchise.