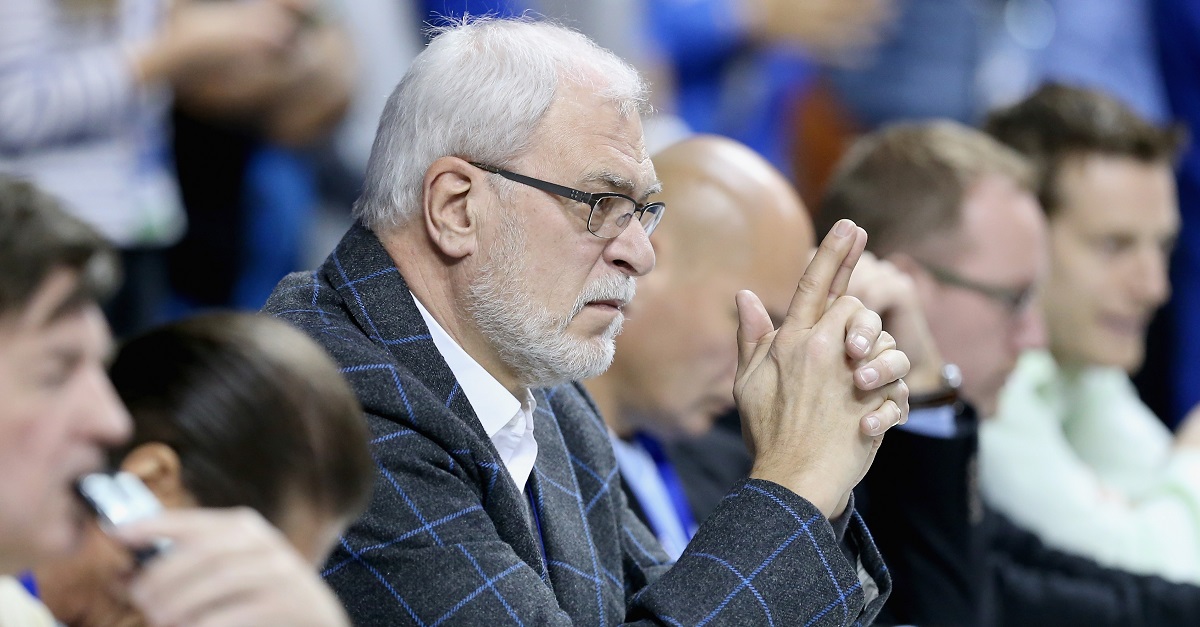 Andy Lyons/Getty Images
LEXINGTON, KY - FEBRUARY 28: Phil Jackson the President of the New York Knicks watches the Kentucky Wildcats game against the Arkansas Razorbacks at Rupp Arena on February 28, 2015 in Lexington, Kentucky. (Photo by Andy Lyons/Getty Images)
Phil Jackson has been an absolute mess as the President of the New York Knicks and his latest reported move will keep Knicks fans scratching their heads. In the midst of Kristaps Porzingis trade rumors and Jackson pretty much naming his price for the Latvian big man, it appears that the team president wasn't taking prospect workouts seriously as he fell asleep during one, according to ESPN's Jay Williams:
RELATED: Stephen A. Smith goes nuclear on Phil Jackson and his tenure with the Knicks
So not only is Jackson trying to blow up his team and get rid of his best asset in Porzingis, but he isn't even watching potential team picks work out! It's one of his main jobs to evaluate talent and decide who the team will pick at No. 8 in this year's draft. He absolutely has to be watching this kind of stuff or if he isn't feeling well he shouldn't be there at all and get the tape to watch at another time.
Jackson is also still actively trying to run Carmelo Anthony out of town by saying he needs to move on back in April and also claimed that the team can't win with him on the court.
"We have not been able to win with him on the court at this time, and I think that the direction of our team is that he is a player that would be better off somewhere else and using his talent somewhere where he can win or chase that championship," Jackson said.
Melo has made it clear that he wants to stay in New York though despite Jackson's plea for him to leave. The situation has become a mess and it's also become quite clear that someone is going to have to go appease the fans, and they are likely going to want Jackson out.