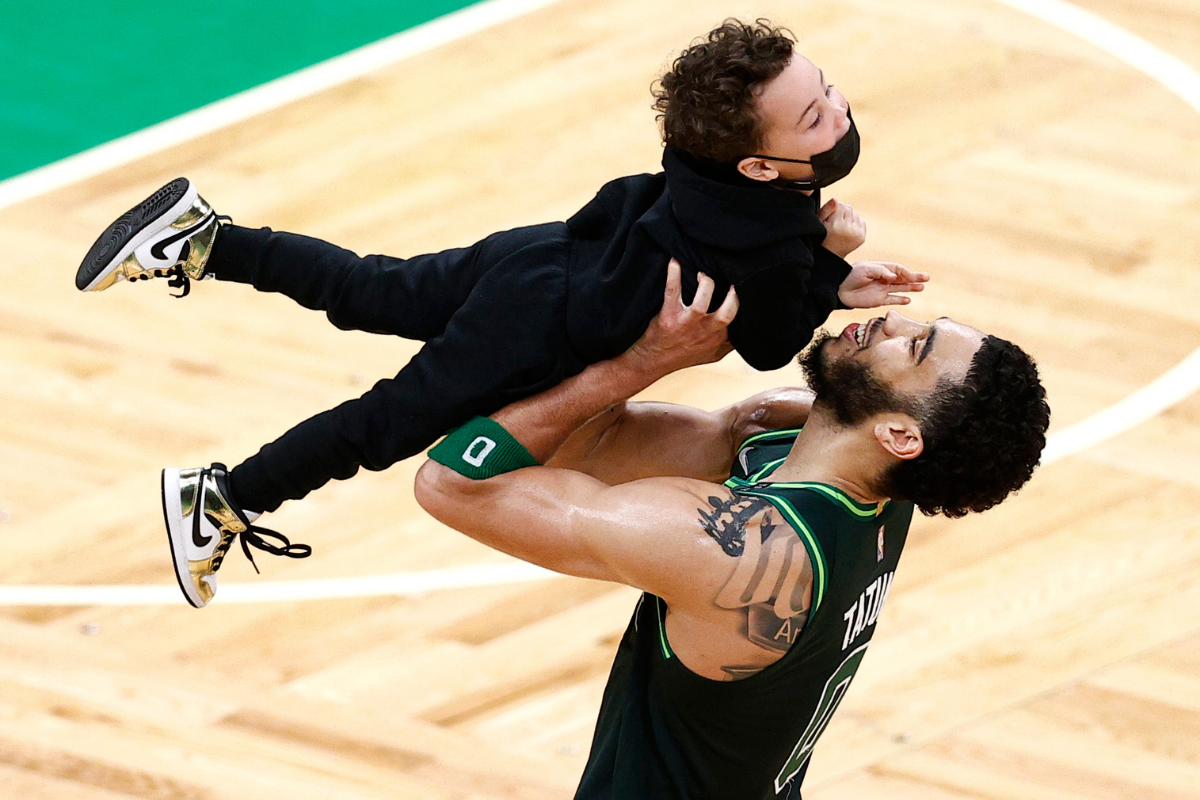 Maddie Meyer/Getty Images
The Boston Celtics are already seeing dividends for Jayson Tatum. The third overall pick in the 2017 NBA Draft is as creative a scorer as anyone in the NBA. He can dust defenders with dribble moves or let his silky jumper go to work.
The Celtics star is fueled by family. He was born in St. Louis, Missouri, on March 3, 1998 to Justin Tatum and Brandy Cole. Justin is a gym teacher and basketball coach at Christian Brothers High School. Brandy is an attorney and shares a close relationship with her son.
Now, Jayson has a family of his own. His road here was a little rocky.
Jayson Tatum's Ex-Girlfriend Samie Amos
RELATED: Tyler Herro & His Model Girlfriend Are New Parents
In his lone year at Duke, Tatum dated volleyball player Samie Amos. The two were going along fine until news broke that the NBA star's ex-girlfriend Toriah Lachell, who he dated in high school, was pregnant with Tatum's child during his rookie year. Their son, Jayson Christopher Tatum Jr., aka Deuce, was born on December 7, 2017. Tatum and Amos had a falling out shortly after his birth.
A year later, the basketball player made an Instagram post celebrating his son's first birthday. Amos replied with a hostile story aimed at her ex, per Sports Gossip.
The Celtics' small forward and baby mama aren't romantically involved, but they're cordial in raising Deuce. Jayson Jr. has become a staple at Boston home games. He circulated social media as a member of the Celtics' virtual fan section in a game against the Portland Trail Blazers in the Orlando bubble last year.
Jayson Tatum's Girlfriend Ella Mai
In early 2019, trending news surfaced that the NBA player was dating British R&B singer Ella Mai when the two started flirting over Instagram. Tatum made a trip to Mai's Baltimore show on March 16, 2019 just hours after playing in a home game against the Atlanta Hawks. The status of their relationship is kept under wraps, but the two appear to be going steady as she visited his Missouri home in October 2020.
Mai, born to a Jamaican mother and Irish father, has been excelling in the music industry ever since attending the British and Irish Modern Music Institute and competing on the English version of "The X Factor" as a member of the group Arize. The singer, who's signed to DJ Mustard's 10 Summers Records, won the Grammy for Best R&B song for her debut commercial single "Boo'd Up" in 2018.
The Celtics superstar isn't the only Boston player to be dating a music star, either. Teammate Jaylen Brown is reportedly going out with American singer H.E.R.
When Tatum isn't double dating with Brown, he's leading the Celtics in taking down the Los Angeles Lakers and LeBron James along with Kevin Durant and the Brooklyn Nets. He's looking to lead the Celtics back to the playoffs where they belong.
Tatum's love life has been nothing if not entertaining. Dating two girls at the same time? Check. Salty social media post? Check. Dating a famous singer? Check. No matter the relationship status, the NBA All-Star is an active father who radiates love for his son.