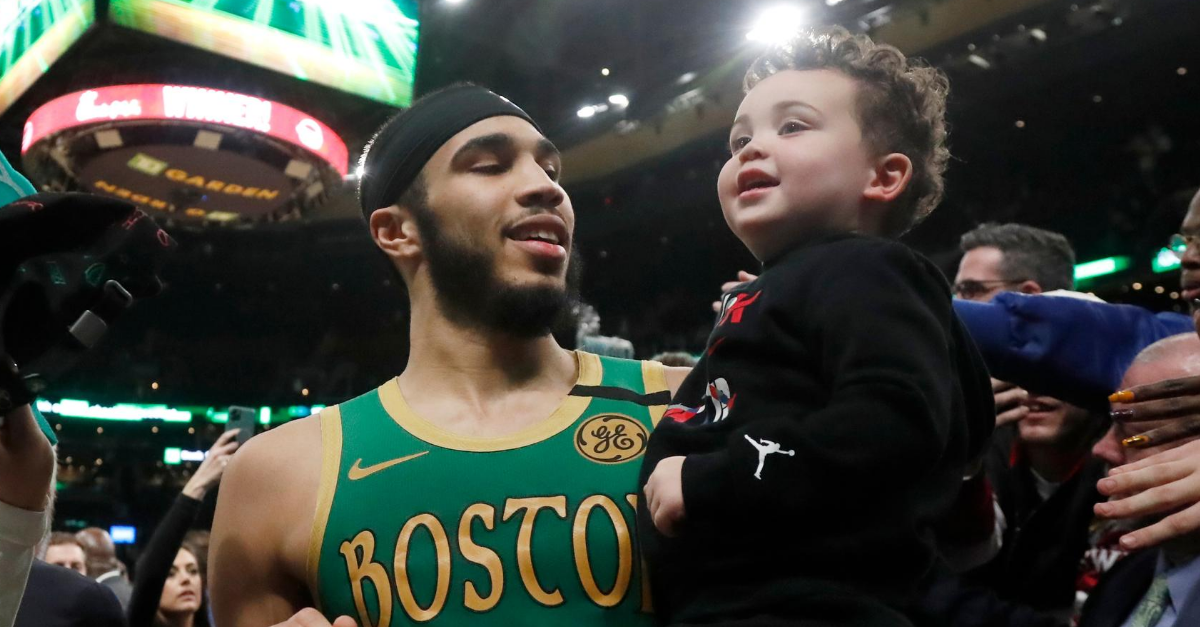 AP Photo/Elise Amendola
The Boston Celtics are already seeing dividends for Jayson Tatum. The third overall pick in the 2017 NBA Draft is as creative a scorer as anyone in the NBA. He can dust defenders with dribble moves or let his silky jumper go to work.
The Celtics star is fueled by family. He was born in St. Louis, Missouri, on March 3, 1998 to Justin Tatum and Brandy Cole. Justin is a gym teacher and basketball coach at Christian Brothers High School. Brandy is an attorney and shares a close relationship with Jayson.
Now, Jayson has a family of his own. His road here was a little rocky.
Jayson Tatum's Ex-Girlfriend Samie Amos
In his lone year at Duke, Tatum dated volleyball player Samie Amos. The two were going along fine until news broke that the NBA star's high school girlfriend, Toriah Lachell, was pregnant with Tatum's child during his rookie year. Their son, Jayson Christopher Tatum Jr., aka Deuce, was born on December 7, 2017. Tatum and Amos had a falling out.
A year later, the basketball player made an Instagram post celebrating his son's first birthday. Amos replied with a hostile story aimed at her ex, per Sports Gossip. (Now that's a watermark.)
The Celtics' small forward and baby mama aren't romantically involved, but they're cordial in raising Deuce. Jayson Jr. has become a staple at Celtics' home games. He was most recently seen in the Celtics' virtual fan section in their game against the Portland Trail Blazers on August 2.
Tatum and Kemba Walker are gearing the C's up for the playoffs in Orlando. LeBron James and the Los Angeles Lakers are the favorites in Vegas.
Jayson Tatum and Ella Mai
In early 2019, trending news surfaced that the NBA player was dating R&B singer Ella Mai when the two started flirting over Instagram. Tatum made a trip to Mai's Baltimore show on March 16, 2019 just hours after playing in a home game against the Atlanta Hawks. It's unclear if the two are still together or if it was just a short fling.
Tatum's love life has been nothing if not entertaining. Dating two girls at the same time? Check. Salty social media post? Check. Linked to a famous singer? Check. No matter the relationship status, the NBA All-Star is an active father who radiates love for his son.