I had called it quits. I was finished. I was sipping a daiquiri on the beach with a rekindled love who got away 25 years ago. Life was good. Life was simple.
A call from my old partner changed everything. You see, I had a white whale — an unsolved case that had been on my desk for a majority of my career. I had been reamed by my superiors for ignoring their advice to leave it alone. Suspended for two weeks without pay. Demoted to the mail room.
All for what? Nothing. 30 years on the job, and I still wasn't able to crack it.
"Joe, we have a new lead," he said. I dropped my daquiri.
"You're kidding," I responded in the middle of ordering another drink. "The case went cold years ago. What changed?"
"One word" he said. "Sheesh"
I took off my sunglasses, stared intensely into the distance and started writing a note to my beloved.
"Honey, I'm sorry I have to miss bingo at Dave's On the Beach tonight. Something came up at home. I need to go back. If I don't return in two days, wait longer."
The destination? Los Angeles, California. The mission? Figure out how LeBron James' hair made the greatest comeback in NBA history.
There and Back Again: LeBron James' Hairline

RELATED: Rock, Chalk, Toupée Hawk: Investigating Bill Self's Suspicious Hairline
February 10, 2002: High school phenom LeBron James is introduced to the general public on the cover of Sports Illustrated. Remember, this is a kid who could barely drive. There's not much hair-wise here, but seeing his full head of hair at a young age gives a yardstick. The only advice I could give is to advise older LeBron to advise younger LeBron to not sign Russell Westbrook.
November 19, 2003: Cleveland Cavaliers rookie LeBron James warms up for a game against the Washington Wizards. This is a rare shot because LeBron wore a headband for the first half of his NBA career. Again, another yardstick.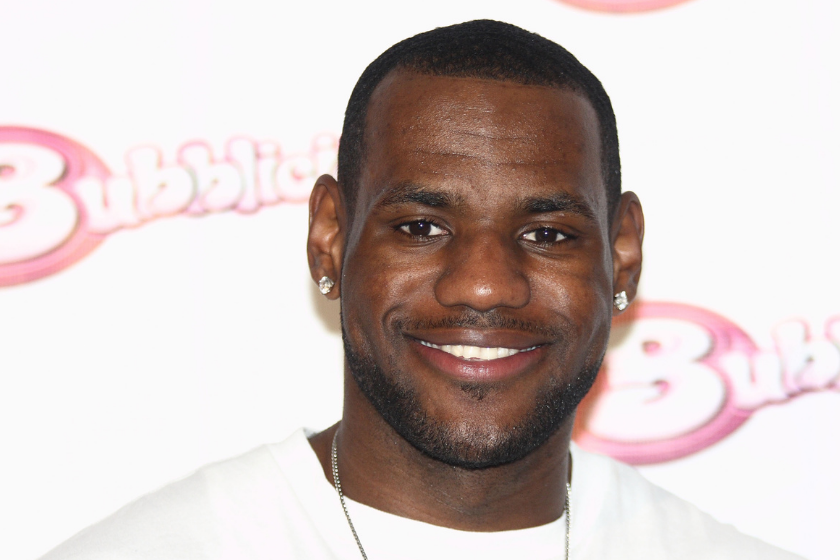 September 30, 2007: As a former Bubbilicious addict, I was fully locked into the Ultimate Blowing League at the time. This is when LeBron's hair started piquing my interest. As you can see, the 22-year-old's hairline is starting to recede ever so slightly at the corners. Was there something deeper to uncover?
December 2, 2010: LeBron James, in his first season with the Miami Heat, warms up for a game. The economy was in a recession, and so was LeBron's hairline. I took this to my captain, threw it on his desk, and asked "Care to explain?"
"There's something bigger going on than you could ever imagine, Grobeck. Your life will be much easier if you stayed out of it."
I was never one for an easy life, though. My parents died when I was a boy. It was a late night. They were coming back from a movie. A TikToker was recording and ran a red light as he was "hitting the griddy"....they both died of rabies the next day."
June 19, 2013: LeBron famously loses his headband in Game 6 of the NBA Finals against the San Antonio Spurs. He goes on a rampage, scoring 32 points and grabbing 11 assists. But, a headband-less LeBron gives us a fresh look at his dome. His hair lost some thickness and is very clearly receding at this point. It's only going to get worse...
May 26, 2015: LeBron stopped wearing a headband entirely this season. The situation up top has seen better days.
February 4, 2018: This is where it starts to get juicy. I stay up night after night researching hair regeneration to the point where I become a brand ambassador for Rogaine. His hairline has returned to its original position. Thickness has started to return.
October 27, 2019: This...this is the one. There is no doubt Lebron's hair is thicker and his hairline is restored.
Keep in mind this was a day after LeBron had some hair trouble against the Utah Jazz. Anthony Davis was a good teammate and let him know about the malfunction.
#LebronJames? hair fell out during game ? pic.twitter.com/pj3fY3Lrqo

— Kollege Kidd (@KollegeKidd) October 28, 2019
February 20, 2022: LeBron's hair is back to where it was near the end of his second tenure in Cleveland.
The case originally went cold because I got in a little too deep with the wrong people in the Bahamian online poker scene and forgot about it. This time, I'm laser-focused and I came up with two theories. My first was that LeBron's move to the Los Angeles Lakers changed him. In a city where natural beauty is as valuable as diamonds, I had no reason to suspect LeBron would get hair transplants.
But maybe, just maybe, there was a dermatologist out there who would do the job. And seeing that LeBron is now a billionaire, he could perhaps afford it. James hasn't confirmed this, but the picture from 2019 speaks for itself.
Then, I thought, "That's too obvious. There's a correlation between LeBron taking his obsession with wine public and his hair rejuvenation."
Remember this?
The Instagram post is in reference to a $1,200 wine night he had back in November 2017. Well, I didn't include a pic from that year with the rest of them for a reason.
December 30, 2017: LeBron's hair looks much more intact than it did in 2015.
Why? Wine helps LeBron regenerate his hair.
Yes, LeBron started drinking wine to help his hair, got addicted, started drinking a glass every day and even drinks some at games. Sheesh!
He could shave his head like fellow NBA legends Michael Jordan, Kobe Bryant and Charles Barkley — and he did shave it for a hot second in 2017. But, what's a king without a crown? Even if that crown looks like a before picture of a Rogaine ad at times?
All guys handle hair loss differently. LeBron drinks wine.
Case closed.
Want More Sports News?
Get the biggest and best sports news sent directly to your inbox.