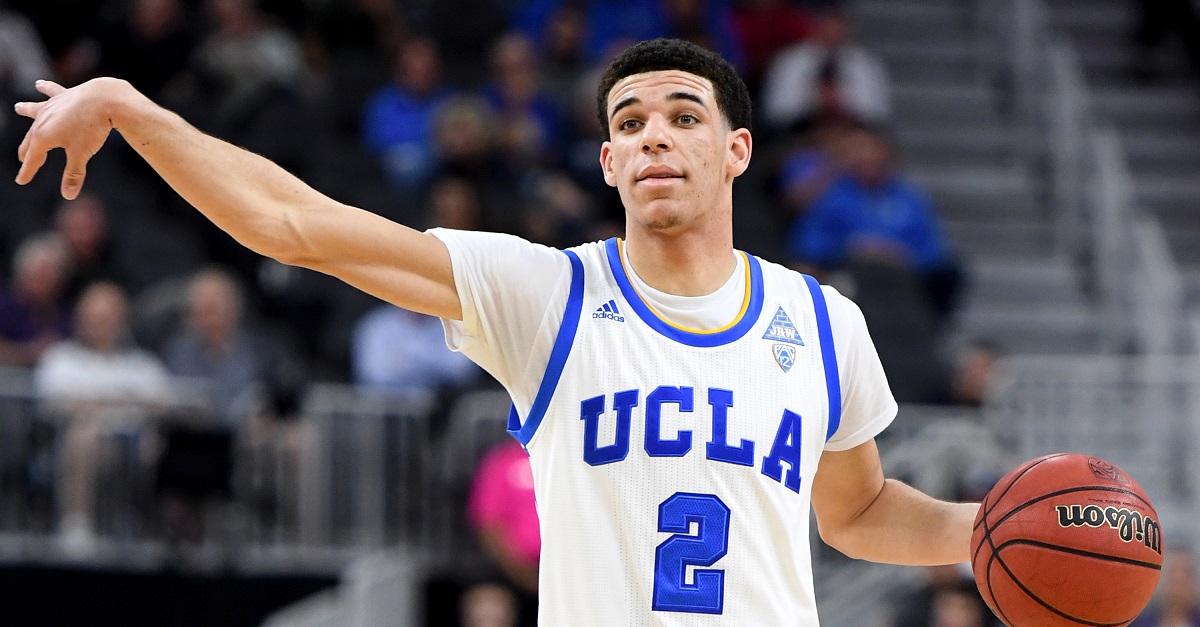 Ethan Miller/Getty Images
LAS VEGAS, NV - MARCH 09: Lonzo Ball #2 of the UCLA Bruins sets up a play against the USC Trojans during a quarterfinal game of the Pac-12 Basketball Tournament at T-Mobile Arena on March 9, 2017 in Las Vegas, Nevada. UCLA won 76-74. (Photo by Ethan Miller/Getty Images)
Lonzo Ball and his dad LaVar continue to make headlines this summer for some outrageous claims and it doesn't seem to be stopping. In a late night interview on Jimmy Kimmel's show, the father-son hot take duo just made another insane claim.
RELATED: Lonzo Ball's latest workout report could spell doom for his NBA Draft stock
While we've become used to LaVar being the more outspoken of the two, Lonzo seemed to get pretty comfortable on Kimmel and went so far as to say that he would beat the greatest ball player ever in Michael Jordan.
RELATED: Report: LaVar Ball may have caused a disastrous NBA Draft scenario for Lonzo
Lonzo was asked if he could beat the 54-year old Jordan and was pretty confident when he said, "Right now? Yes." LaVar went next level on it and said that he would make Jordan cry and that he's apparently never lost a 1-on-1 game. I would say there's a pretty good chance that it would be the other way around.
[h/t Bleacher Report]