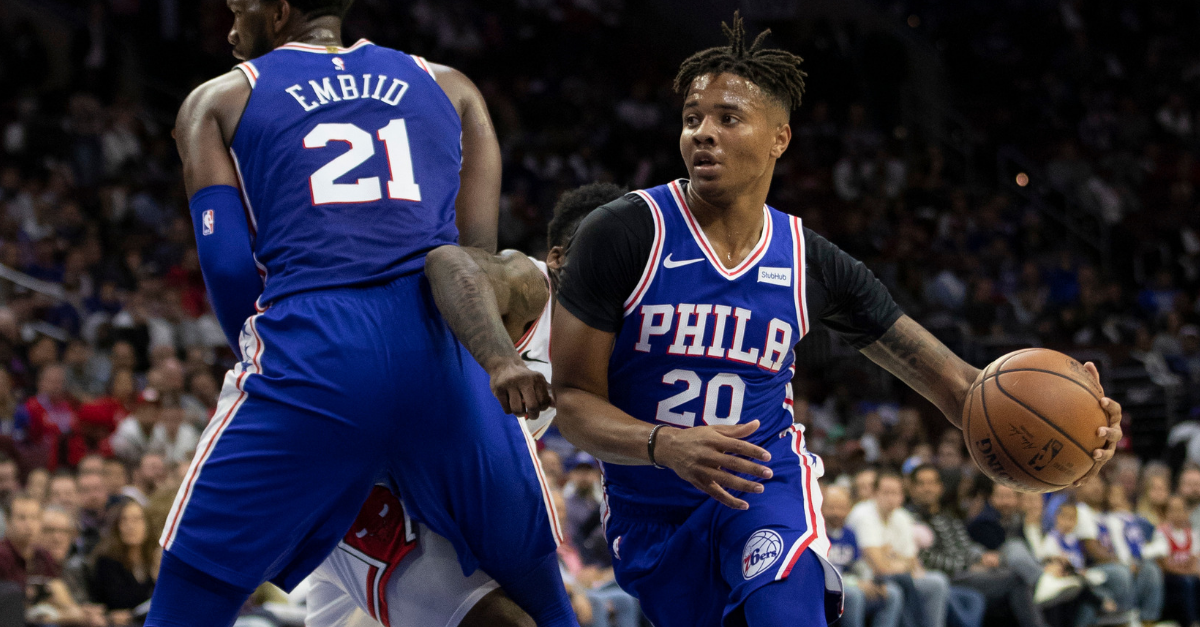 AP Photo/Chris Szagola
Markelle Fultz said the ball slipped out of his hands. The rest of the basketball world likely believes otherwise. Watching the Philadelphia 76ers guard shoot a ball these days is as painful as it is atrocious.
With 6 minutes, 9 seconds remaining in the second quarter Monday night, after making his first free throw attempt, the 6-foot-4 Fultz stepped to the line again, rose up, somehow pump faked, let it go, and threw up a disgusting brick.
It?s the ultimate video game glitch in real life and it seriously looks like he is afraid to put the ball up.
The Charles Barkley golf swing comparison is rather spot on and hilarious, actually.
RELATED: Derrick Rose Took an Insane Amount of Dribbles to Score 50 Points
There is no real or good reason to explain what is happening here. Markelle Fultz, the former No. 1 overall pick in the 2017 NBA Draft by the Sixers and former Washington Huskies star, has absolutely zero consistent confidence in his jumper and it is becoming an even bigger problem by the day.
"I mean, the ball slipped out of my hand, so I had to do what I had to do,? Fultz said to reporters. ?But I?m not really worried about it. I work on my game. The ball just happened to slip. That?s what happened.?
If only this was an isolated incident or that easy to believe. Maybe Fultz was just trying to convince himself that?s what happened, but anyone who has watched the 20-year-old since he entered the league, and his free throws as of late, knows his once-promising outside shot has been a mess.
This season has certainly been a little better than his head-scratching and injured rookie campaign, and there are times his shot looks almost normal, but he never shoots 3-pointers ever ? making him more of a predictable liability ? and this free throw was some of the worst case of the yips in yips history.
?Every so often you?ll see it. Then all a sudden he?ll come back and he?ll take rise-up, fadeaway jump shots and look like a real sort of fluid type of player, real fluid type of motion in his shot. ? And then you go and see other ones and you wouldn?t have any idea that there?s any problem at all. I thought that his defense was exceptional. We?re going to keep encouraging him and try to shoot more of those shots that we saw where his fluid side was really impressive, rising up over bigger people.? ? Philadelphia 76ers head coach Brett Brown
Perhaps Fultz, who finished with five points on 2-for-8 shooting with five turnovers against the Miami Heat, isn?t healthy, after all. A shoulder injury and an altered shooting motion seemed to all be getting better when he worked out with prominent trainer Drew Hanlen all summer, but it appears that, too, has gone bad.
If anyone knew exactly what was wrong with Markelle Fultz, there?s a good chance Philly would be a pretty high dollar amount to get that information.
Luckily the 76ers beat the Heat on Monday night and introduced new superstar Jimmy Butler on Tuesday morning because the Fultz saga doesn?t appear to be getting any better.
There?s still time for Fultz to be a good player in the NBA, and he looks better attacking the basket these days, but it?s kind of hard to count on that to happen in the near future with free throws like that.