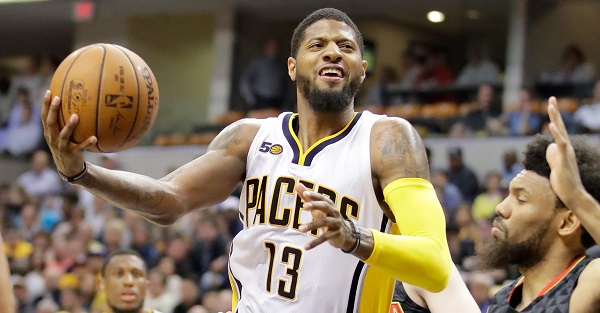 Andy Lyons/Getty Images
INDIANAPOLIS, IN - APRIL 12: Paul George #13 of the Indiana Pacers shoots the ball against the Atlanta Hawks at Bankers Life Fieldhouse on April 12, 2017 in Indianapolis, Indiana. NOTE TO USER: User expressly acknowledges and agrees that, by downloading and or using this photograph, User is consenting to the terms and conditions of the Getty Images License Agreement (Photo by Andy Lyons/Getty Images)
The Indiana Pacers have very little leverage in trade negotiations that center around Paul George. That, of course, is what happens when the All-Star player openly lets the team know that a) he is planning to leave in free agency next summer and b) he would like to play for one specific team in the Los Angeles Lakers.
However, no one has told Pacers GM Kevin Pritchard that he should not expect much in exchange for George, at least to according to rumblings around trade negotiations with the Boston Celtics. Mark Murphy of the Boston Herald brings word.
George is a top-tier player and, in some ways, it makes sense that the Pacers would be looking for an overwhelming package. With that said, the notion that George should command a top-dollar return is interesting, simply because teams have option to wait Indiana out until the last possible moment, knowing that the Pacers would prefer not to lose their best player for absolutely nothing.
These rumblings coincide with the widely held belief that the Celtics want to pair George with Gordon Hayward for a "super team" construction this summer and having the talented forward on the roster certainly wouldn't hurt in trying to lure Hayward in free agency. For now, nothing appears imminent, though, and the Pacers look to be responsible for the divide.