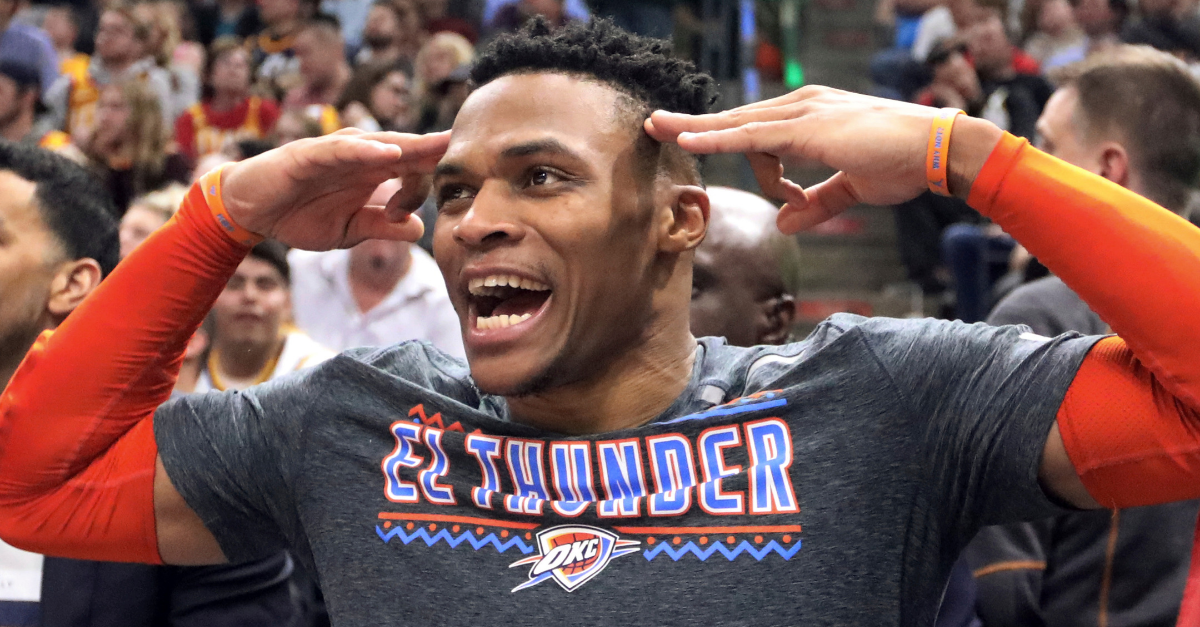 AP Photo/Rick Bowmer
To understand what black athletes have gone through over so many years, all you have to do is look at an incident that took place Monday night with Oklahoma City Thunder star Russell Westbrook and a Utah Jazz fan named Shane Keisel.
Westbrook says the fan shouted at him to ?get down on my knees like I used to," which Westbrook did not take kindly to, calling the exchange a racial and disrespectful attack on he and his family. In response, Keisel is filing a lawsuit against Westbrook and shut down all of his social media accounts that were found to be filled with racist and derogatory language.
Westbrook explained his reaction further after the game:
?I think there are a lot of great fans that like to come to the game and enjoy the game. And then there are people who come to the game to say mean, disrespectful things about me and my family.

"For many years I?ve done all the right things. I?ve never done anything to hurt or harm anybody. I?ve never been in any trouble, I?ve never fought a fan, been in the league 11 years [and have] a clean slate. I?m humble, I take all the criticism from everybody… To me, disrespect will not be taken from me."

"That's just one video, but throughout the whole game, throughout since I've been here, especially here in Utah, every time I come here there's a lot of disrespectful things that's said. For me, I'm just not going to continue to take the disrespect for my family."

? Russell Westbrook, via The Salt Lake Tribune
While Keisel tried to explain away the incident, old tweets resurfaced of him making openly racist comments on Twitter, which he later tried to erase, but it was too late. Receipts were found where Keisel ran his mouth in the past about Westbrook and others. This incident shines a light on a deeper issue in society and that is the disrespect shown to black athletes.
RELATED: High School Official Resigns After Racist Remark Aimed at Houston Texans QB
What Westbrook said is true: there isn't protection for players from court side loud mouths. A lot of fans feel because they pay for a ticket, that entitles them to treat players any kind of way, including using racially-charged words. To protect the NBA's image, players aren?t supposed to fight back. They are expected to keep quiet and just play ball. Isn?t that exactly what Fox News host Laura Ingraham said about LeBron James?
Shut and dribble! That sentiment is shared by many fans out there. According to some, black athletes aren?t paid to think or have feelings. They are paid to dribble, throw or catch the ball and not express an actual opinion. The mentality of a lot of basketball fans almost makes you cringe because it reminds you of a slave owner's mentality.
Still, the profane remarks Westbrook made landed him in the NBA doghouse, and he was fined $25,000 by the league on Tuesday.
There was a recent incident outside of Birmingham, Alabama where a young white teenager who attends Spain Park High School used racial slurs when talking about African-Americans, and in particular, black rap artists and athletes. In the video, a young girl can be heard saying, ?[white people] run n****** because they do football for us and rap music and we pay them for it.?
How do we start to address these issues? First, you start by talking about them because ignoring the problem ? and giving Westbrook a ridiculous fine ? won?t make it go away. Second thing that needs to be done is getting fans who act like this at games, even if is not racially charge, banned for life, which is exactly what happened to Shane Keisel.
Paying a ticket, no matter how much you paid, does not entitle you to insult nor touch a player. Fans who do that, need to be reminded that the player has just as much right as they do, to fight back.