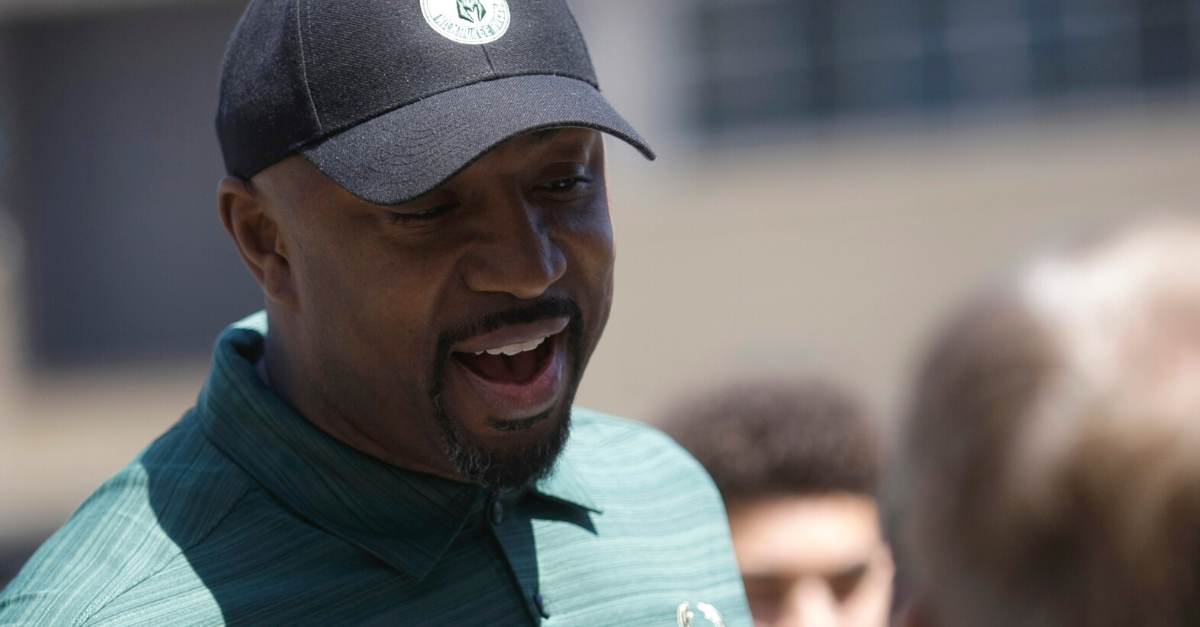 AP Photo/Aaron Gash
A fresh cup of coffee is the gun that kicks runners from the starting line. The caffeine-spiked drink jolts energy into the system and signifies a new day.
For Vin Baker, a cup of coffee was a new leaf. A four-time NBA All-Star who played 13 years with the Milwaukee Bucks, Seattle SuperSonics, Boston Celtics, New York Knicks, Houston Rockets, and Los Angeles Clippers, Baker went from starting power forward to Starbucks manager.
Vin Baker: Starbucks Barista
Baker was a great talent out of the University of Hartford. At 6-foot-11, he could score down low, rebound, and block shots. The Bucks selected him with the eighth pick in the 1993 NBA Draft. He did well on the court, including winning an Olympic gold medal on the USA National Team at the 2000 Sydney Games.
Off the court, he indulged in anything to distract him from the present. It started with alcohol and weed and progressed to Xanax, Librium, and downing bottles of Listerine.
By 2006, Baker's habits plummeted his NBA career. He hit rock bottom, lonely and a shell. It was time to get sober. This go-around, the sixth attempt, the catch was different. He wasn't getting sober to rebound his NBA career. He was cleaning up his act for his family.
Baker rang Howard Schultz, the owner of the SuperSonics and former CEO of Starbucks (not to be confused with Dumb Starbucks) for direction. Schultz met Baker, and they developed a plan for the former NBA player to work at the national coffee chain.
He took a management training course and started overseeing a Starbucks franchise in his hometown of Old Saybrook, Connecticut. Early mornings dragged by hangovers were traded for brewing coffees and crafting lattes. Baker was at ground zero and $100 million poorer, but his spirits were lightened, and his head was clearer.
He uses his experience to help young athletes. In 2015, Baker spoke to Bucks players at the NBA Summer League in Las Vegas about their financial futures.
Per the Providence Journal:
?I appreciate that in a lot of cases it?s more money, more problems,? [Baker] says. ?I think in professional sports today teams have to deal with the personal challenges of giving young men this extraordinary amount of money. For me it was a struggle. I think when you?re giving guys who aren?t even All-Stars $80 million, there should be a framework in place where these kids can talk to someone.?
Baker was hired as a Bucks assistant in April 2018 under interim coach Joe Prunty. He was clean seven years when hired and maintains sobriety to this day. He's continued on the staff since Mike Budenholzer took over before the 2018-19 season.
Baker reached exclusive heights in his basketball career and sunk to unfathomable lows. Everyone loves a comeback story. Baker's started with a Venti.