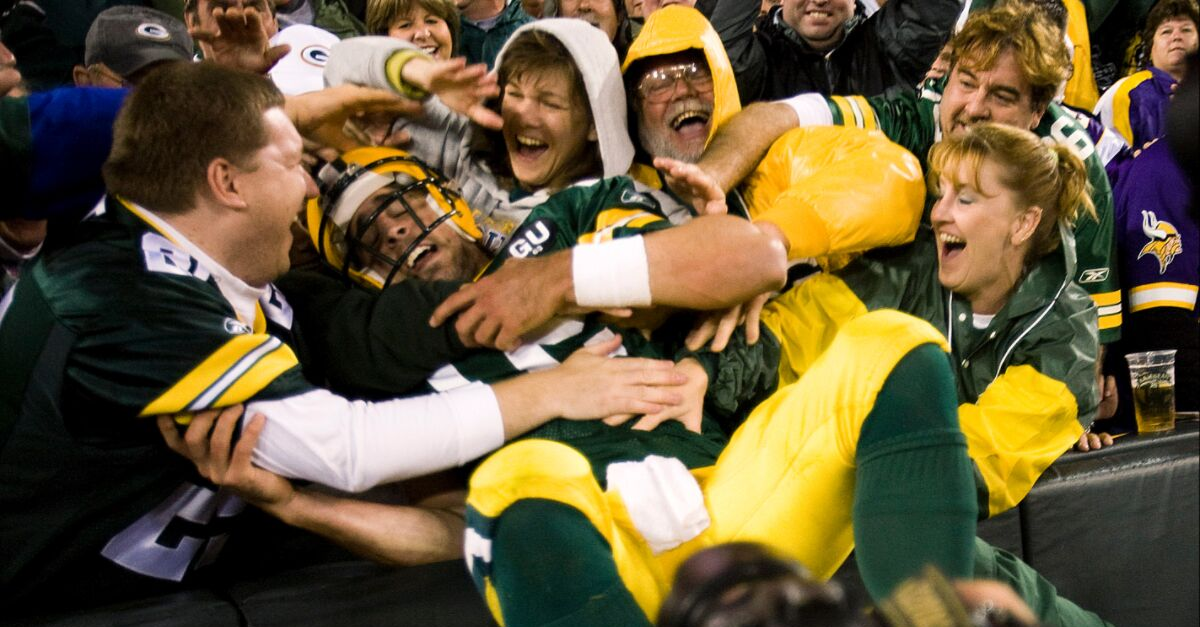 AP Photo/Mike Roemer
There are going to be some changes inside of Lambeau Field this season. Not only do the Green Bay Packers have a new head coach in Matt LaFleur, but the franchise is also trying out the use of an annoying foghorn to pump up the crowd when the defense forces a third down.
This is great in theory, but well, it?s not original and some Cheeseheads don?t really like it. Do you know what would fire up a bunch of Wisconsin natives freezing their asses off? You guessed it? cheaper beer.
Packers quarterback Aaron Rodgers isn?t very good at chugging beer himself (he?s actually terrible). However, he will forever be a fan favorite in Green Bay. The former MVP?s legend could grow even larger if the organization listens to his latest offseason suggestion.
?I?m up for anything that?s gonna get the fans as loud as possible,? Rodgers said, via Pro Football Talk. ?Maybe slash some beer prices or something, would be a good idea.?
This isn?t just a good idea. It?s a brilliant idea. It?s much better than the foghorn, for damn sure. Plus, horns belong to the Minnesota Vikings.
Here?s the sad attempt of a foghorn during the preseason game against the Houston Texans:
Packers fans deserve better. They deserve a better product on the field than what they got last year. The NFL Playoffs and the occasional Super Bowl is what everyone has been accustomed to over the years.
Lower beer prices. Cut beer prices. Slash beer prices. Whatever term you want to use is fine. Just know that?s going to create a better home-field advantage than any horn ever could.
According to PFT, it costs $8.25 for a 16-ounce can at Lambeau Field. Just imagine what would happen if they were cheaper. You would never need a foghorn again.
The Packers have preseason road games against the Baltimore Ravens and Oakland Raiders before hosting the Kansas City Chiefs for the final regular season tune-up.
Green Bay should listen to Aaron Rodgers. Make beer cheaper and the fans will be as loud as possible.
Not to mention, it would be too cold for anyone to want to streak come mid-October.