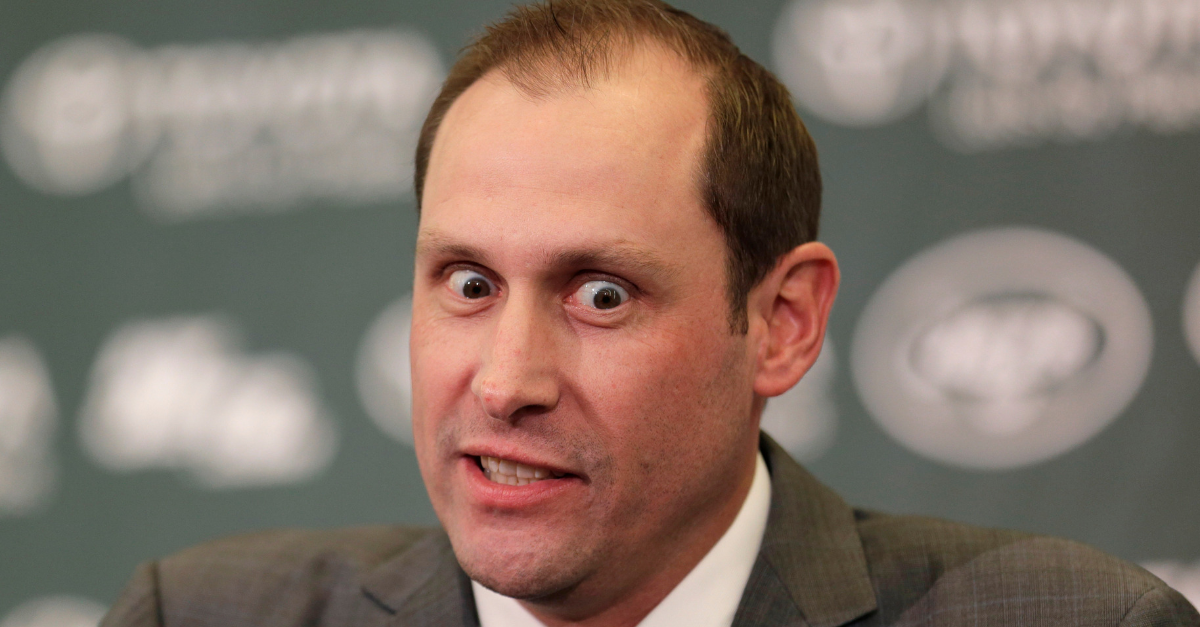 AP Photo/Seth Wenig
AP Photo/Seth Wenig
When the New York Jets fired former head coach Todd Bowles, the franchise opened their eyes to a culture shift. After a run of strictly defensive leaders dating back to 1997 that includes Bowles, Rex Ryan, Eric Mangini, Herm Edwards, Al Groh and Bill Parcells, the organization looked closely into making a culture shift by hiring former Miami Dolphins head coach Adam Gase, an offensive-minded guy.
During his introductory press conference, the 40-year-old coach's opening statements didn't even matter. What mattered, though, was what everyone had to say about his intense, crazy, wild, uncontrollable eyes the entire time.
After leading the Miami Dolphins to a 23-25 record in three seasons, which included a 10-6 mark and AFC Wild Card berth in 2016, Gase was fired as part of a complete organizational overhaul following their 7-9 season in 2018. General manager Chris Grier took over football operations and former Executive VP of Football Operations Mike Tannenbaum was reassigned as the Dolphins hit reset on their football team.
Heading into his first year with New York, Gase is tasked with molding the No. 3 overall pick in last year's NFL Draft, quarterback Sam Darnold, into the franchise's building block. He had some success with Ryan Tannehill in Miami, but New York's change in philosophy is much needed after averaging only 19.7 points per game over the last five NFL seasons.
During his first press conference with the New York media, it's safe to say the new Jets head coach was locked in.
The intensity of Adam Gase's eyes and strange twitches became the focal point of Internet comedy across social media, and people just can't get enough of it.
RELATED: Oklahoma State's Mike Gundy is the King of Press Conferences
In response to these hilarious reactions, Gase talked about his rising Internet fame on The Dan Le Batard Show with Stugotz on ESPN Radio. When asked about that news conference, the Jets coach gave one of the weirdest responses, especially in the modern age that we live in.
"I don?t have Twitter, Instagram, I don?t read the Internet, I don?t watch TV. All that stuff is irrelevant to me. To me it?s pollution of the brain. I really don?t care."

? Adam Gase, via Yahoo! Sports
The new head coach in Florham Park, New Jersey did offer one important point when he said, "Did we win any games because of it? Then nobody cares."
Sorry to burst your bubble, Adam, but whether it's "pollution of the brain" or not, we still care, and we love it. You're reading this on your cell phone, computer screen or tablet right now, right? It's crazy to assume that someone DOESN'T consume any news or entertainment from the Internet or television in 2019.
Then again, maybe we just don't see eye-to-eye with Adam 'Crazy Eyes' Gase.